Over the course of the season, we will feature a select photo from each game taken by a member of the San Francisco 49ers photography staff in our "Worth 1,000 Words" series.
Week 10 vs. New York Giants: Locker Room Postgame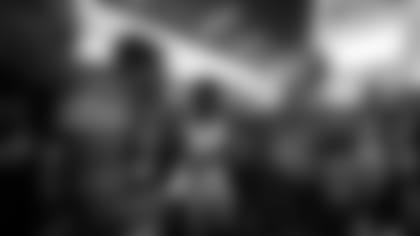 Shot by: Terrell Lloyd, Senior Manager of Photography Services
Subject: 49ers players, coaching staff and front office
Location: Levi's® Stadium
Lloyd:"It was an emotional game for all members of the San Francisco 49ers. The team earned their first win of the season having overcome a number of adversities.
"I specifically chose this postgame moment in the locker room because the team had just finished celebrating their first victory. During the post-game speech, John Lynch presented Marquise Goodwin the game ball. Goodwin was recognized not only for his contributions as a player on the field, but his dedication as a teammate following a family tragedy.
"You can clearly see that he was overcome with emotion from the gesture. His teammates were there reaching out and supporting him and his wife during their time of need.
"This is what a team is all about. Football is family."
Lloyd has served as the lead photographer of the San Francisco 49ers since 1996.