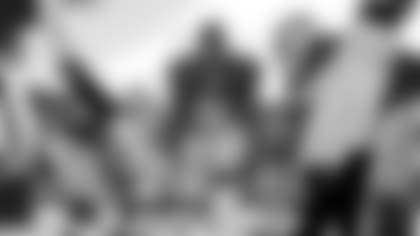 Donte Whitner emerged as a leader of the 49ers secondary in 2011 during his first season in San Francisco. A man who takes pride in his mental side of the game, Whitner has also established himself as one of the league's hardest-hitting safeties throughout his career. The veteran recently spoke with 49ers.com before his team's Week 11 home matchup vs. Chicago.**
It was a little rainy the last few days, but it might be a little prep for what the game could be like on Monday. It's not always going to be pretty in football games. You saw last week Chicago played Houston in a muddy game. They like playing in games like that so we'll be ready. It's all good preparation for Monday.
We're happy everything is going better for our coach with his health. Coach Harbaugh underwent a minor procedure on Thursday and came right back to work, even on the same day as the procedure. It shows that he's a team player. When there's something wrong with your health and all you can think about is your team, football, while you're not here, you know that you're a really a good head coach. We're glad he's OK and back on the football field.
The Bears announced that Jason Campbell is starting this week and we'll be prepared for that on Monday. He's a veteran. He was a good quarterback for the Washington Redskins, I don't think he got his fair shake there. Then he went to Oakland, was pretty good for them, but then he got injured. He's eager to get out there and show teams around the National Football League that he's a backup now, but he can still come out and play football. He does have a big arm and he will use his feet to run around.
We have to be prepared and prepare for him like he's a starter, not there backup. If we step out there with that mindset, we can be beat. We're going to approach it as if he's the starter and we're going to go out there and try to make some plays.
We want to be the best defense on the football field and our coordinator Vic Fangio says it all the time, we have to be the best defense on the football field to win games. We have to approach this game as if it's going to be a defensive struggle and that's how we're going to approach it. We know they like to get a lot of turnovers, they're a really good defense, but we're a really good defense and we want to go out there and prove it and show that we are the best defense in the NFL. We've been preparing all week like that, now it's time to let it translate on the field.
I want to close out the blog by having everyone pray for Teddy Ginn Sr. He's in the hospital right now going through some health issues. I want everyone to pray for him and hopefully he gets better really soon.
Q: Will Vic dial up more pressure vs. the Bears since Jason Campbell is starting? –KendreA: I can't tell you. I don't want to expose our gameplan. Tune in.
Q: Do u see this MNF vs Bears game a "statement game" to solidify your rank as the top SB contender in the NFC? Why/why not? –Daniel
A: No doubt. Two great football teams, two great defenses. Top in the NFC, top in our divisions. Yeah, I do see it as a statement game for both teams.
Q: A lot of teams use a loss to fuel there performance for the next game how exactly to you use a tie? -Gregory
A: Well actually, a tie did feel like a loss. So, we're going to take that as a loss. Anything less than a 'W' is a loss.
Q: What's your favorite book of all time? -Alex
A: My favorite book of all-time is The Secret by Rhonda Byrne.
Q: What is your favorite off the field hobby? -Habib
A: Studying football and studying offenses.