The San Francisco 49ers face the Atlanta Falcons in Week 9 of the regular season. The game takes place on Sunday, Nov. 8 at 1:05 p.m. PT at Levi's® Stadium. Here are all the ways to catch the action.
Be There
Fans looking for tickets to Sunday's game can visit the NFL Ticket Exchange, the only ticket re-sale website officially supported by the 49ers and the NFL.
The Sunday matchup will be televised on FOX in much of Northern California, parts of Oregon, Nevada and Georgia/Southeast.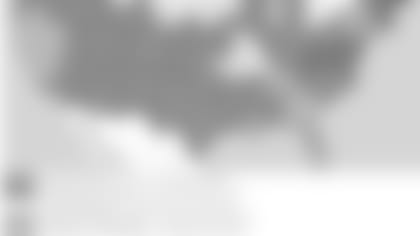 Broadcast map courtesy of 506sports.com. (All listings are subject to change)
49ers fans in the U.S. can sign up for NFL Game Pass to watch every 49ers regular season game online ON DEMAND.
Overseas? International NFL Game Pass is available HERE.
Bay Area radio: KNBR 680 & KSAN 107.7 The Bone
Spanish radio: KTRB 860Full list of 49ers radio affiliates:
Follow the 49ers on Twitter for all-access coverage leading up to, during and after the game.
Videos to watch before the Game:

This article has been reproduced in a new format and may be missing content or contain faulty links. Please use the Contact Us link in our site footer to report an issue.