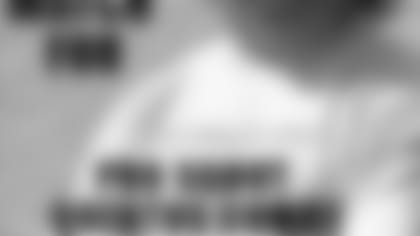 49ers Pro Personnel Scout, Quentus Cumby spends hours upon hours scouring NFL game tape to evaluate future free agents. He also does the advance scouting which entails traveling each weekend to watch the 49ers next opponent and then provide evaluations and tips for the coaching department. Throughout the playoffs, Cumby will break down the teams still in the hunt and provide some key factors to watch for in each game.**  
1:30 p.m. PT on NBC- Washington Redskins @ Seattle Seahawks
I've seen Seattle a lot and they do some very good things on offense. They run a west coast style offense operated by a very good quarterback, Matt Hasselbeck. Their running game started to pick up towards the end of the season as Shaun Alexander is starting to play well. They have good receivers which is a key part of their offensive success. Deion Branch has been hurt during the season, but Bobby Engram really picked it up. Hasselbeck goes to him a lot on third downs, and it looks like Branch has been practicing so I expect him to play in this game.
Washington's secondary has been hit very hard by injuries. Their starting corners, Shawn Springs and Fred Smoot, are very solid players but I don't think they have much depth at that position. I would have to give Seattle's receivers the edge in terms of that match up.
Washington has also been hit with a lot of injuries on the offensive line. Todd Collins, the 12 year veteran, is 4-0 as a starter and he's playing very well right now. He's done what he had to do in order to get his team in the playoffs. Clinton Portis is also having a very good year. Ladell Betts is the backup, but they're starting to use Portis more coming out of the backfield and catching balls. Santana Moss has been an elite receiver over his career. He's been slowed by injuries, but now he's getting healthy and getting back to that high level. They're a scary football team right now.
What I notice from looking at Seattle's defense is how well their corners, Marcus Trufant and Kelly Jennings, have been playing. Patrick Kearney has tallied 14 ½ sacks so I expect him to be a problem for the Redskins banged up offensive line.
Since this game is played on Saturday, it will be a short week for both teams, but Washington will have to fly all the way across the country as well. That always takes a toll on you in terms of the time change. It's just a whole different routine, but this is the NFL. You have to adjust and you make due. I don't know what the weather is going to be like, but with all the rain we're getting here in Santa Clara, I can't imagine it's too much better up there.
It's going to be an interesting match up. Seattle is a solid team, but Washington is hot right now.
5:00 p.m. PT on NBC- Jacksonville Jaguars@ Pittsburgh Steelers
I think this is going to be a very physical game. Both teams have shown that they have pretty good running games throughout the season. Pittsburgh got hit pretty hard when their running back, Willie Parker, went down but they still have Najeh Davenport. Davenport is a big, physical running back and he has that style where he's going to run it right down your throat.
The Jags do the same thing with Fred Taylor and Maurice Jones-Drew. They are two very good backs. Fred is playing like more of your traditional running back, while Jones-Drew does a great job of catching the ball out of the backfield. They are a good tandem.
It's going to be tough for Jacksonville to beat Pittsburgh at their place twice in one year. Pittsburgh is a rowdy place and it's tough to win there, but Jacksonville matches up with them because they have very similar styles of play.
Pittsburgh's defense is pretty good. I believe they are ranked first in the league in defense. Jacksonville is not ranked as high, but they are very solid. They are a bend but don't break type of defense.
I think it's going to come down to the play of Ben Roethlisberger. A lot of pressure is going to fall on his shoulders since Parker is out.
The Jags have some injuries too, including their secondary, but overall they are playing well. Their defensive line is very talented. John Henderson is playing well. Bobby McCray is a solid pass rusher. They're going to be a different team when they go into Pittsburgh this time in terms of their personnel.
David Garrard has had a solid year and he's done a good job protecting the football. He also has some very big receivers to throw the ball to. It's going to be a good match up and I expect it to be a close game. 
10:00 a.m. PT on FOX - New York Giants@ Tampa Bay Buccaneers
New York's defense is very good and they get a lot of pressure on the quarterback. I think they lead the lead in sacks thanks to Osi Umenyiora and Michael Strahan. They are probably one of the best pass rush tandems in the league. Osi is a really explosive, athletic guy. He has a lot of tricks up his sleeve in terms of getting to the quarterback and shedding blocks. Strahan is a very strong, physical guy. They even line up four defensive ends in nickel and dime situations so they really know how to bring pressure. Their linebackers are somewhat nicked up including Mathias Kiwanuka who's on IR. Kawika Mitchell also has a knee injury. They have a good secondary. James Butler and Gibril Wilson are good safeties who play well against the run. Aaron Ross, their corner, is coming along slowly but surely and I think he's going to do fine. At the other corner is Sam Madison who's an old vet. He has an abdominal strain so I'm not sure if he's going to play. They're a good defense.
Tampa Bay has a good defense also. They're a very fast, athletic group. They rank in the top two in the league. Their linebackers are very fast. They have Barrett Ruud in the middle. Cato June and Derrick Brooks are on the outside and play very fast. Those guys fly around the field and they do a good job against the run. Gaines Adams has been coming on. He doesn't have a lot of numbers in terms of sacks, but he's a guy who can be a problem for opposing quarterbacks. Their defensive tackle, Chris Hovan, is a motor guy who plays hard and gives you 100 percent every down. Ronde Barber leads the secondary and he's very solid. Jermaine Phillips is a good safety who does a nice job in run support.
Plaxico Burress is the New York Giants' big play guy on offense. They have Amani Toomer who they go to a lot on third down. He's reliable and can move the chains. Brandon Jacobs is a big, physical running back and is carrying the load now that Derrick Ward is on injured reserve. Eli Manning has had his ups and downs this year but he's a solid quarterback. He started out really well against New England last week. If you can play well against that caliber of a defense, the sky's the limit for you. If he can just keep that momentum going and build of that performance, he'll be fine.
I think this match up could come down to the quarterback play of both teams. Jeff Garcia does a nice job of using his feet to make some plays. The surprise on their offense is Earnest Graham. He's been running very hard and he's done some very nice things for them. Joey Galloway has great speed at receiver. Alex Smith, their tight end, is doing a nice job this year. They look for him on third downs and he's good at making tough catches across the middle.
1:30 p.m. PT on CBS - Tennessee Titans@ San Diego Chargers
Here's another interesting match up. When you talk about Tennessee you have to talk about Vince Young. He's a very athletic quarterback who can do a variety of things either running or throwing the football. He's very dangerous when he runs. They got hit over the head with a couple of injuries this week. Bo Scaife, their tight end, caught a lot of balls for them this year and now he's on IR, as is wide receiver Roydell Williams. I think they're really going to have to rely on their running game with LenDale White and Chris Brown. The surprise for the Titans offense this year has been how well White is playing after basically sitting out most of last year. They have two solid running backs that have produced at a high level.
If Vince can't go with his hamstring injury, Kerry Collins will get the nod. Where Vince will run, Kerry will sit back in the pocket and pick you apart. That will take away some of the athletic ability away from their offense. Collins has been solid over his career. He's played in the playoffs and in the Super Bowl so that has to be a positive.
The strength of the Titans defense is their defensive line with Albert Haynesworth. He is a tough run-stopper who plugs up the middle. They also have Kyle Vanden Bosch who plays hard and goes every snap.
San Diego has a pretty good defense too. Antonio Cromartie, their cornerback, has 10 picks on the year. If you have five picks in one year in this league you're doing well and this guy has 10. He's having one heck of a season. They also have two great pass rushers on the outside in Shawne Merriman and Shaun Phillips. Jamal Williams is their nose tackle and Luis Castillo plays defensive end so that's a pretty good defense from top to bottom.
When San Diego picked up Chris Chambers from Miami, that's when their offense really started to pick things up. I also think that really helped Phillip Rivers develop. Antonio Gates and LaDainian Tomlinson are some huge threats as well. San Diego is one team who might really do some damage in the playoffs because they have great personnel.