If you were to come up with a saying to describe the career of Joe Starkey as the radio play-by-play man of the San Francisco 49ers, his own catch phrase would fit perfectly, "Touchdown 49ers, what a bonanza!"
Similar to his signature call, Starkey will forever be tied to the history of the 49ers, despite his recent decision to retire from the team.
"Joe Starkey's retirement is the end of an era," said 49ers Chief Operating Officer Andy Dolich. "His work speaks volumes. He's a major part of all of the success that the 49ers have had, and he's been an incredible professional."
After spending two decades as the voice of the 49ers, Starkey decided it would be the best move to leave the booth and focus his attention on his other job, as the voice of the California Golden Bears football team. It was an emotional decision, but for Starkey, not having to travel all over the country on consecutive days made the most sense.
"It's one of the biggest issues, absolutely and also, just being worn out at the end of the season because of the travel problems that I found virtually every November, I didn't have a voice left, so to speak," he said.
But when looking back on his career with the 49ers, Starkey was more than a voice, he was an "oral historian" of one of the proudest franchises in the National Football League. And there's no doubt that the 49ers Faithful consider themselves lucky to have heard the descriptive breakdowns of their favorite moments in team history from one of the best story-tellers in sports broadcasting history.
"I think when the fans say, 'We'd rather listen to the game and not watch it on television,' what higher praise could there be?" Starkey said. "It shows that they appreciate the fact that I present them a view of the game in detail and with a passion that exemplifies what a 49ers game is all about. Fans have said that to me over and over, and I'm very grateful for that compliment."
Starkey's career in the sports broadcast world has been impressive to say the least.
His first announcing job in sports was in 1972 for the Oakland-based National Hockey League Seals. Amongst his never-ending resume, he spent time as a broadcaster for the NFL's Minnesota Vikings and Denver Broncos, the USFL's Oakland Invaders, and the NHL's San Jose Sharks and Pittsburgh Penguins.
Locally, he also called games for the Golden State Warriors and for Cal Bears basketball. As for accolades, he's an eight-time winner of the Associated Press Award for Best California Play-by-Play Broadcaster. And if that's not enough, his international experiences include broadcasting work for the Winter and Summer Olympics, as well as Wimbledon tennis and professional soccer.
Talk about a bonanza of a resume!
That's not even including the Super Bowls he's covered, and the indelible moments of 49ers history that he made so much more noteworthy.
But it's not like he rolled out of bed and became an institution of 49ers football.
Starkey held several jobs before he used his undying passion for sports to fuel his dream to become one of the most respected men to get behind a microphone.
After working as the director of KGO sports for several years, Starkey, who had already done work for various sporting teams, got his first big break when he was named the sideline reporter for 49ers games in 1987.
He spent two seasons at the position and still has fond memories of those experiences. In fact, it was what he saw on the field in his first season that led him to believe how special of a franchise the 49ers really were.
"The game I most remember from my first year was the second game of the year at Cincinnati," he said. "The 49ers were in their peak years. Montana was the quarterback, Rice was the receiver and everywhere you looked there were All-Pros.
"Cincinnati had the game won, it was over. They're running out the clock and the 49ers have no timeouts left. But somehow on fourth down their coach Sam Wyche called an actual running play when all he had to do to end the game was hand off to his running back or have his quarterback run backwards for four seconds. They handed off and the back ran into the line and Kevin Fagan made an instant tackle, and because it was fourth down, the clock stopped. That meant we would get the ball back for one play because of the exchange of downs. On the next play, Montana threw Rice a touchdown pass and we went off the field as winners and it was like, 'Oh my God.' It was so unusual, and exciting at the same time."
The outcome of the game was unique in its own right, but Starkey will never forget catching Bill Walsh's rare reaction.
"I never saw this before or since, but Walsh literally skipped off the field he was so excited."
When he was offered the job to do the 49ers radio play-by-play in '89, Starkey was initially worried about replacing a Bay Area sports icon in Lon Simmons.
Little did he know that one day he would end up ultimately matching his predecessor's work.
"I had to step it up incredibly fast," Starkey remembered. "It was pretty intense; emotionally it was very hard because Lon was such a hero to the Bay Area audiences. I felt I was just going to be subjected to incredible scrutiny. It made me a nervous wreck."
But soon after, Starkey's unsettled emotions turned to complete joy as he and the 49ers went on to win the Super Bowl that year. Starkey found himself caught up in sheer amazement, like most everyone else watching the 49ers that year, especially with the Montana and Rice duo working their on-field magic.
"Montana and Rice had this amazing ability to hook up on the slant pass," Starkey recalled. "Rice wasn't super fast, but he had game speed that was unbelievable. He and Montana had this set of plays, he'd be slanting in and he'd catch the ball and the safety could simply not react fast enough. He'd be by him and that was the key to the win over the Broncos. That play happened over and over again, and it was fascinating to watch him do that."
Over the course of his career, Starkey was the voice of a number of other memorable moments in franchise history, so many that it's hard to rank them.
But the one that stands out the most from a broadcasting standpoint was former 49ers wide receiver Terrell Owens' touchdown catch against the Green Bay Packers, simply known as "The Catch II."
"That was the most emotional call I've ever made for the team. It was so unexpected," he said. "Steve Young had never beaten the Packers and Terrell was having a lousy day. He couldn't hang on to the ball and the next thing you know, 'BOOM,' he makes an incredible catch with three guys around him to score a touchdown and win the game. That was without a doubt the biggest call in my career."
Starkey has seen it all throughout his career with the 49ers, including plenty of his broadcasting partner in recent years, former 49ers linebacker Gary Plummer.
"It's pretty unique," Starkey said of his connection with Plummer. "I don't think anyone has ever had one like this. We had this relationship that goes back so far. I called all of his games when he was a Cal football player, I did all the Oakland invaders game in the USFL when he was playing for three seasons. Then he goes to the San Diego Chargers and we kept in touch once in awhile, and the next thing you know he's on the 49ers and I call his games. Then he comes up into the booth. We're talking a 27-year relationship, which is probably unheard of in broadcasting!"
After spending so much time together, Plummer has picked up on the relentless work ethic that Starkey possess and has applied it to his work as the 49es radio color commentator.
"He would do a college game on Saturday, and you're talking about 160 guys who are playing in the game and he has most of them memorized," Plummer said. "Then he turns around less than 24 hours later and he has to do a pro game with another 100 names. It's remarkable that he was able to do that for so long."
As Starkey describes it, "There is no enjoyment in it. It is the grunt work."
But he simply wanted to be prepared for any possible outcome that the game could dictate.
"I think I always had the feeling that I didn't ever want to go into a game of any kind, no matter what sport, unprepared for any eventuality," Starkey said. "I would make a note, no matter how obscure the player, because you just never know who would be the guy that day who could end up making the big play or the big mistake. I also wanted to have something to say about him that takes a player out of the generic category of just another person on the field of play. That's been very important to me."
Just last week in his final game as the voice of the 49ers, Starkey commended outside linebacker Parys Haralson for making a big tackle against the run and then said, "We'll always have Parys and so will the 49ers."
But as much fun that he tried to have in his final go-around, the finality of his work with the 49ers was daunting during the week before the game.
"It's hit me big time," he said leading up to his final broadcast with the 49ers. "I appreciate the incredible support I've gotten from the fans. And the media has been great; I wouldn't believe that media would be so nice to say all the nice things they have in the stories.
"I appreciate it, I'm honored and I'm flattered, but it's hard leaving this job right now. It's tough."
Leading up to the game Starkey and Plummer discussed their hopes that their final game together would end with a positive outcome. The 49ers granted their wish with a 27-24 victory over the Redskins in the final seconds.
"We actually talked about hoping it would be a great game, so we could finish on a high note," Plummer said. "The fact that it was a comeback victory and that he always loved to emphasize the local players who had done well – it was fitting. To have a local guy like Joe Nedney from San Jose State end the game on a last second field goal was poetic justice. All things considered, as tough as it was, I don't think you could've written a better script."
The flurry of activity in the fourth quarter and the thrilling come-from-behind finish allowed Starkey to not agonize over the conclusion of his career, but rather do what he does best – describe the action unfolding in front of his eyes.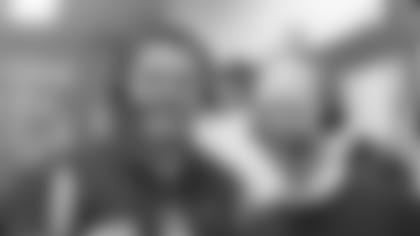 "I couldn't have imagined any better type of ending," he said. "In fact, the last two weeks were as good as you could get. A road win, a home win, both in the closing seconds of the game – it doesn't get much better than that. I couldn't have written it any better."
Following his final game with the 49ers Starkey made sure he emphasized a couple of key points to his Faithful listeners.
"I wanted to stress a couple of things. Outside of my family, there's nothing ever that I've loved doing more than doing this particular job," he said. "It was a remarkable honor to be the guy in the broadcast booth for two decades who described the exploits of this remarkable football team over the years. For that, I'm eternally grateful."
As a broadcaster, but also a fan of the 49ers, Starkey was also pleased to hear the announcement of Mike Singletary as the head coach for the next four seasons.
"He's a real special human being," Starkey said. "He's incredibly detailed, he has a passion for the game and a passion to do it right. I think he's going to very special. As a fan and as a broadcaster, that final game gave me all sorts of anticipation for next year. It showed the team has developed remarkable character and resiliency."
While the 49ers have named their new head coach, they haven't yet named Starkey's replacement to work alongside Plummer for the 2009 season.
"It's a changing of the guard at the coaching position and there's a changing of the guard at the play-by-play position," Plummer said. "Joe didn't feel like he was quitting, he said he was passing the torch. To me he couldn't have put it any better."
But for 20 years, no one called the plays better than Joe Starkey.