Joe Staley isn't the only 49ers defensive player who will have his hands full this Sunday.
Ten other players lining up with the 49ers Pro Bowl inside linebacker will have plenty to look out for when they take on the Minnesota Vikings on the road this Sunday.
Sure, the Vikings feature one of the NFL's best running backs in Adrian Peterson, but the man known as "All Day" has quite the supporting cast.
That's something Willis and the rest of his teammates on the NFL's seventh-ranked defense have become quite familiar with after watching film on the Vikings first two victories over the Cleveland Browns and Detroit Lions.
"It's going to be a good challenge for me and my teammates all together," Willis said. "That's what it's about on Sundays, 11 guys playing good team defense together."
Without the help of his teammates, Willis will certainly be unable to set the edges of the defense to force Peterson inside and he won't be able to consume offensive linemen at the line of scrimmage.
That's why it takes all 11 players to stop the NFL's leading rusher.
"This defense is not just about Patrick Willis – it's about all 11 of us," Willis said. "That's what it's going to take. As soon as I get outside of the realm of worrying about me trying to make a play or doing more than I'm supposed to do, that's when bad things happen. I'm just going to play within the scheme we have and when a play presents itself, I go make it."
Willis went out and made several plays the first time he faced Peterson back in 2007 as a rookie. Peterson called it the worst game of his career and used it for motivation after he totaled three yards on 14 carries.
The 49ers are calling it just another game.
"I think that you just take a look at it," defensive coordinator Greg Manusky said on how much of the tape he's watched from the '07 meeting. "They have changed it up a little bit personnel-wise as well as the scheme is changed up a little bit."
Willis and the rest of the 49ers have vowed all week leading up to Sunday's meeting that their focus will not be solely on Peterson, or even on Minnesota's future Hall of Fame quarterback.
"Don't get me wrong, you don't forget about Brett Favre," Willis added. "But they have a good offense across the board."
Through two games, the Vikings boast the NFL's top rushing attack, averaging 168.5 yards per game. But on the other hand, Minnesota's offense has yet to get much of a passing game established. The Vikings are dead last in passing offense with 119 yards per game.
A major reason for the disparity between rushing and passing can be traced back to the limited time Favre has spent in Minnesota.
Favre joined his third team in as many seasons late in the offseason after coming out of retirement from the New York Jets. Despite feeling rested as he entered his 19th NFL season, Favre has yet to complete a pass longer than 21 yards. Instead of airing it out down the field, Favre has targeted most of his passes in the intermediate areas, completing an NFL-best 77.1 percent of his passes.
Although Favre has yet to throw for more than 155 yards this year in a single game, Manusky and the 49ers defense knows that he still can take advantage of an overconfident and unsuspecting defense.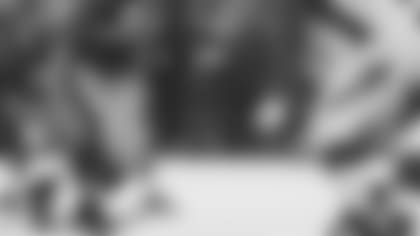 "I think that Brett is still Brett – talented guy, a Hall of Fame guy," Manusky said. "You've got to take note that he has won a lot of games. He has seen a lot of different coverages, so we've got to change it up on him a little bit as well."
Ideally, the 49ers would like to maintain pressure on the 39-year-old and force him to move around in the pocket. The Vikings have already surrendered seven sacks in two games. With that said, the 49ers pass rush will look to build on their first two performances and constantly pressure the NFL's most prolific quarterback.
"He's a legend, a great player and a great leader," defensive tackle Ray McDonald said of Favre. "It was an honor to go against him last year because I was such a big fan of his growing up. But this year, we're going to try and get after him."
McDonald has been a pleasant surprise for the 49ers since coming offseason knee surgery and recorded a sack in each of the team's first two games. McDonald said his knee feels as strong as it's been since he was at the University of Florida before he suffered his first major knee injury in college.
"Ray has two good knees now and I think that he's rolling," Manusky said of the 49ers sack leader. "He has had some success. He had a little last week and played pretty good, but he needs to keep on building. We're expecting big things from Ray in the future."
Without saying it in as many words, the mystique of playing Favre has worn off for McDonald and the rest of the 49ers defense. The impotence for the 49ers defense is on stopping a run-first team like the one they line up against every day in practice.
"They're philosophy is the same as ours, run the ball and try to keep their defense off the field and fresh," McDonald explained. "They try to establish the running game in the beginning and control the clock similar to what we do."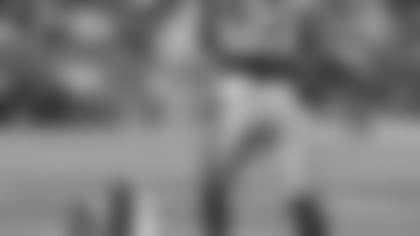 Knowing that, the 49ers will have to limit Peterson's opportunities in the running game and keep Favre in third-and-long situations.
Nate Clements, the 49ers most physical cornerback, figures to be a major asset in stopping "All Day" and Minnesota's quarterback, who his teammates refer to as the "Silver Fox."
Last week against the Seahawks, Clements was quite active against the run and the pass, finishing the game with eight tackles and five pass breakups.
Whether it's Clements or fellow starting cornerback Shawntae Spencer, the 49ers secondary has a major role in shutting down the Vikings offense. And while Peterson will command a lot of attention from the 49ers secondary, Minnesota's talent at the wide receiver positions has not been overlooked either.
"They bring a lot of speed," Spencer said. "They can really stretch the field vertically. We have to concentrate on them, more so than on the run, because big plays are how they can beat you."
Spencer said the trio of Minnesota receivers like Bernard Berrian, Sidney Rice and rookie Percy Harvin make up one of the fastest receiving corps in the NFL.
"With all of those weapons, there are a whole lot of different things they can do to attack. That poses a problem for anyone. We'll just try and play assignment football and mistake-free football," Spencer said.
With the 49ers heading into Sunday's matchup confident as ever, there's one last are of the defense that they'd like to improve upon – creating turnovers.
Through two games, the 49ers have come up with just three turnovers, all of which came from interceptions.
"I basically want to see our defense cause more turnovers and get the ball for our offense," Manusky stated. "I think each and every week we've been focusing on that and in training camp as well. I still think that we've got to try to get more turnovers."
Facing the NFL's all-time leader in interceptions, might be the prescription the doctor ordered.