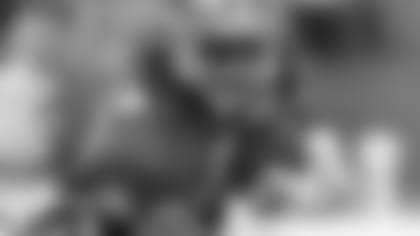 Rookie tight end Vernon Davis shared his first ever training camp experience with the fans in his Training Camp Rookie Diaries. Now he's back, and throughout his first ever NFL off-season, he'll check in with 49ers.com so fans can get an inside perspective about what it is these players are up to when you aren't catching them on TV on Sundays. Here's his first installment of this Off-Season Diary.**
When the season ended, it was kind of weird because you are so used to practicing and then your whole schedule changes back around and it's like school has ended and you've got this long summer break ahead.
The first thing I did was give my body some rest by not really doing any workouts. In another day though, I'm going to start training again. I'll start off light for the next few weeks and then eventually get back to my normal routine.
I've taken two short trips since the season ended.
I went to Los Angeles to visit a friend. I did a little shopping, and then I went to check out a movie premier of Stomp the Yard. It was a cool movie. It's this dancing movie really and a competition among African American fraternities. Chris Brown, NE-YO, Columbus Short are all in the movie and they do a great job keeping you entertained.
I also went to San Antonio to present an award at the US Army All-American Bowl game. The game features some of the top high school football players in the country. The kid who got the award, Arrelious Benn went to my old high school, Dunbar, so that was pretty cool.
While I was there I went to Ripley's Believe it or Not museum. They had the world's largest woman and the world's largest man. He was almost nine feet I think. He definitely towered over me.
I actually caught a cold I think from being on the plane, so I'm trying to get over that before I start my training. I'm flying home to Maryland to train for the next few weeks.
I'm excited to see my family – see my little lady, my grandmother. I bought her a new car and a new house this year and she's loving it. Her payment is that I'm going to make her cook for me every single night. Everything she makes is really good and I'm so excited for her cooking.
In the meantime, I'm just tying up some loose ends here in San Jose. I've been looking for a place to buy now that I am a little more familiar with the area and kind of know where I want to live.
I've avoided watching any of the playoff games. It's too hard for me to watch when I'm not playing. I just can't sit up under a TV and watch everyone else playing. I was surprised though that Kansas City lost. I thought they would get past Indy.
I'm really looking forward to this off-season in terms of just being able to really focus on football, no worries about training for the Combine or the Draft or wondering where I'm going to end up.
My rookie season was really more than I expected I think. There's really just so much information you have to learn and retain at this level in terms of the offense that it's tough. You've got to constantly stay up with it, and I just think this off-season will really help me to improve. I was glad I was able to make a comeback after the injury and make some plays for our team. It helped me to finish the season strong and set high expectations for my year two.