Get to know more about offensive tackle Damane Duckett in this two-minute drill!
Q: What were you afraid of when you were a kid?
A: Spiders. I used to play with bugs but spiders I didn't like. When you run through a spider web, you feel like a spider is on you all day.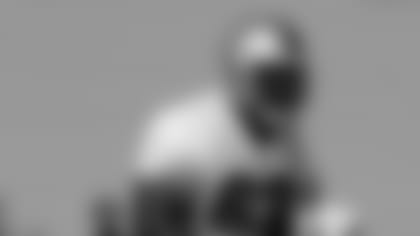 Q: What was the first thing you bought with your first NFL paycheck?
A: I bought some dress clothes.
Q: What do you try to avoid?
A: Bad situations. I always try to stay out of trouble.
Q: What was the last movie you watched?
A: Hancock. It was pretty good.
Q: Who is the funniest player on the team?
A: Ronald Fields. He makes practice go a little bit easier. He makes jokes when we warm up and right before we practice. He's definitely one of the funniest players on the team.
Q: What are your favorite TV shows?
A: Lost and The Wire.
Q: What is your favorite food to eat from back home?
A: Fried Chicken, especially from Bojangles. It reminds me of the South. I get the family size with eight pieces of chicken and four biscuits.
Q: What would you like to learn how to do?
A: Play the piano.
Q: What is your favorite holiday?
A: Thanksgiving. I like to eat. Last year the team had a meal together, because a lot of us can't go home. We all got together and built some team camaraderie. It was cool.
Q: What word best describes you?
A: Monster.
Q: If you could travel anywhere, where would you go?
A: Greece. There's just something about it. It looks like a fun place to be. I like the water, the villages and the monuments. I definitely want to check it out.
Q: What is your favorite snack?
A: Oreo cookies. That's the only thing I can't get enough of.
Q: What is your favorite website?
A: I'm on MySpace a lot. That's how I keep up with college and high school friends.
Q: What is your favorite movie of all-time?
A: It would probably be my Michael Jordan video. It's a three-peat video with all of the championships and his highlights starting from his rookie season. I used to watch it all the time. I've watched it so much, it skips in some parts.
Q: What is your favorite video game?
A: Tetris. I don't even play video games anymore. I bought a Gameboy Advance just so I can play Tetris.
Q: What is your most cherished possession?
A: My photo album. I have a lot of pictures that take you back to that same moment and it makes you smile and laugh.