Keena Turner, LB. 1980-90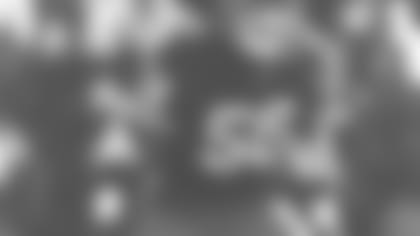 Fred Dean was one of the most explosive players that I ever played with. He was comparable to the closer in baseball. And he was comparable to Michael Jordan and Kobe Bryant at the end of a game. He became the focal point of our defense. Our setup was to be leading in a game and force their offense to have to pass, and then get Fred Dean on the field. Everybody would know, just like when the closer is in, or when Michael Jordan had the ball – that's the guy to fear.
At the end of the game for us, that was Fred Dean. He won defensive player of the year basically as a defensive specialist. That's how important he was to us and how well he performed in those situations.
I remember the patented move of Fred. It was a move where he would start up field and get momentum going and then with one arm lift the offensive player. He was so effective, because he had this blend of speed and power. He wasn't overwhelming physically, but he was a specimen. He was built like a racehorse, with long arms, long legs, and was born to rush the passer.
When you have a great player like Fred - that's a special link to have - it kicked us to the Super Bowl. I think there is a serious argument if Fred was not on our team whether or not we would have gone. He was that special to our team.
He was about as easy going and down home of a guy as you could see. There was no pretense to him. One of the things that allowed us to be a great team for so long was that we had great players in our environment who were just one of the guys. They wore their greatness well, and Fred was another example of that. Off the field he liked to have fun, he was easy going. Friendships were important to him and he took care of his friends.
I felt excitement and happiness for him when he was voted in because it was so well-deserved. And whenever someone who I played with goes into the Hall, like Joe (Montana) and Ronnie (Lott) there's a sense of pride for me that I lined up alongside that guy. And now, that guy is in the Hall of Fame. There's also a sense of pride to have been a part of their career and to have been a part of some great times that happened when we were all together.
I want to thank Ira Miller because he was a driving force, saying for many years that Fred Dean deserved to be in the Hall of Fame.
There's not a former player who I talk to who doesn't mention how happy they are for Fred, how well-deserved the honor is and how he represents all of us in that special time in history for our organization.
I'm planning to be there. I'm looking forward to helping Fred celebrate this well-earned and deserved honor and I expect a few of our former teammates to be there, which is wonderful that guys want to come help Fred share in this moment. I think that says a lot about the teams that we had. Guys want to be there for Fred and show love and support.