By definition, grit means firmness of mind, or an unyielding courage in the face of hardship or danger.
The 49ers showed true grit last week against the Oakland Raiders, staying the course through a sluggish first half only to physically impose their will as they secured their first victory of 2010.
The offense saw Frank Gore carry the ball more than any other game this season, 25 times for 149 yards. And it's no secret when the 49ers are truly rolling offensively, Gore is a big part of the success.
The 49ers are 16-6 when the two-time Pro Bowl running back surpasses the 100-yard mark and 13-0 when he carries more than 24 times in a game. Gore wasn't fully aware of both stats, but wasn't exactly surprised to hear them either.
"I feel like every time we're in the game, we're leading and I have the opportunity to touch the rock, we have a great chance of winning," said the only player in the NFL this season with 400 rushing and 250 receiving yards.
Gore rushed just seven times for 26 yards in the first half last Sunday, and the 49ers faced a 6-3 halftime deficit. But as the game went on, the offensive line combated a big Raiders defensive line with positive results, 18 second half rushes for Gore went for 122 yards.
"I feel we got better," right guard Chilo Rachal said of the 49ers offensive line, which has only played together for six games. "As a unit, we're starting to gel. I feel we got a lot better; we just have to keep getting better every week."
Gore, too, recognizes the growth from the big guys up front.
"They're getting better. Everybody knows it's going to take time, especially with two young guys. But they're coming along."
Stats aren't as prevalent for offensive linemen, but there are other ways for them to live vicariously through their teammates.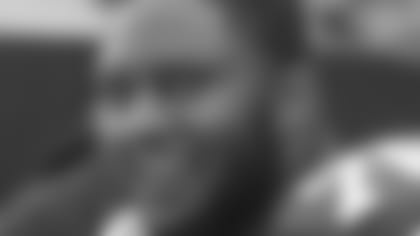 Rookie right tackle Anthony Davis felt good about the line's performance against Oakland, but sought out statistical validation.
"After a game like that, you ask (Frank) how many (yards) he had and it feels good when he gives you a number like 149."
It wasn't solely the run game that pushed the 49ers to victory though, Alex Smith's offensive command and two touchdown passes played just as big of a part.
Smith also showed toughness in the face of adversity, shaking off a few missed opportunities and penalties to rally the team for its first win.
Smith and the 49ers offense also picked up many important third downs, an area in which they've struggled in the early stages of the season. Improvement in that area shows the 49ers have another gritty quality – firmness of mind.
After converting 1-of-4 third downs in the opening 30 minutes, the unit picked up nearly half of their third downs in the second half (6-of-13).
Smith said it's not just him responsible for the improvements on the make-or-break down. It's team-wide.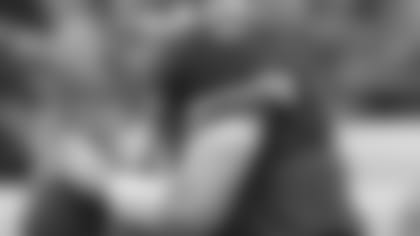 "Getting in better third-down situations as a whole, that makes third-down conversions easier," Smith said. "Coach (Mike) Johnson and the coaching staff have done a good job every week of putting together some good third-down packages for us… We're really trying to take advantage of some matchups for us, some things we see on film and have done a good job of the guys executing it."
The offense will need a gritty performance yet again this Sunday when they face a winless Carolina Panthers team brimming with talent.
"They have very explosive players," Rachal said when talking about Panthers linebackers Jon Beason and Dan Connor. "I really have to get there, move my feet and get my hands on them. When you watch film, those two are all over the field."
The 49ers are all too familiar with the feelings associated with being 0-5. Last week they felt the same things Carolina is feeling entering this week's game.
"You can't judge a team by their record," Gore said. "That's like teams playing us. We were 0-5 and they knew what they were coming into. I know they have a good football team. We have to go out here, play our ball and get this 'W.'
Safety FirstThere was a great deal of talk regarding the NFL's stronger enforcement of player safety rules, and for good reason. With the increase in fines and potential suspensions being handed out for dangerous, helmet-first collisions, defensive players were asked their thoughts on the matter.
Safety Dashon Goldson said he was going to simply play the game and follow his coaches instructions.
"Defenders have to be careful when we're approaching the ball… We have to see what we hit. The coaches always say, 'See what you hit.' If you see what you hit, I'm sure you'll be clean."
NFL commissioner Roger Goodell released a statement earlier today, explaining the league's stance on the hot-button issue.
"One of our most important priorities is protecting our players from needless injury," Goodell said. "In recent years, we have emphasized minimizing contact to the head and neck, especially where a defenseless player is involved. It is clear to me that further action is required to emphasize the importance of teaching safe and controlled techniques, and of playing within the rules. It is incumbent on all of us to support the rules we have in place to protect players."
Mike Singletary supported the commissioner's stance.
"I know that the NFL is doing everything that they can to help protect players and the safety of the game. So, they're just going to continue to do that and we have to be smart about what we're doing. But I know that they're concerned about the safety of the players, and so are we."
Singletary said before practice center Eric Heitmann suffered a neck injury which will leave him out for Sunday's game.
Wednesday's injury report included these non-practice participants: guard David Baas (personal reasons), cornerback Nate Clements (ankle) and defensive tackle Justin Smith (hand). Tight end Vernon Davis (knee), linebacker Manny Lawson (rib), wide receiver Josh Morgan (thigh) and tight end Delanie Walker (ankle) were limited in practice. Linebacker Parys Haralson (calf) was a full participant.
Singletary said wide receiver Ted Ginn Jr. will continue his duties at both punt and kick return spots.
"Well, I just felt that right now, Ginn really likes to do it, and he does a good job with it, and as long as he feels that way, until Kyle (Williams) is really, really, his finger is 100 percent good, then we're going to keep it the way it is right now."
The head coach and the players aren't letting next week's game in London serve as a distraction this week as they prepare for Carolina.
"We've got one game, and that's Carolina. And when we're done with that game, then we'll look toward the next game. But we really have to focus on this game coming up with Carolina. All of the other things with London, that London trip, hopefully most of the guys have gotten everything ready for that for the most part, and can really focus on the Carolina game."