It's a weekly tradition for NFL players to swap jerseys after a game. It's less common, though, for players to send one another a jersey for Christmas. San Francisco 49ers tight end George Kittle was on the receiving end of an exclusive keepsake from Kansas City Chiefs tight end Travis Kelce. On Christmas day, Kittle flaunted a signed jersey from Kelce on social media.
The gift was Kelce's game-worn jersey from the Chiefs Week 15 primetime matchup against the Los Angeles Chargers. It included a personalized note to Kittle that read, "Keep ballin my guy. You are an absolute BEAST!! Don't ever lose that personality and always enjoy life!! Stay healthy man. Much Respect."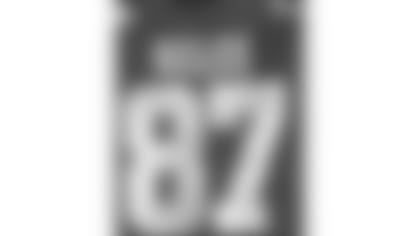 Kittle has followed Kelce's career over his past six seasons, and the two met during the 49ers Week 3 road game against the Chiefs. Kittle was recently thrilled to announce his Twitter follow from the Chiefs tight end after his four-catch, 108-yard performance in Week 9 against the Oakland Raiders. Kelce also gave Kittle some love on Twitter following his 210-yard outburst against the Denver Broncos in Week 14.
Both Kittle and Kelce are closing in on the most receiving yards in a single season by a tight end. The record is currently owned by New England Patriots tight end Rob Gronkowski at 1,327 yards set in 2011. Kelce is just 53 yards shy of Gronkowski's record. Kittle will need 100 yards in Week 17 top Gronk's mark (and then would obviously need to top Kelce in order to claim the record as his own).
Barring a Chiefs appearance in the Super Bowl, Kelce and Kittle will meet again this January in Orlando as both tight ends were selected to the 2019 NFL Pro Bowl.
"It was pretty sick," Kittle said of the gift. "He said he's fully expecting (a jersey) in return. I'll get him one at the Pro Bowl or I'll send one if those guys get to the Super Bowl. I'm pretty pumped."