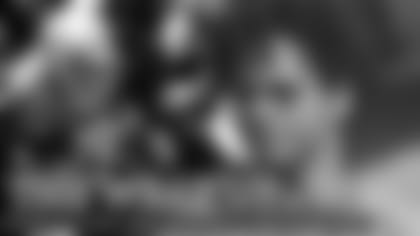 Eric Davis spent 13 years in the NFL as a cornerback. He's now in his second season as part of the 49ers broadcast team. After every 49ers game Davis will breakdown the game in his "Wrap Up" column. Here's Davis' sixth column of the 2009 regular season recapping the 49ers loss to the Houston Texans.**
The 49ers are now eight weeks into their season and for me, that means I have had the opportunity to appear multiple times on recap and analysis shows for Comcast Sports Bay Area as well as our post game show after every game.
Just like a player in the NFL, the more reps you get, the more comfortable you become. You understand what the producers want from you just like you would with your coaches. You have a better concept for the timing of how everything works. I'm feeling much more comfortable and having a good time doing everything.
People ask me if my approach towards the job has changed at all, seeing the 49ers lose two consecutive games and I simply explain that it can't. My approach has always been that it's not about me; it's about analyzing what's happening on the field.
My opinions are formulated off of what I see.
What helps me is that I have intimate knowledge of the players and what goes on inside the organization. Actually, I've found myself wanting to come around the locker room more and see how the guys are acting. That's kind of what I go off of; what I see, what I think, and what I feel. That's what they've asked me to do. I'm still trying to pay attention to more than just the obvious. It's obvious when a guy has a great game or a bad game. There's always more to it than that. Hopefully that's what I'm able to add through all of my contributions.
That brings me into last week's loss to Houston.
The biggest story from that game and for this week is going to be the quarterback change. It's on everyone's mind. With that being said, pay attention to what Alex Smith does; how he's played and how he performs.
If Alex comes in and continues from last week and makes his reads, throws the ball on time, moves in the pocket, then that time on the bench helped him. Once again, the pressure is going to be on him and in the past that was always the excuse people used for why he struggled. So be it. That's what he signed up for. He was the No. 1 pick of the 2005 NFL Draft. He came in and expectations were extremely high on him. They still will be, because he is now, again, starting quarterback for the San Francisco 49ers.
But now there is something to lose. Last week, there was not. He came into a game behind by 21 points and if he was able to do anything positive, then great. If not, then nothing changes, and he remains the backup. He showed that he may be ready for this moment. He stepped up and played well. I want to see him continue to command the huddle, read defenses, release the ball on time, and play with that swagger that he showed last week.
I've actually noticed a change in philosophy that is going along with the change at quarterback.
Coach Singletary has always said that they are going to run the football and that they are going to win a certain way, never losing sight of the fact that he wanted to win. But now I'm starting to see a growth and progression in the coaching staff.
Coach Singletary is still trying to change the culture and they are just six games removed from some very poor seasons. He's changing as well. This is his first year as a head coach. Some of the players have emerged as playmakers and he now sees that they can throw the ball a bit more. You see a Vernon Davis, doing what he does; you have to find a way to get the ball to him. You see Michael Crabtree come in and already make plays. You say to yourself that you now have another weapon outside. You have to have a quarterback that can get it to those guys and spread the field. Make the defense defend a field this is 53 yards by 100 yards. You can do that only if you get a quarterback in there that has the arm, has the presence, and has the ability to get it to them.
Shaun Hill was the guy to start at the beginning because of the philosophy they had in place. Control the turnovers. Keep it close and give the defense an opportunity to keep us in the game. Know they've reached a stretch in the season where some playmakers are emerging and you have to find a way to utilize them. That will open things up for another playmaker in running back Frank Gore.
Just like the offense is trying to do, the defense needs to build off their final two quarters of football against Houston.
They got back to their level and form after a few things went wrong in the first half. They have the ability to matchup with just about any team in this league. Two weeks in a row, it was the tight end that took over and made plays against this defense. In my humble opinion, that shouldn't happen. The 49ers have the linebackers and the secondary with the athletic ability to prevent that from happening. For guys to run clean through that secondary, that means there are communication problems. That is something that you saw resolved in the second half against Houston. They need to take this into their game against a very talented offense in the Colts this week.
Yeah, they'll be going against Peyton Manning, who plays like it's a video game and he has all the cheat codes, but the 49ers really have the ability to matchup with Indianapolis.
They can matchup with their receiver Reggie Wayne. They can matchup with tight end Dallas Clark. I expect them to do it. If they do it, then they have the opportunity to be in any game with any team.
But, Houston was a tough game. I really thought the 49ers needed to win that game. Coming in after a bye week, after a tough loss to Atlanta. For them to underperform then, it needs to be corrected, right now. If they really want to win this division, it has to be corrected right now.