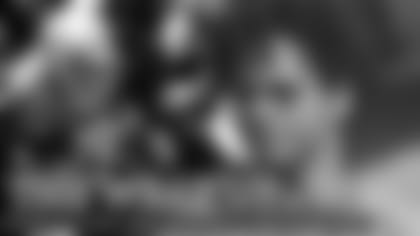 Eric Davis spent 13 years in the NFL as a cornerback. He's now in his second season as part of the 49ers broadcast team. After every 49ers game Davis will breakdown the game in his "Wrap Up" column. Here's Davis' first column of the 2009 regular season.**
One thing that stood out to me from this first game was the relentlessness of the 49ers defense.  Guys were making plays, chasing down balls, getting turnovers, and getting in Kurt Warner's face.  The pass rush is what gave them an opportunity to win the game.  It kept them in the fight long enough for the offense to be able to put together a touchdown winning drive and get a victory in tough territory on the road.
The scheme that the secondary used was great against Warner.  He is a guy who is all about rhythm, spacing, and timing.  He had his best years when he could sit back and through the ball in tight barriers and allow his receivers to run through those windows and catch the ball in stride.
But what the 49ers did was put bodies on bodies and pushed around those receivers.  They also had a good scheme up front, allowing guys to crash across his face and blitzing guys up in the middle to get in his face so that he didn't feel comfortable just standing in the pocket.  He doesn't like to through on the run and that was a perfect way to play Warner; keep him moving, kill his timing by jamming up the wide receivers, and make him have to do something out of his comfort zone.  That's the type system that you want to have against any quarterback.  It will work. You take away the deep ball.  You beat up the receivers.  You give your rush a chance to get there.  The 49ers secondary had a solid day and if they continue to do that, it will really give them an opportunity to be successful this season.
On the other side of the field, you have to give the defensive line for the Cardinals respect for the way their front played.  Their defensive lineman Darnell Dockett was very disruptive.  He didn't allow for a lot of the 49ers pull schemes to work.  He was pushing the point of attack back.
Whenever that happens it's going to disrupt the offense.  Frank Gore's not going to be able to get going.  That's something that they're going to have to take care of.  That and the crowd noise.  The crowd caused some communication problems for the line.  And part of it was Dockett was that playing really well.  But, that's going to have to be taken care of if they're truly going to be a running team and truly going to have the philosophy of pounding teams and wearing them down.  If you're going to play downhill football, you're going to have to find a way to combat that.  It's going to have to start this week because that's simply not good enough.  That's obvious to everyone.
Offensively, what I saw was that Shaun Hill seemed to be a little panicked early on.  Some things weren't happening as planned.  The running game wasn't working.  There was a lot of penetration into the backfield.  A lot of guys were around him and he did seem to collapse a lot.
When the pocket broke down initially, you would see him almost freeze at times and gather himself and collapse and prepare for the hit.  As the game went on, he got a little bit more confident and did the things that he was capable of doing.  After he got the big pass to Isaac Bruce down the field it seemed to loosen him up and his shoulders relaxed a little. He started to nickel and dime guys, throwing the ball to Vernon Davis underneath and getting the ball to his running backs.
The important drive came at a point when the 49ers had to have something.  He stepped up in the huddle, led his guys down the field, and he put that drive on his arm.  That is what they have to do if they are going to get eight or nine people out of the box.  He is going to have to make plays with his arm.  That was the type of efficient and effective drive that he was capable of putting together.  That is something that they can build on and hopefully they will be able to get more of those drives in games to come.  Drives like that not only chew up the clock, but gives a rest to the defense and puts points on the board to win games.
I can't finish this column without talking about the way Justin Smith played.  He played hard from play one to play 75 or however many snaps they played.  From the first snap to the last snap Justin played at the level you expect him to and that's why he was able to get those two sacks on that important last drive when they had to find a way to get off the field to win the game.  That's something that I think needs to be singled out.
You have to also look at the way Parys Haralson was able to fly around. The outside linebackers in general; he and Manny were able to crash the quarterback all game long.  Manny was getting in on a number of plays. They were plays that don't show up on the stat book, but he was getting in the quarterbacks face and crashing down on linemen, allowing other guys to run free and put pressure on Warner.  Those are the type of things that allow you to be successful up front.
On the back end, defensively, you name the guys and they played well. Shawntae Spencer and Dre' Bly, they all were getting their hands on balls.  This is the type of play that you are going to have to have out of the secondary.  Guys are finishing on plays.  That's important for guys to be successful. And I don't think you can say enough about the play of Joe Staley.
The guy has already come in and shown that he is a special player for the last two seasons.  He stepped on the field for game one of this season and has not taken a step back.  He just picked up where he left off.  Against Arizona, he was all over the field making plays.  He looked like a safety the way he broke on his interception and snatched it out of the air.  That wasn't a body catch that you normally see from a linebacker.  The guy was off in space, read the quarterback, broke on the ball, and grabbed it at the highest point. That was textbook defensive back 101 manual.  It was amazing watching him do that.  He couldn't have done that any better.