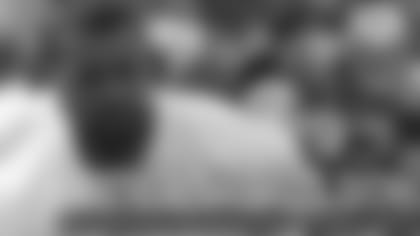 Defensive tackle Demetric 'Meat' Evans is the latest member of the 49ers to blog for 49ers.com. In his latest entry of 'The Meat Zone,' Evans talks about his thoughts on the 49ers upcoming road game in Seattle, how he spent his Thanksgiving and also shares his short holiday wish list.**
I've played up in Seattle a couple of times when I was with the Redskins, twice in the playoffs and once in the regular season. We lost twice in the playoffs and man; those are some tough memories for me. I don't even like talking about it because we thought we could go all the way in those years.
One year, we beat Tampa Bay in Tampa in the first round of the playoffs and then we went into Seattle and lost. We went back there in '07 and lost in the playoffs too. I don't have a lot of great memories of playing there but hopefully we can start some this Sunday.
It's up there with the loudest stadiums in the NFL, but it all depends on what time of the year it is if you really want to pick out which stadium is the loudest. Plus, you have to account for whether or not the team is in the playoff hunt or not – that always increases noise and excitement in the stadium. I haven't played in Seattle since we lost in the playoffs and they made a coaching change, but back then they were rolling with Matt Hasselbeck and Shaun Alexander. That was a loud place to play.
But really, the fans are only as loud as the score dictates.
If you start strong it can take some of the momentum away from the fans. One thing I remember about Qwest Field is how great of a sound system they have there. At the end of the day, the crowd noise is more for our offense to worry about. Seattle's fans will be quieter when their offense is on the field which isn't as difficult on our defensive guys.
Since the Seahawks lost veteran left tackle Walter Jones, they've been shuffling guys around looking to find their best five linemen. They're looking for the chemistry there, but I think they've settled in on some guys and they got the running game going a little bit last week. But we're planning on going up there and getting after them to start, so they can't get that ground game going again.
We had a total team effort by our defense last week. Our coverage was excellent and it allowed us to bring pressure up front. And we picked up six sacks and forced two fumbles which is always nice for a defense to do.  Overall, it was a great team effort against Jacksonville.
Anytime your offense is moving the ball, controlling the clock and putting up points on the board it gives the defense more confidence. In that situation, you can control the run and they have to change their game plan and try to throw it across the field to get back into the game. We got after them a little bit and were able to have some fun out there.
The most fun is when it's happening on the field at that moment in time.
When you look at it on film on Monday, you have to look at with some perspective. It was a good game, but at the end of the day we have a new challenge going on the road to face Seattle. You have to enjoy it while you're in the game – while you're in the moment.
I had a half sack in the game, shared with Joe Staley and it was nice to get that. But really I think I had my first sack against Green Bay – I just wasn't credited for it. But it's ok, I'm just happy when we get to the quarterback. We have guys like Justin Smith and Ray McDonald who can get pressure and have been doing a great job all year. I just want to get in that pack with those guys and help the defensive line as much as possible.
With all of the sacks, somehow I missed Takeo Spikes' sack celebration dance. I heard it was nice though. I didn't even get to see it or see a replay of it yet! But that's what it's all about. You have to get that energy going on the field. I'm trying to convince Ray he needs to do something after he makes a play – other than just looking back at the sideline.
Just when I said that, he just told me I need to do something with my old football cleats – but I like the shoes I have. It's not about the fashion; I'm past that stage in my life. It's about comfort and what gets it done. Plus, I don't have beat up feet like half of these guys that have lockers by me. To me, there's no excuse for you not to take care of your feet.
Off the field, I've just been focused on resting and relaxing back at my apartment. Every time I've ever made the playoffs, it was in November and December when you make your run – so we're all getting ready to play our best football. We all want to be a part of that, so we're making sure our bodies are good to go.
When I leave the facility every day, there isn't much for me to do. By the time I get home it's close to seven at night. When I get home I try to unwind a little, eat something and call my wife. By then, it's time to go to bed. One thing I've been doing is cook a little bit at home. But nothing major. I just make salmon or a turkey burger here and there. I'm not a chef or anything now. I didn't go to culinary school, but I do what I have to do to get by.
That's another reason why I'm looking forward to seeing my wife again around Christmas time. It was tough not having her cooking on Thanksgiving. I went to Justin Smith's house to celebrate and it was a lot of fun. Justin deep fried the turkey and I was really impressed. It was my first Thanksgiving in California and I think they did a good job with the meal. It was on point. I appreciated the fact that he invited me over; he's going to have a tough time getting rid of me now.
But in all honesty, at the end of the day, there's nothing like being with your family. I'm looking forward to having my wife out here for Christmas. All I want this year is to make the playoffs. I think that would be the best Holiday present of all.