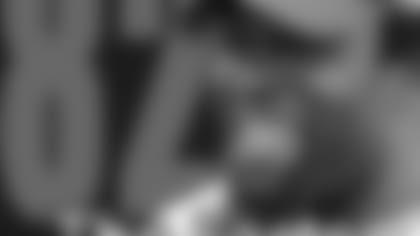 Veteran wide receiver Darrell Jackson previews Sunday's game against the Baltimore Ravens, the last match-up before the team breaks for the bye. Find out what he thinks some of the keys to getting a W are for this Sunday!**
This week we have the Baltimore Ravens and their defense is a stellar group, and has a lot of veteran players. They fly to the ball, they love to make plays, they are ball hogs which sounds unusual in talking about a defense but they are. They all get to the ball and want to be the guy who makes the play.
They stack the box with 8 guys most of the time and do very well against the run. They have a good scheme, a good blitz and they know where they fit in the defense and they play their spaces and make you try to beat them.
Trent Dilfer will start this week and he's very hyped. He took this team to the Super Bowl, and he knows a lot about them. It also helps that Coach Nolan was there, and that we've got guys like Marques Douglas and Aubrayo Franklin who played for them.
Trent is a very vocal leader and a fiery guy, and I think everyone will feed of his enthusiasm and play a great game. Everyone has confidence in him
Baltimore has a good secondary with some Pro Bowlers back there.
Chris McAlister is a great Pro Bowl cornerback. He gambles some because he knows he can get away with that. He's a physical player, loves to bump. He's a great cornerback and he's been around a lot and knows what he can or can not do.
Ed Reed is the best safety in the league right now. He's all over the field. He plays deep and likes to drive hard. He's a ball hog, loves the big play and. he's their big play maker on defense.
Dawan Landry is a solid strong safety. He likes to hit, he comes up and is physical, as you have to be to play in that defense.
Corey Ivy is a little guy, a scrappy guy who has been around a lot. He has played nickel for them and now he's getting an opportunity to play outside and he's really doing a good job on that left side of their defense.
Samari Rolle is another Pro Bowler. He's been out, so I'm not sure if he'll play or not, but he's like McAlister. He knows what he can and can not do, and is a smart player with experience.
They are a secondary that will jump routes, and play tendencies. They watch a lot of film I'm sure and they fly to the ball. Once the quarterback makes the read, that's where they drive to and they expect to make the play. They will take some gambles, and that can either pay off for them in terms of a turnover, or it can cost them a big play. We want to make it cost them.
They play the screen pretty well. They've got a big hog in the middle in Kelly Gregg and they've got Terrell Suggs coming on the outside, who is a strong guy and a solid pass rusher. They disguise their coverages, run a lot of different blitzes and they just really work well together. Their biggest asset is they know the system, they feel comfortable and they play carefree football. They don't mind giving up the 2, 3 yard dinks because everybody is flying to the ball so any time you get the ball you have to go north or south because if you try to get around, you are going down.
We just have to stay downhill and we need to keep ourselves in manageable downs – 2nd and 5, 3rd and 3, those kind of downs instead of 3rd and 12 because when you get in long distances like that, you are playing into any defense's hands, let alone this one. We have to keep getting positive yards instead of sacks for loss or no yards gained on ncompletions. I think this is a game where we have to take what they give us, dink and dunk it and get our big shots when we can, and most of all play physical.
It's been a little frustrating for our offense not to have gotten going yet. I know as a receiver, you want to go out and make plays but sometimes offenses struggle. I think once we hit our groove we'll be off and running and there won't be looking back. We just haven't found our rhythm yet but once we do we'll be good. We just have to keep at it, and it'll click.
This is a team game. There is no I in team so if one player doesn't do his job, the play can be disastrous and you can't put a drive together. Everyone has to step up and do their job. Everyone is frustrated and everyone wants to prove we can play better than we have and we're working hard this week to do that and satisfy our fans and keep them up out of their seats.