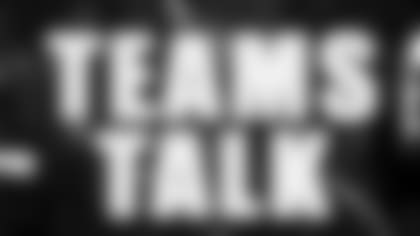 A sometimes overlooked aspect of the game is special teams, but not this season, and not on 49ers.com. Each week, we'll feature Teams Talk, a column dedicated to special teams and those who play on them. These teamers will share their breakdowns of the upcoming opponent and give you some scoop on some aspects of special teams you might not be too familiar with. Check out this week's column which features kicker Joe Nedney and cornerback Marcus Hudson.**
First of all, I know Jeff Ulbrich talked about kicking field goals. The last time he kicked he was good from about 45 yards out, we just have some work to do with his direction. But distancewise, he's definitely got the cannon. It is good to have a guy like that who could do that, because you never know. We actually have a couple of guys who can kick.
Brick was talking about how he wouldn't want the pressure on him for a game winner, but when you've done this for a while, you aren't even thinking about it from that standpoint. Every field goal I am running out there, I am visualizing what I want to do. I already know what hash it is on and as Andy Lee has the team in the huddle I'm just thinking about how the wind is and how I want to kick it. I just go one for one and try to execute that single play. That way it doesn't become more or less important than any other kick because a field goal in the first quarter could end up being the outcome of the game.
So that's my approach and so far this season I've been able to execute on my opportunities.
Now for Seattle, their kicker Josh Brown is a good clutch kicker and he always seems to hit the game winner. He's got ice running through his veins, he's got good leg strength and he's been a good kicker for him.
Ryan is a strong, big kid. He's still young so he's not as consistent quite yet but he has the chance to be one of the best in the league. He's a great talent, but I think he's still learning.
Seattle runs the type of kickoff return where they have four big guys on their wedge and they run it primarily up the middle. They've got a return almost by committee back there, but I think with our coverage team as long as we do our thing, we'll take care of it. We've got too much talent on our coverage team to worry about who is back there.
Last week we did give up the big return to Allen Rossum. He ran right by me. The two safeties and I are the last line of defense back there and he got by us. My job is to try to mirror the returner and if he gets through, I try to funnel him to one side so the other safeties can help me. Really, I just try to get the guy to slow down some so we can buy some time to track him down, and if I'm lucky I get the tackle.
That play that happened was something we can see on film and rectify very quickly, so I'm convinced going forward we'll avoid those big returns.
Overall the way our coverage units have played have been big for us. We've been on our own 25 and at the end of the punt play, they are on their own 20 so that's huge for our defense. Our defense has to be happy with the way Andy has been kicking and the way guys have been covering. It starts with a good kick, good hang time and distance and then with the way they get down there and make the play.
As for kickoffs, the other part of my job, that is something that is adjusted on the fly. We prepare during the week to kick the ball a certain way depending on what kind of return they are running. That can change during the game, but usually if you see one of my kickoffs going straight down the middle of the field, it's probably not where I wanted to go. This isn't always the case, but most of the time we plan the kicks out to the left or the right so we can funnel the ball out to the sidelines, particularly in a game where you have a real threat back there as a returner.
Speaking of returners getting by you, I'm excited that Michael Lewis is playing for us and not the opponent. We played against them last year in New Orleans and he broke through on a kickoff against me. He's not the biggest guy to look at, but he's a powerful guy. He gave me a pretty big stiff arm. Thankfully my arms are long and I was able to get him out of bounds, but he's tough and I'm looking forward to watching him play for us now.
Seattle has a solid teams unit, but right now I think our focus is more on our execution out there. They've got a good special teams unit, but I'll put ours up against anybody, so we'll see what happens on Sunday.
Marcus Hudson, Core Special Teams Player
Joe already touched on it, but any time you see a big return like that touchdown last week, it's usually an error on our part. We shot ourselves in the foot and a couple of guys got out of lanes. It was a big play and they gouged us. The good thing is that it's correctable. We learned from it and it was just motivation the rest of the game to play better. The remaining kickoffs we got him down very quickly and he didn't get more than a few yards on us.
This week we've got a few different returners we'll be dealing with. Josh Wilson is a pretty good returner and he had the long one for them last week against the Bengals. He's got decent speed, but his main thing is getting up field versus trying to outrun you on the sidelines. It's a big challenge for us because he's similar to Allen Rossum who had the big play on us. We have got to tighten up our coverage and buckle down on our responsibilities.
Alvin Pearman also fields kicks for them. I know him from playing against him at Virginia during college. He's a hard runner, a very hard runner and he also has big play ability.
Then they've got Nate Burleson. He likes to play outside, but if you give him a chance to take it up the middle, he will take it up the middle. He's not scared. For the most part I think he's one of their best returners. He had a great last year returning so I'm expecting him to be a more mature returner this year. Out of all of their returner,s I think he's the most complete because he can take it outside or up the field.
The biggest difference is they have a four-man wedge and for the most part we've been facing three-man wedges so the play develops earlier on the field, around the 20 instead of the 30. The biggest thing for us is that we are going to have to be more physical and aggressive.
I've got a few different assignments on special teams, but on punt return, I'm a gunner. My responsibility is basically if I'm matched up against one person, I should beat them because there is a bunch of field to work with. I just have to get on top of him and get to the ball. There are really no ropes to tie me down. They put two people out there, my job is a little harder because you have two people to get by and it's like a street fight. It's the longest play in football – a four second hang time, you are running 50 yards and then if they can return it on you, you are running right back the other way. It's a hard play.
One thing that is difficult is that if you get shoved out of bounds, you can't be the first person to touch the ball, so at the gunner position you really have to pay attention. You have to use the sidelines to get your release, especially when you are working against two people and so you have to be aware if you step out because then you can't be the first to down the ball. That's what I find to be hard because your instinct is to make the play and go get it, but you have to stop yourself and let someone else get it if you have been shoved out.
I think to play special teams you have to have a lot of want-to and you've got to know what you are doing. You can be fast and physical but if you don't know what you are doing you can shoot yourself and your team in the foot out there.
Each week, we want to win on all phases of special teams and especially help win the field position battle and have good ball security. We've had great kicks from Joe and Andy and we've got to keep at it with our coverage and our blocks on returns because we feel like if we win our battles on teams that we can really help contribute to the outcome of the game.