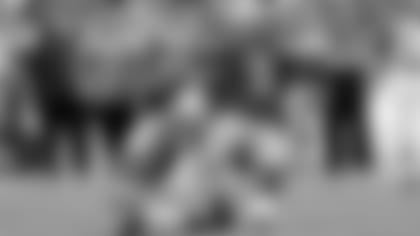 In this week's Teams Talk column, the newest member of the 49ers, kicker Jeff Reed, shares his thoughts on the special teams aspect of the upcoming game against the San Diego Chargers**I've been here with the 49ers for a little more than two weeks now and it's been a great experience. When you're used to something for nine seasons like I was in Pittsburgh, you never know what you're getting into with a new organization. But from the first time I walked into the building everyone welcomed me and made me feel very comfortable.
We had to face some rough weather in my first two games, but I feel like I kicked the ball pretty well. Green Bay was cold and windy, and just because I have experience in that doesn't mean it makes it any easier. But as soon as I made my first kick there, which was my first in a 49ers uniform, I was good. Before last week I had only played at Candlestick Park one time, and that was about five or six years ago. People talk about how difficult it is to kick there, and for me the depth perception was the toughest part because the net is so far behind the uprights - a 30 yarder looks like a 45 yarder. But I really hit the ball well.
I think the reason I've kicked so well is because of the chemistry I developed with long snapper Brian Jennings and holder Andy Lee. Those guys are money. It's tough to find a guy who can hold for a left- and right-footer, but Andy has been great. After holding for Joe Nedney, a lefty, for the last five years he had no problems switching sides of the ball to hold for a righty like me. He basically just asked how I like the ball, and it only took him about two days to get it right. I can't say enough about both of those guys, they make my job a whole lot easier.
I mentioned Joe earlier, and I've known him for a long time, played against him numerous times, and I respect his game. I'm just in here filling in for him. I don't know when he'll be back or anything like that, but for right now I'm just focused on San Diego.
I've played against their returner Darren Sproles probably four times now, and he's great. He's only 5-foot-7, not a big guy, but he knows how to break tackles and make big plays. Every single time I've played against him he's done that. But as long as we play the way we're capable we'll be alright.
From what I can tell over the last two-plus weeks, this is a solid coverage unit. They know their assignments and they get down the field ready to make plays.
With that in mind, I don't expect to too much change when we face Sproles. Every team I have been on, and here is no exception, we don't want to play scared. We plan on going out there and just doing what we do. I like it like that, you just kick it and cover it. I'm a big hang-time guy, so if I can give our guys four seconds I feel like we'll be good.
However, one guy I remember not kicking straight up to from my days in Pittsburgh is Ted Ginn Jr. That man is fast and I'm glad he's on my team now. He knows where the holes are as soon as he gets the ball. When I faced him I remember kicking away from him, using squib kicks, mortar kicks - we did everything to get it out of his hands and he still made plays against us.
Hopefully Ted can get a big return Thursday, I'll try to keep making my kicks, and we want to leave San Diego with a win.