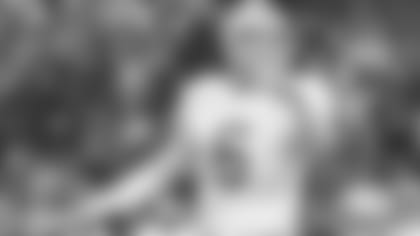 In this week's Teams Talk column, veteran kicker Joe Nedney shares his thoughts on the special teams aspect of the 49ers upcoming game against the Carolina Panthers.**I've been on eight different teams throughout my 15-year NFL career, and I was a Carolina Panther for 12 games in 2000, so I'm familiar with Bank of America Stadium. I've always liked kicking there; it's a beautiful stadium. And knowing the stadium is important for a kicker.
The ball travels a little bit different everywhere you play based on a lot of things – the wind, the temperature, the humidity, the elevation – so it's nice to have some familiarity. In Carolina, it can get windy sometimes, but not usually at this time of year, so I'm looking forward to getting back there and playing.
Most of the guys who have been kicking in the league long enough know what each stadium is like, so when it comes to be game time we're ready for every possible scenario. And we check the weather all week, so we have a pretty good idea of what to expect before we get there. We prepare as much as we can.
One of those guys who knows how to kick in nearly every NFL stadium is Carolina's John Kasay. You don't find too many guys older than me in the NFL, but Kasay is 40 and he's in his 20th season. In a way, he's sort of the face of their franchise because he's been there since their first season in 1995.
The only reason I kicked for Carolina in 2000 was because Kasay had a knee injury. And over the years he has been a real inspiration to me because he's suffered a couple of severe injuries and he has come back and always been consistent. When I was fighting through my injuries in Tennessee, I always looked to him for inspiration, the way he fought through his injuries and came back just as good.
Kasay and I know each other pretty well. I mean, I don 't have his number in My 5 or anything, but every time I see him on the field I'll stop and say hello. Plus I follow how he does every week, and at 40 years old and he's still kicking the ball really well. So kudos to him, but I want to beat him and the Panthers on Sunday.
Carolina also has a good punter in Jason Baker. He's a veteran too, and he actually punted for the 49ers in 2001 and 2002. Baker is a great directional punter and he can place the ball really well. Plus, their coverage unit does a good of funneling to where he punts it. So it will be that much more important for Ted Ginn Jr. to head downfield as soon as he fields the punts.
I have full confidence that Ginn can do that. Since he returned from his early-season injury, he has been a real spark for our special teams. When you have a play-maker like Ted, the other 10 guys on the field tend to play better because they know there is a real possibility that he can break off a big return. He's capable of amazing things every time he touches the ball, and the guys in front of him know he can't do those things if they don't set him up.
Those guys on the coverage units are very young, but they're very talented and they're improving every week. But it has been somewhat of a challenge too because of how much turnover we've had from training camp until now. Also, we just lost another guy in Curtis Taylor who was placed on IR this week. That hurts, but it gives another guy the chance to step up in his place.
In Carolina's return game, they have running back Mike Goodson returning kickoffs. When I look at him, I see a no-nonsense guy. He takes the ball, makes a decision, and goes with it. It makes our coverage that much more important. And it's my job to give those guys as much hang time and distance on the kick as I can.
Overall, I look at special teams more from a what-we-need-to-do perspective. I think as long as we execute we'll be fine. Obviously we watch their protections and their schemes and prepare for each team a little differently, but it ultimately comes down to taking care of business on our end.