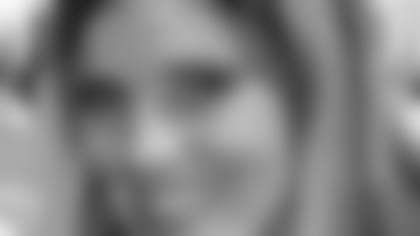 Over on our social networking site, 49ersfaithful.net, we have a few official team bloggers including two of our players in Manny Lawson and Marcus Hudson. All this week, 49ers.com writer Chrissy Mauck will also blog from the Super Bowl.**
Every year I feel like I've lost a week of my life by the time Super Bowl Sunday actually arrives. There are just numerous events crammed into one week and the days run together and before you know it, it's time for the big game and the reason why we are here.
I'm typing up this blog as I work one of the NFL's pre-game brunches, but I'll try to give a quick update on the last few days.
On Wednesday, the NFL held its FedEx Ground and Air Player of the Year award which brought Brett Favre, Fred Taylor, LaDainian Tomlinson, and Adrian Peterson to the Super Bowl media center.
Favre won the award, and I watched him accept it via one of the televisions on the lower level, along with our former 49ers offensive coordinator Mike McCarthy. McCarthy would later that day be honored with the Motorola Coach of the Year award, after leading his Packers to the NFC Championship game. McCarthy could live without ever doing an interview so he was not thrilled when his PR Director paraded him around Radio Row, but he was excellent!
There are always celebrities who make their way around the media center at some point. The little girl who played in that football movie with The Rock made the rounds and was absolutely adorable. Actors Adam Sandler and Rob Schneider also came through and went on set with our Trent Dilfer.
On Thursday, Joe Staley came over for the NFL.com Rookie of the Year press conference. Adrian Peterson won the award, but the audience had several questions for Willis, who then joined Peterson on the NFL Network set with Rich Eisen and Marshall Faulk for a quick segment. Peterson got choked up when he received the award, which I thought to be unique, as it's an award that pretty much pails in comparison to his Pro Bowl achievement and Associated Press Offensive Rookie of the award. Willis also stopped for a quick interview with Lamont & Tonelli, who praised our rookie for being OUTSTANDING on air.
Shortly after the Rookie press conference, the NFL held press conferences for the pregame and halftime talent. I found a seat in the first five rows and heard first from Alicia Keys and Jordan Sparks. Jordan has a very bashful personality, but I still think it's a stretch to hand the National Anthem to an American Idol winner. That puts her in the category of Whitney Houston, Celine Dion, Faith Hill, Billy Joel, Beyonce, the Dixie Chicks, and quite personally I don't think she's quite there yet. BUT, the game is on Fox, home of American Idol. Keys used the platform to announce her upcoming US Tour!
Next up was Tom Petty and the Heartbreakers, who are still very cool. Maybe I'm old, but I expect them to rock it. I very much enjoyed his responses to some of the questions which ranged all the way to what he thought about his song American Girl being played at a recent event to announce Hillary Clinton. Petty said they did not ask for permission to use the song and that it was not a sign that he's endorsed her as his candidate, going on to say that someone listening who to vote for as President from a guy who just plays the guitar is probably not a good idea anyhow.
Jerry Rice was over on Thursday hosting a segment on SIRIUS radio and I believe at some point he also visited with the NFL Network crew on one of their segments. In fact, about two seconds ago, he was standing right here having a conversation with someone.
Thursday night I attended the EA Sports Party with several members of the 49ers staff. Patrick Willis won his first round of the Madden Bowl against Kellen Winslow, and then made it to the semi-finals before dropping to Travis McGahee who went on to hand a sound defeat to Laurence Maroney in the finals. Dozens of athletes rolled through including LaVar Arrington, Tony Gonzalez, Chad Johnson, Matt Leinart, Shawne Merriman, Ben Roethlisberger, and Vince Young. Later in the VIP room upstairs, I also saw Joe Montana hanging out with Dwight Clark and on my way out I saw former 49ers Travis Hall and Chris Hetherington.
On Friday, the Commissioner held his press conference, which attracted a large number of the club owners. Several of them then made the rounds on Radio Row. Dilfer was on set all day on Friday so I grabbed him for a quick take on the Super Bowl week before he went on air. I'm not sure how many guests he had on, but I believe John Elway was on for a bit and I heard from many of the young gentlemen I work with that the Victoria Secret models also came through.
Steve Young usually is around a lot on Radio Row. I didn't see him over there this year, but I did spot him in the hotel lobby and then later at the Commissioner's Friday night party. I was going to cover Vernon Davis' participation in the NFL's annual Smocks & Jocks event on Saturday but Vernon had some conflicts and never made it there, so instead I headed to a Pop Warner game that was being coached by Dwight Clark and a few current NFL players in Cleo Lemon, Joshua Cribbs, and Quincy Wilson. We'll have a video up on TV49 of the event hopefully by Monday night!
So, the brunch is over and I need to head to the game! It's rained off an on, so I hope it dries up or they keep the roof closed. Last year it was a nightmare and I still have confetti stuck on my shoes from when I was running around the field trying to keep up with Reggie Wayne for quotes!