Weather conditions quickly turned sloppy in Buffalo, which played out nicely for a 49ers defensive unit that showed up on the east coast ready to get down and dirty against a Bills team that was thick in the hunt for the playoffs. The 49ers dimmed those chances with a 10-3 victory, the first time a west coast team has won on the east coast all season long.
"I think this really shows our true character. Week in and week out we come in, 'oh we gave them this and we gave them that,'" said linebacker Takeo Spikes. "I had to stress to the guys before the game, for this one time and one time only lets hold each other accountable. I don't want to worry about next week, let's do what we're supposed to do just for this one time, and we did that."
A week after allowing explosive pass plays and big scores in Dallas, the 49ers defense displayed gritty determination, surrendering only three points despite four trips inside the red zone by a Bills offense that put up 47 points last week in Kansas City.
"I think one of the things that we harped on from that game was keeping our poise," said linebacker Manny Lawson." We jumped out on them early and kind of lost our poise and they made some big plays and kind of ran with it. So this week we mainly focused on doing what we're doing and when we get it done and everything is in our favor, keeping our poise about it."
The 49ers defended against two quarterbacks as starter Trent Edwards suffered a groin injury and was replaced at the start of the second half by backup JP Losman.
"That was tough because it's hard to be prepared for both quarterbacks when only one had played when Edwards got the concussion (earlier in the year)," said Spikes. "We never spent any time (looking at him this week), but with Nate Clements and I spending time here, we just gave them tendencies. I knew things that gave him trouble when I was here, so I just went and told the guys and talked to the D-Coordinator and we just came up with a good plan."
The defense held both passers to 205 yards total, but did have some trouble stopping running back Marshawn Lynch, as the bruising back enjoyed a 134 yard day and an 8.4 average by
constantly fighting for extra yards.
But the 49ers never quit either, as evident on Lynch's 50-yard explosive run when Spikes tracked him down at the 9-yardline to prevent a touchdown.
"I haven't had to go into overdrive not this entire year, very seldom as a linebacker, especially me, do I really have to run full speed. I really had to pin it back," said Spikes. "Good thing, Nate slowed him down a bit and I had him at an angle, and I did do it."
Safety Michael Lewis, one of several players who Lynch blew by in the long run, stepped up on the following play by cleaning up Lynch for a three-yard loss after safety Mark Roman had originally gotten a lick on the Bills back. The Bills picked up 8 on the next play with a short throw from backup quarterback JP Losman to Lee Evans, but Clements immediately dropped him after the catch at the 4 with Donald Strickland then breaking up an end zone pass to Roscoe Parrish on third down.
"It's always our motto that they can get the ball down there, but don't get in," said Strickland. "That's basically what our mindset was. We knew we had to go in there, make some plays, and hold them to three."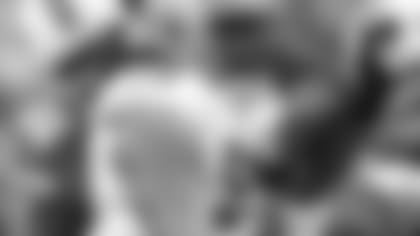 The five-play drive did end in a 22-yard field goal by Rian Lindell, but that marked the first, and only points for the Buffalo offense as the defense went on to stop the Bills again on a 4th and 2 play from their 7-yardline in the fourth quarter by getting pressure from Ray McDonald to force an underthrown Losman pass.
"We did a great job in the red zone today," said nose tackle Aubrayo Franklin who helped get great push up front throughout the game. "It's our motto to be a physical team in the red zone and today we did that."
Following a series by the offense that went backwards after an initial 12-yard run by Frank Gore, and then a 26-yard Roscoe Parrish punt return aided by a 15-yard unnecessary roughness penalty, the defense was called upon again to defend a short field from their own 25. They budged only three net yards on the three and out series with Rod Green and Justin Smith sacking Losman on the final play to force a 40-yard field goal try by Lindell. For the second time in the game, Lindell's kick hit the left upright for a miss.
"We made a couple of mistakes that stalled our drive and we went backwards after our first, first down and we gave them good field position," said quarterback Shaun Hill. "The defense stood up again and didn't let them drive it any further and made it a tough field goal attempt and obviously we dodged a big bullet on that one."
One final defensive stop was required and fulfilled on the following series with Smith helping to get the Bills in third and long from their own 14 after another sack. Even with four tries, the Bills couldn't pick up a first down as the 49ers offense took over on downs at the Bills 15-yardline, and then able to take a few knees to seal the win.
The 49ers offense was out-produced by the Bills unit by 155 yards, but San Francisco did what the Bills couldn't by getting in the end zone with an opening 13-play drive that covered 72 yards and was finished by Hill's 11-yard touchdown pass to Isaac Bruce.
"The first drive was the only drive that we had where it wasn't wet," said Hill. "It was definitely a good thing we were able to get down there and get a touchdown because after that, the weather kind of changed and made things a little bit more difficult."
The 49ers added another three points late in the second quarter when a forced fumble by Joe Staley was recovered by safety Mark Roman at the Bills 41. Hill's 7-yard pass to Jason Hill proved to be enough to set up Joe Nedney for a 50-yard field goal and a 10-0 halftime lead.
"You get conditions like that, we have modern technology, we have the heated seats and the jet heaters on the side, but there's really nothing that warms up your feet," said Nedney. "So my feet were pretty numb throughout the game. I wished I could tell you what it felt like to kick, but my nerves were gone."
The first half shutout by the defense hadn't occurred since back in 2006 in a 49ers 20-14 home win over the Seattle Seahawks in November.
Game Injuries: LB Patrick Willis bruised his ribs, but finished the game.
Game Notes: Despite knowing that the weather was expected to take a turn for the worse in the second half, the Bills deferred after winning the coin toss and allowed the 49ers offense to get the ball to start the game. Since the first drive was the only dry drive for the 49ers offense, it worked out well for San Francisco.