J.T. O'Sullivan continued to work with the first group on Tuesday, leading to a foregone media conclusion that the starting quarterback job is his.
Head coach Mike Nolan claims that the race however is still far from over.
"I keep them all alive still, until I say differently, I'm going to keep them all alive," said Nolan. "I like all three quarterbacks, I can't stress that enough. I feel good about all three of them. Alex Smith obviously is a starter, a healthy starter anyhow, at seven and five and Shaun Hill last year in his two starts he had he was 2-0. So I know they both can win games. I feel confident in both of them. J.T. is the newest product to what we've got, so I'm getting a longer look at him."
Insisting that they are all even in terms of the competition, the most Nolan or offensive coordinator Mike Martz would say on the subject was that O'Sullivan does currently have the best command of the offense after having played for Martz in Detroit last year.
But Nolan also said that he's been encouraged by what he's seen from Smith over the last few days of work.
"He's done a real nice job," said Nolan. "I'm encouraged by what Alex has done as well as in the game. I thought Alex showed a little more calmness in the huddle. He got flushed a time or two, but nonetheless he's done a nice job the last few days as well."
The quarterbacks said they learn of their daily reps first-thing every morning, and that they then go out to practice with the mindset that it's business as usual.
"I'm going out there trying to play as well as I can play. That's (the starter) not my decision to make, so it's not something I 'feel' about," responded O'Sullivan when asked if he felt the job is pretty much his. "I'm going out there trying to play as well as I can with every chance and let the decision makers make the decisions."
Ditto for Smith, who said he's not allowing the recent rep rotation to interfere with his job.
"I try not to think about that or read into anything right now," said Smith. I try to come out here and take advantage of every day and do what I can with the reps that I get," said Smith. "I try not to think too much about it. I think the more you do that, the more it's going to hurt you out in the field with your play."
After beginning camp with a shared rotation with Smith for reps with the first team, Hill has been the odd man out in skelley and team periods since the team returned to work on Sunday.
Asked if he thought it was still a fair 3-man race, Hill responded simply with, "no comment."
"I really don't know how to answer some of these questions, I really don't," elaborated Hill. "I wish we were a little more in the light on things, but that's how it is I guess."
While they can't control the ultimate decision regarding the starter, the three competitors are working to keep themselves out of the dark when it comes to the new offense. And for each guy, that scenario is a bit different.
Smith seems focused on digesting this complex offense of coordinator Mike Martz, the fourth one he's been exposed to since his selection as a first round pick in 2005.
"We are all just trying to get a feel for the playbook, the plays, the concepts we are putting in, the types of things we are trying to do, and how we are trying to attack defenses, which is unique in this system," said Smith. "I'm trying to get a feel for that, the timing, and the decision making is the biggest thing.
"What we do on certain looks and having to be versatile. A ball can come out so fast on one play, but on the same play just a different look, it's a seven-step drop and you are going down the field. So, just trying to get used to that and ready for the season."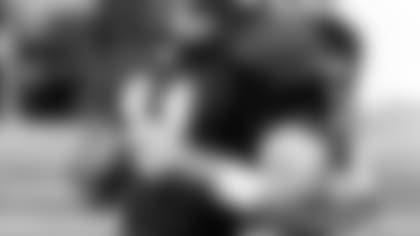 Given the offense's inability to move the ball in 2007, one turnover proved to be lethal, but in this aggressive, attacking Martz offense, the quarterback is required to take risks, and to more often than naught throw to where the receiver is supposed to be going. In competing for a starting job, Smith walks the fine line of not wanting to mess up and lose points, but also showing that he's not afraid to sling the rock.
"It's a much different mentality," said Smith. "We are trying to push it a little bit and see what we can do, what plays we can't make. I think it's a good thing. If you want to reach your potential and reach excellence, you've got to be able to do that. You can't play with fear or hesitancy or worrying about making a mistake. You have to cut it loose."
O'Sullivan does have the edge in knowing the offense, but he realized quickly after Friday night's game that he let loose a little too much with two costly turnovers.
Getting back to work this week has been the best way for him to put that behind him.
"When you go out there and get a chance to play in a real game and you make the corrections after watching the film, it's great to get out there again and get to compete," said O'Sullivan. "You get to make the corrections so that you're improving, and see what you did wrong so that you don't do that again."
Hill hasn't been given much of a shot lately to show what he can do, but that's a scenario the seven-year veteran has a lot of practice with.
"Waiting for an opportunity has kind of been the motto of my whole career," said Hilll. "That's what I'm relying on right now - trying to bring a good attitude to work and be ready whenever the chance comes."