"We will be a team you will be proud of," head coach Mike Singletary said on Monday night to over 1,000 season-ticket holders gathered for the first-ever 49ers State of the Franchise at the San Mateo Performing Arts Center.
"My challenge to you is not to sit back and see what the new regime is doing," the 49ers head coach continued. "My challenge is don't wait. Be there. Be there from the beginning."
Greeted with a standing ovation, Singletary delivered a passionate speech to the 49ers Faithful during his speaking portion of the event.
Singletary served as the cleanup-hitter on an evening that featured a speaking lineup of team president Jed York, chief operating officer Andy Dolich and general manager Scot McCloughan.
"What we wanted to do is make sure that we were open with the fans," York informed the media after the event concluded. "No disrespect to you guys, but it's important to us to talk directly to our fans."
The biggest highlight of the evening, Singletary's 15 minutes on stage, included a video montage of his interim coaching tenure with the 49ers last season spliced with clips from his Hall of Fame career as a linebacker for the Chicago Bears. It also included Singletary verbalizing his vision for the future of the 49ers.
"I stand before you today, just to have you understand that the 49ers of 2009 have a vision," he said vehemently. "I want you to know that I did not come tonight to motivate you to buy new tickets. I didn't come here to impress you. I came because winning is very important to me."
Prior to Singletary's declaration, the event was kicked-off by emcee and new radio play-by-play announcer Ted Robinson. Once Robinson formally introduced himself to the gathered fans, he proceeded to welcome Jed York to the stage.
York began by explaining how he was born into the 49ers, being literally "wrapped in a 49ers blanket" after birth.
"Seeing York on the stage was great," season-ticket holder Thelma Epstein said. "I was very impressed with him."
York went on to elaborate his obligation to carry on his uncle, Eddie DeBartolo's legacy as team owner and to revitalize the 49ers "championship culture."
"It's up to me to carry out that tradition, not just as a fan, but to put together the right people," he said to the crowd.
York praised the fellow speakers at the event. When speaking of McCloughan in particular, he praised the 49ers GM for fighting hard in the draft room for the eventual two-time Pro Bowl linebacker, Joe Staley.
"When Scot stands up on a table and fights for a draft pick – that shows what type of leader he is," York said.
But perhaps the biggest news out of York was announcing the creation of the 49ers Hall of Fame. The institution will automatically include the 49ers already in the Pro Football Hall of Fame and will also incorporate fan voting on finalists put together by team leaders and members of the media.
"I think it's really great to see the history really recognized," season-ticket holder Linda Hutaff said. "My parents have had season tickets since 1948. My mother had Hugh McEllheny's picture on our desk with her children's pictures. So there is that kind of tradition and they need to recognize it and it's great they're including the fans."
After York's time on stage, COO Andy Dolich got behind the microphone to discuss the business side of the 49ers.
"When they told me this was happening on President's Day, I said of course, because Jed is the new president," Dolich joked right off the bat.
The veteran business leader reiterated the main functions of his job: generating revenue, providing the highest quality of service to the 49ers season-ticket holders and acting as a stage hand for the athletes who perform at Candlestick Park. Dolich finished up by introducing his new ticket sales and service staff.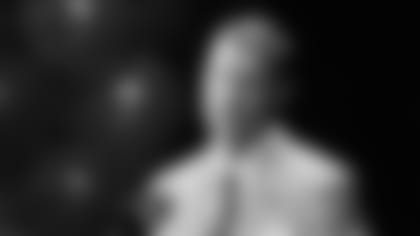 McCloughan was next to step up to the podium and began to shed insight on what's been going on recently with the 49ers from a football standpoint. He applauded Singletary and the new acquisitions to the coaching staff that include offensive coordinator Jimmy Raye and quarterbacks coach Mike Johnson. McCloughan also touched on his philosophies pertaining to free agency and the upcoming National Football League Draft.
"I like to hear the passion and energy when you guys came in, because that's what we have in the building," he said. "I'm excited that it's a holiday and there are people here, who will sit with me and talk some football."
"As long as we stick together, we'll do it together and we'll celebrate together."
Following McCloughan's exit from the stage, the Singletary video package was played. Once it concluded and he was on stage, the crowd broke into a lengthy standing ovation.
Singletary began his speech by thanking the fans for coming out even in rainy weather conditions. He also expressed how thankful he was that the organization created the event which allowed him to express to the fans his vision for the team.
Singletary stressed work ethic and respect as some of the key details of his vision for the 49ers. He finished by challenging the fans to be there from the start of his era as head coach and thanked everyone once again for coming out to the event.
"I'm thankful for you and I'm glad you came out," he said. "It's nice to know that you're Faithful. I thank you. God bless you."
The evening concluded with all four speakers sitting down on stage answering live and pre-submitted questions from fans in attendance.
The inquires ranged from the status of the 49ers stadium deal in Santa Clara to questions regarding the use of various players on the roster to specific football philosophies.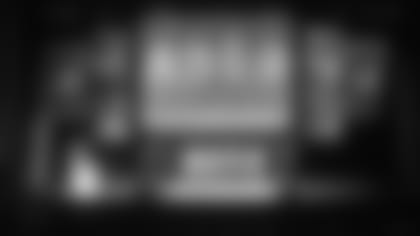 "I liked how they got everybody together on stage," season-ticket holder Eric Thongrak said. "It's not something that we were used to seeing. It's good to see the commitment outside of the regular season. After listening to coach Singletary talk, I'm definitely ready for next season."
Perhaps the highlight of the exchange was when a fan asked why the 49ers didn't play tighter coverage on the line of scrimmage and waited to hit opposing teams after they caught the ball rather than at the line.
Singletary's response was emphatic.
"Right now, you're asking questions and I'm trying to answer them the best I can. All I can tell you is we're going to play physical with an 'F.'"
The final question of the evening regarding changing the team uniforms was directed to Dolich.
"Stay tuned. Don't be surprised if you see championship colors back," he responded.
The evening concluded with York thanking the gathered Faithful for coming to the first ever State of the Franchise.
Fans who attended the event were more than pleased with what they saw.
"I thought it was wonderful," 49ers Faithful Lisa Santillan said. "One of my personal feelings is that whatever the news is, the more you can communicate it to not just the season ticket holders but all the fans and be open and honest with them – I'd rather hear bad news than no news. This was wonderful. It's tremendous to have them answer our questions and tell us what they're planning. It just meant so much."
With the local media in attendance, an interview session with Singletary and York took place on stage as fans headed out of the Performing Arts Center. The talk centered around Shaun Hill, Alex Smith and the quarterback situation.
When asked if Alex Smith would be in direct competition with Shaun Hill if Smith agreed to re-structure his contract, Singletary replied:
"There's going to be competition for that spot. If Alex is back, there will be competition for that spot. He will be given an opportunity to compete for that starting spot."
Asked specifically about drafting a quarterback with their first-round pick, Singletary said:
"You know, that's something we'd have to talk long and hard about, actually."
York was also pressed on similar quarterback-related topics.
When asked if Smith needed to be back with the 49ers after all the former first-overall draft pick has gone through, York replied:
"I think it's important to look at Alex and not knock him for being the No. 1 pick. Did he live up to that expectation? He didn't in his last four years. But when you look at what Alex is trying to accomplish, he's at the facility every day. He's working out. He wants to be here and he understands he's not going to get paid the last two years of his salary if he comes out. He's going to have to re-structure.
"I think if he does that, it's going to show how much Alex wants to be on the 49ers and that it's not about the money for him. It's about getting it right and it's about winning on the field. If we can work something out, I think it is important to give Alex that chance."
Read the live blog from the event!