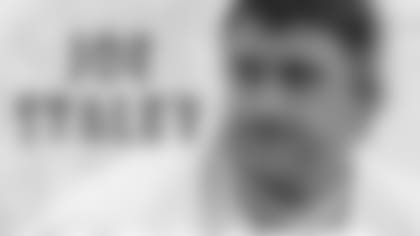 A first-round pick in the 2007 NFL Draft out of Central Michigan, tackle Joe Staley shares his experiences as a 49ers rookie, on and off the field in this online diary. Catch up with Staley after his first NFL road trip and find out what he had to say about being named the starting right tackle.**
In my last diary, I think I left off right before our talent show. I performed with a few of the offensive linemen, and I personally thought it was amazing and I was very disappointed that we didn't win. I thought myself David Baas, Sean Estrada and Damane Duckett did a fabulous job. I think everyone was really excited about all of our voices and talents. I don't know what else I could have done to help us win because I really felt that I hit the high notes. My voice didn't crack and I was able to show that I am not an embarrassed kid like I felt after I had sung my fight song earlier in camp. I was really going for laughs. I'm not sure if they were laughing at me or with me, but in my head I was telling myself that I was really doing well up there. That's all I needed to get through it.
Like I said, camp ending wasn't a big deal to me because I like practicing a lot. At this point, I don't even remember when camp broke because with this preseason schedule, I don't think it's all that much different really. We still spend a lot of time at work.
I had my first experience getting Popeye's for all of the veterans for the flight, and let me just say that it was absolutely a terrible experience. I called in the order and it was a big, huge order. We had 50 something orders, and it was just huge, so I called the day before and told the guy how it really needed to be done at 1:30PM. I told him the whole situation and he assured me that absolutely he'd have everything ready. So, I gave the money to Sean and gave him my car to go pick it up, because that was the agreement we struck as rookies. So, he goes there and I get a call at 1:35PM and he's saying they hadn't even made the order yet and I'm fuming because we were leaving at 2:30 and I'm thinking there's no way they are going to have it ready. They finally get it, Sean got back with a few seconds to spare and we are carrying huge bags of chicken. However, since he was in such a rush he didn't bother to check the order so we start to go pass it out and realize we don't even have half of what we needed. Thank gosh we had Larry Allen's order in there, and thankfully we had Coach Warhop's order in there, but we didn't have Eric Heitmann's stuff or Justin Smiley's stuff or Kwame's stuff so that was bad. That's all the vets you do not want to tick off. I felt terrible, like I let everyone down and that the world was ending. It really ruined the day for me, thankfully we didn't have to play that night.
Since the Popeye's fiasco, we've decided as linemen that we might just skip them for now on, and start trying some other places. We'll still have to probably go there for Larry, but we're a little disappointed about the service we got at Popeye's.
After eating, I played on my PSP against David Baas and Adam Snyder in this shooting game. I was absolutely awful, so it wasn't a good day for me. The rest of the flight I listened to about every song on my i-Pod. I only have about 200 songs and it was a long flight.
We got to the hotel and I needed to get a snack and I didn't want to wear all of my clothes from the plane so I put on some shorts and t-shirt and realized I hadn't brought anything as far as shoes but my dress shoes. Instead of putting those on, I just went down with socks and it was pretty awkward because everyone was making comments about it. Really, I didn't care because I just wanted my snack and then to go to bed.
My family came down on a bus on the day of the game. I think there were about 60 people total. It was good to see everyone but I didn't get a whole lot of time with just my parents or my sisters or my girlfriend. There were just a lot of people to say hello to and catch up with and only a short time before we headed back out.
The one thing about that game that was kind of exciting was that I got to play against one of my good buddies and former teammates in Dan Bazuin who was drafted in the second round this year by Chicago. It was cool, and kind of weird because he's my really good friend but I'm supposed to have this mentality where I'm supposed to kill him. It was the first time in my playing career where I felt like I didn't really want to hurt him so I had to force that out. Usually I have no problem being like I hate this person, and I'm going to beat him up, but this was different.
We got home very late from that game, by the way. We had to fly into San Francisco and it was well after three before we got back to the facility.
Check out my video diary which is online now, and you can see some of what my week was like leading into my first NFL road trip. I did shave my beard about midway thru the week. It was getting really gross, and had to come off.
I'm really excited about this opportunity to be a starter. Coach Warhop told me after meetings on Tuesday. It was definitely a hard fought competition we had in training camp. Kwame is an amazing player and he had a great camp, so it feels good that it was something that I had to earn. I'm really excited about the opportunity and am going to take full advantage of it.
One of the things that Coach Warhop told me is that sometimes the tendency is that you get tight out there, so he told me to just stay consistent with what I've been doing and not get all clamped up or nervous about it.
I know I'm not always going to be perfect out there, so it's a matter of letting that bad play go when you do have one, and focusing on the next and constantly trying to work on different things to improve.
In this game against San Diego, I don't want to do anything too differently. I just want to keep doing what I'm doing and just improving. I just want to get into a groove and become more used to playing with that first group. You have to be on the same page with those guys, especially with Smiley. I need to know what he's doing and he plays a different style than Baas, so this is a chance for me to work on getting on that same page and just to go out there and show that I can hang with the first team and that they made a good decision in putting their confidence in me.
It'll be a quick day trip for us since we are flying there first thing in the morning, and then coming back straight after the game.
So that's about it. We had a short practice today and then headed to the city for the Kickoff Luncheon. I got all dressed up in my suit and it was good to get to talk to some of the fans. Everyone seems really excited about the season, and that's the same way we feel about it.
I'm off to watch Hard Knocks which is about the Chiefs training camp. I just like watching people going through some of the same stuff we have been. It's comforting to know that other people were out there suffering their way through training camp, although I'm definitely not complaining! I love this game, and am very excited to be playing it.