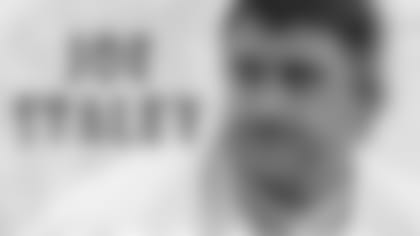 A first-round pick in the 2007 NFL Draft out of Central Michigan, tackle Joe Staley will share his experiences as a 49ers rookie, on and off the field. Check out his latest installment.  **
We got into Pittsburgh really late on Friday and I just went to bed. I woke up in kind of a crabby mood because the bed was pretty stiff. My preference is a nice soft bed. Coach Warhop actually said it looked like somebody kicked my butt. He was right, and it wasn't a good start to the day.
I really enjoy the Saturday walk-thru before the game over at the Steelers indoor facility. The reason I enjoy them is because the linemen throw the ball around and I get to show off all of the talents I like to think I have as a receiver. As a former tight end, it feels good to make some catches since I don't get to do that ever anymore.
After that, I had about 12 family members -- cousins, aunts, uncles and then my uncle's best friend who had two young kids in 8th and 10th grade. We all went to this sports bar while the Penn State/Michigan game was on, and it was really rowdy. It was awesome to see how passionate the Pittsburgh fans are about their football. It was a little uncomfortable though because this guy behind me was dropping the F bomb behind me every three seconds and my mom was sitting right across from me. I just don't like to curse around my mom so it made me uncomfortable to hear this guy.
Anyways, for the game I splurged for 24 tickets for my family so they could all watch me on Sunday. I got there early to Heinz Field so that I could do a full stretch and warm-up. There were about four of us offensive linemen who went out there and it's a ritual I really have come to like the last few weeks because I never did that in college.
The game - it sucked to lose. It just sucked. When I was at Central, my first two years we were terrible and I just grew so tired of losing and I just hate it. Anytime we lose and whether it's a close game or not, I just get this sick feeling.
They were blitzing like crazy, every play they were bringing something different. It was a real challenge to be able to pick up all of those blitzes. They were getting to the quarterback a lot in the games they played before us, and I felt like we did a good job overall protecting Alex Smith. Still, we gave up two sacks and we don't ever want to do that.
On Monday we came in and watched film and got a little workout in. I am really starting to appreciate the workout because when you wake up Monday you feel like you need to shoot yourself. It hurts so bad and you have aches in weird spots, so running on the treadmill is really good to get you loosened back up. Afterwards, you feel better but it's something you would never do unless you were forced to because you just really don't want to move at all. Once you finish, you really feel better.
After watching the film, we went out to lunch to this pizza point to celebrate David Baas' birthday, which was actually on last Friday. They have these things that are just horrible for you, the worst thing you could ever put in your body – deep fried Oreos. It's basically a deep fried powder sugar donut around an Oreo. It's really just terrible for you, but it's like heaven in your mouth and the tastiest thing you could ever have.
Tuesday, my off day, I did finally do the furniture shopping. I hate shopping and furniture is something that you really have to put a lot of effort into. You really have to finagle, barter, and really make sure you are not getting screwed. I did manage to get a great deal on a bedroom set. I have been renting this bed which is just terrible, so I splurged on an excellent mattress so I can start to get some good sleep.
But seriously, shopping really is the worst thing in the world. I get real excited about going, but ten minutes later I'm done. My legs immediately get heavy and I ache and I start thinking that I could be somewhere eating food or doing something else more fun.
I was going to do this column last night but I was in a bad mood from the shopping. I rented Knocked Up to improve my mood. It's a movie I've seen several times, but it's a favorite. My buddy, Jason Borrelli, who coaches over at Stanford came by and he joined my girlfriend and me in watching the movie. We ordered some pizza and had some laughs. Food, fun and good dialogue, what more can you ask for?
I want to give a little shout out to The Office, which starts again on Thursday. It's an hour long episode. I'm very excited for that. Also, the Wayne Brady singing show is a good one that I also like because I like to sing. I also picked up Halo 3 which is a game everyone has been talking about. I think Adam Snyder and I are going to be real nerds and just sit around competing on video games. Why would you ever grow out of video games? It's a very cheap form of entertainment.
We had an excellent practice today. I don't know what it was, maybe just that everyone was jacked up after losing and just that it's a big week. We are returning home, we've got another divisional game and it's a chance to be undefeated in the NFC West. We know on offense we've got to get it together and get it going, and that was definitely the mindset at practice today.