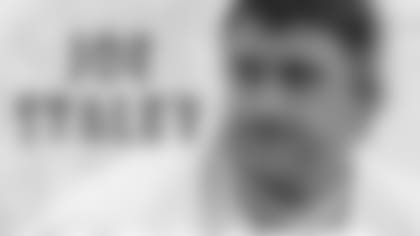 Right tackle Joe Staley updated his Rookie Training Camp Diary this week while sitting in a bucket of ice. Catch up with the latest happenings of this rookie in this recent journal.**
Again, I don't remember much about last week but it was really nice just having one two-a-day last week. I was really looking forward to that, and it was good to have had that day off after the game because I felt pretty fresh.
I have switched over to Xbox 360 instead of the Play Station console so I kind of stink right now on the new Madden, but I'm working on it. Like I talked about, I also tried to play Guitar Hero. I had taken about a month off and so my game is not to par right now. I'm trying to get back to my full strength.
Adam Snyder is in an ice bath two tubs over right now and he's talking a bunch of smack about how he's better than me at Guitar Hero, but he cheats. He knows how to play the real guitar. I do not.
Speaking of being in the cold tub, I'm pretty miserable right now. I've got these footies on to cover my toes, and I can't feel my legs but it's an essential part of the day because I feel good about going out to the second practice. It's definitely the worst 5 or 6 minutes of my day though, that's for sure.
I was supposed to do this diary last night but I just had to watch my show Entourage. I thought it was just okay. I don't like the direction they are going with the character Eric. I don't like him at all. He's got a Napoleon complex. I really wish he'd get pushed aside. I really like Johnny Drama. He's my favorite right now and the guy I can identify with the most. We call Nick Steitz "Turtle" because he knows everything about random trivia and that's how Turtle is on the show. Jonas Jennings came up with that one.
I've got this beard going, really out of laziness. It doesn't really come in thick at all so it looks pretty terrible. My dad told me he couldn't grow a mustache until he was 30 so facial hair does not run in my family
It was exciting for me getting in to play some with the first unit against the Raiders last Saturday. Coach Warhop had told me before not to worry about doing anything special and to just go out and do what I had been doing. I think the tendency is that you feel like you have to do more, so I took that to heart and went out there and tried to play my game. I got five snaps in there with them and we scored on my second play. That felt good to be in there for my first NFL touchdown, not mine personally but one I was part of. I know the skill guys like to do a little dance, but I don't really care. I'm going to sprint down to the end zone every time we score and give them a big bear hug. That's just what I do, so if they are in mid-dance they are going to get cold cocked. Overall, I thought I did well. I looked at Coach Warhop's grade sheet and I think I only had one minus. I'll definitely keep working on my technique but I think I made progress from the first week to this game.
We took a bus both ways to the game and the way there really sucked. We hit traffic and instead of just coasting, the bus driver would sprint for about 50 yards and then slam on the breaks so we were jerking the whole way. The way back, it was the same thing, so I'm going to have to talk to this guy about his driving.
I came in early to watch film and then went to Outback with Jake Patten. I spent a good deal of money again which seems to happen whenever I go there. The waiter made a comment about how he could tell I was hungry by my food order. I was like, "yeah, get over it. I weigh 300 pounds. If I'm hungry, so what?"
Afterwards, we went with Luke Getsy and Sean Estrada to go catch the Bourne
Ultimatum. It was very good and I highly recommend everyone goes to see it.
I'm also starting to get into the Flight of the Conchords which comes on after Entourage which is really dry, British humor. During the weekdays, we've got a routine where we watch Sports Center and then South Park. After South Park we watch Cheaters, which is a terrible show but highly entertaining. I feel really bad for the people who get cheated on but the host of the show is absolutely ridiculous.
I'm not really looking forward to camp being over either way. I'm actually going to miss my afternoon nap because the regular schedule we are here all day until 4:00 p.m. I like practicing though so I can't say I dislike two-a-days.
For our last night of camp on Tuesday we are having The Talent Show in honor of Thomas Herrion. I'm really looking forward to it. I didn't get to redeem myself for my poor singing, so this is going to be my chance. I think it'll be funny, at least one of the skits I'm in. I think Snyder wants to show off his guitar skills so he's got me singing this song, but I don't know it so I'm just going to have to sing it off a piece of paper. I think it will be really embarrassing because I'm not a good singer, but I'm going to try really hard. It's like in high school when people came in and would deliver those Happy Valentine's Day Grams and they were really terrible, but they were really into it and everyone was laughing at their desks. That's what I'm expecting it to be like, but oh well.
I'm very excited about my first NFL road game. I'm actually doing a video diary of the whole week which you all can catch on TV49 so you can see what preparation and the trip was like to play the Bears.