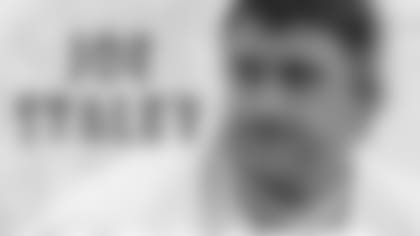 A first-round pick in the 2007 NFL Draft out of Central Michigan, tackle Joe Staley will share his experiences as a 49ers rookie, on and off the field throughout the 2007 Training Camp. Check out his first entry.**
I got here a week early before camp began so that I could get accustomed to the time change so I was ready to go when camp kicked off last weekend.
I'm rooming over at the team hotel, again with Sean Estrada. I brought a duffel bag of clothes over, but I realized at one point in the week that I had worn the same pair of shorts for about four days straight. We get back at night so late that I would just hop in bed, throw my clothes on the floor, and just put them right back on the next morning because I'm usually too tired to search for something new to wear.
Sean is very low key, and so we get along great although one night I had to get up really early to take a random drug test, and when I came back in the room he was just carrying on having a full-on conversation in his sleep. I watched him for about 2-3 minutes as he spouted off some random stuff. It was really funny.
Camp started off with a bang - a heavy install the very first night. I had been in my playbook all during my time away so I felt pretty confident and my head wasn't swimming like it was at the mini camp.
The first day was pretty exciting for me because of all the fans being out there. Coming from Central Michigan we never really had anyone show up, and if we did it was the same old man who came to every practice and them maybe two or three random people, not 3,000. They were screaming my name and knew who I was and that was definitely fun and there was a lot of energy.
It's weird to have people call my name and want my autograph, but at the same time it's awesome. I love it. Again, I never experienced anything like that coming from a small school and it's great to have so many people wanting to meet you and out there watching you practice, so you want to give back to them. Autographs are what they are after, so autographs are what they get! I try to sign at least 20 minutes every day that they have open practice.
On Monday we had two practices in pads and I was really excited to get full contact work again. We started off with the Oklahoma drill which is a favorite for o-linemen because we get to pound each other. Sam Rayburn and I had a little scuffle. I finished my block a little too aggressive and there was an extra long stare and a few shoves but that was nothing. Really it was just two competitive guys going after it.
After the first practice I was already starting to feel the effects, but by Tuesday I was really feeling the effects. I started hitting the cold tub and going back to bed after the first practice.
I was telling Eric Heitmann how I thought it would take me about 3 days to acclimate to feeling so achy and in so much pain before you just get kind of used to it. Heitmann agreed, and I was glad to find out my theory was right because I'm actually feeling good again at this point.
We had one night off meetings on Wednesday. I went home to my apartment and watched some television, caught up on the episode of Entourage which I had missed on Sunday. That's by far the best show on television right now, by the way. If you don't have HBO, I recommend getting it just so you can catch that show.
Larry Allen came in on Monday and that was exciting because growing up he was my grandpa's favorite player since he was a big Cowboys fan. He liked Troy Aikman and Emmitt Smith too, but he'd always make a point of talking about how the reason they were so successful was because of Larry.
I haven't talked to Larry much though. I try to actually stay out of his way but to watch him prepare, the way he practices and then watching him on film and seeing how his footwork is perfect, his technique is great and how powerful he is, he's just someone you definitely want to model your game after.
I came in at weight and usually I drop ten pounds the first week of camp, but I haven't lost any so they are doing a good job of feeding us out here! It's buffet style every lunch and night. I'm a big pasta guy, and there is always pasta at every meal it seems. For breakfast, I take it easy with oatmeal and eggs but then I'm usually a pasta guy. The food is much better than what I'd pick for myself. I like to learn how to cook but I don't have the patience. I like to eat when I'm hungry, not prepare and have to think about it for so long in advance.
TV49 miked up Coach Warhop this week and so at the start of practice he told us he was going to be nice to us, but then the first thing he did was cuss one of us out. He's usually more ruthless in meetings actually, but he did take it a little easier on us over the course of the practice which we were thankful for!
On Friday, I got my thumb caught up somehow during a one-on-one drill. I'm not sure what happened to it. It's more of a nuisance than anything else because linemen use their thumb a lot, and it's just sort of nagging me. I just got it casted up and it's fine, but it just annoys me and seems like it's in the way.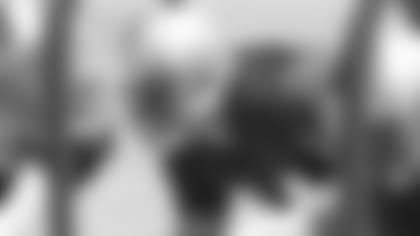 The scrimmage on Saturday was a lot of fun, and I watched it earlier today. I thought I played well. It was an opportunity to go against the 1's and show what I could do against the starting defense. I wasn't perfect in my technique but I felt like in terms of doing my job and keeping my guy away from making plays, I accomplished that.
After the scrimmage, we went to the Pasta Bowl which was a fund-raising dinner where we were supposed to serve everyone a pasta meal. I sat next to the Mayor of Saratoga and the Mayor of Campbell. Well, I know he used to be the Mayor of Campbell. I'm not sure if he still is, but they were interesting people and I had a good dialogue with them. I served everyone chicken and pie. I was nervous about the pie because it was sliding all over the plate, but there were no disasters. I did spill some noodles over my shoe. I'm a messy kid, like I said before. Usually when I eat, there's always a circle around my plate when I lift it up.
After the dinner I went with a couple of the linemen over to Adam Snyder's house. We played pool and watched a little of the Dave Chapelle show on DVD. I got really tired around 10 and came back to the hotel and went to bed. Rookies all had curfew so even though I do have an apartment of my own now, I had to stay at the hotel.
I've been pretty surprised because as a rookie I haven't had to do too much yet. All I've been told is to replenish the snacks in the oline room which is a bunch of sunflower seeds, Starbusts and that kind of stuff. It's about 50 a pop every time you buy those snacks because we eat so much but that's better than a huge dinner. I always check my helmet though because I do think they are devising a plan so I'm on my guard right now.
It's been great getting to know the linemen better. Tony Wragge has these one liners that cracks every one up and then he goes back to not talking for another day. Harvey Dahl is just hilarious. He's got the same humor I do where he makes fun of everyone and is never really serious so it keeps things light. It definitely makes the day go by easier and I feel more like a part of the team now.
Today was our day off, so I got up and got some treatment on that annoying thumb, watched the scrimmage and then went over to my apartment and paid some bills. I had lunch with Nick Steitz and then sat around my apartment. I watched about 30 minutes of 3 different movies each but I just couldn't stay focused.
My girlfriend, and then my dad called and then my mom got on the phone, so I spent most of my time talking to them. They all want to know what's going on out here.
All in all, my first week of training camp was pretty much what I expected it be which was very intense, but I felt like I got better as a player and that the team has made progress. So, I'm excited to get the second week started. I'll let you know how it goes.