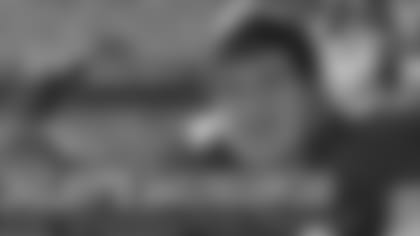 Left tackle Joe Staley continues his 49ers.com blog with his updates from the 2010 offseason. Check out the latest edition of "Staley's Musings: Random Thoughts from a Big Guy."**I can relate to the two rookie offensive linemen we just drafted, Anthony Davis and Mike Iupati. When I first got here in 2007, I didn't say a word forever. I probably didn't crack my first joke until the third week of training camp.
I remember the first time I met some of the veterans on the O-line. L.A. (Larry Allen) was quiet too, he didn't say much. I was just focused on proving myself at the time, before I did anything to let my personality show. I didn't want to step on anybody's toes; I didn't want anybody to think I wasn't taking it serious. Not that joking around means you're not taking things seriously, but I wanted my teammates to look at me as a hard-worker, someone who's going to listen and respect the veterans and not be a wise guy.
I definitely think Davis and Iupati can make our line better, competition always does that. Anytime you bring in two players highly touted like them, you expect they're going to raise the level of competition. I haven't seen them play yet, I wasn't around at their rookie minicamp, but if our front office thinks they're first-round talent, then obviously they have high expectations for them. Hopefully they'll raise the level of play of everyone in our offensive line meeting room and make us a better team in the long run.
Coming into my rookie year I had a great competition with Kwame Harris for the starting right tackle job. I remember everyone saying it was Kwame's best training camp when I got here, and I think the competition between us was part of that. We both raised each other's games that much more leading up to the season. That's just a perfect example of any time you get competition, it brings out the best from everybody.
It's great having two rookie linemen because it also means we'll be well-taken care of next year in the food department. Alex Boone had to get our food orders last year, but now the two rookies will take over. It's too early in the game to have them getting us stuff now, but we'll have something up our sleeves when training camp rolls around.
In other big news, we just locked up Pat (Willis) until 2016, and I'm very, very excited about that. It's really cool that we came to this team together; both first-round picks, and now we're staying here together. I signed my extension last year, Pat signed his deal this year, and we'll be here together for the next seven seasons. It's cool being able to start our careers here, and hopefully finish our careers here and win a lot of games and championships too.
I had a similar experience when I was in college. Our freshman class at Central Michigan didn't win many games and then when our class started taking over, all our guys started playing more and we started winning. At the end of it as seniors, we led our class to our first conference championship since 1994.
I think it can be the same way with Pat and I.
Our draft class in 2007 reminds me of what I experienced in college. In '07 we drafted Patrick, me and Dashon (Goldson) and I feel like we're changing things around here. Patrick's a great leader for our team. I feel like I can be a good guy for our offensive line and Dashon can make plays all over the field too.
All of us in the locker room are busting our tails right now. This is the hardest, most exciting offseason program I've ever been a part of. Myself personally, I've already set personal bests in everything. I'm getting so strong right now. I'm squatting higher than ever before, and it's like that all across the board in the weight room. My body fat is down, and I'm feeling the best I've felt. It's just exciting to see all the results paying off right now in the offseason program. My knee feels great, and I'm really excited about how everything is going.
I've been so tired after the workouts (I think I lost five pounds the other day from one alone) that I've just been lounging around afterwards. I've been watching *Curb Your Enthusiasm *for awhile now, but I recently went out and bought the entire series up to this point. I'm on season five right now, I already went through the first four seasons.
I think it's better than Seinfeld, but my dad doesn't agree. My dad has seen every episode ever created at least ten times, but there are some episodes he's seen well over 100 times! The crazy thing is that he dies laughing every time like it's the first time he's seen it. Every time! He's into Curb too, but he's just a big Larry David fan.
When I'm not watching Curb, or studying my playbook, I've been to four Sharks playoff games with my teammates already. We all chipped in on a couple of suites for one game, and the other games we just got 15 tickets and all sat together as a big group. It's been our whole O-line, Alex (Smith), some of the linebackers, Z (Dominique Zeigler) and Josh (Morgan).
It didn't bother me that the Sharks beat the Red Wings in five games. I grew up in Michigan, but I was never a big Red Wings fan. I wasn't really into hockey for some reason; I was always into football and baseball when I was little. I never played when I was little because all the equipment was so expensive. I think I only got into hockey because I moved close to HP Pavilion.
They've been fun games to go to, but nothing compares to my experience at the Olympic Gold Medal game. No hockey game would ever compare to that atmosphere, but it would be pretty sweet if the Sharks did win the Stanley Cup. For the record, I did have better seats at that USA-Canada game than Vince Vaughn. Although he was in a suite, getting served better food than I was.
Thanks to the Faithful for reading my random musings, I'll have more for everyone later in the offseason...