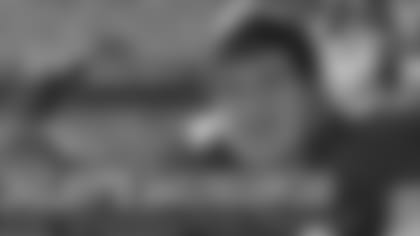 After a long layover, 49ers left tackle Joe Staley continues his 49ers.com blog with some 2010 offseason updates. Check out the latest edition of "Staley's Musings: Random Thoughts from a Big Guy."**First off, I want to apologize for not updating my blog at all last season. I kicked things off with a great preseason recap and then that was about it from me last year. I got injured against the Colts and missed the most time of any part of my football career. I still had time to make a few new episodes of "The Joe Show" (which now can be seen on my very own YouTube channel), but I wasn't feeling all that funny with my knee being injured. That's why I didn't update it at all last year, but things are good now.
Right after the season ended I stayed in the Bay Area for all of January. I rehabbed and worked out that whole time. I didn't do too much worth mentioning. But after the rehab work, I went out to Wyoming and visited my sister.
That was enjoyable, even though she lived in the middle of nowhere. It was cowboy-central out there. Seriously, there were five western wear shops on the main road in Sheridan, Wyoming. They sold cowboy boots, cowboy hats and plenty of great western shirts. I wished I would've made some purchases though, I kind of like wearing flannel shirts. That was a fun trip, but not as cool as my NASCAR experience.
I have a cousin who lives out in Daytona Beach, Florida, and I stayed with him to check out the Daytona 500. It was me, my cousin, Tony Pashos and Joe Toledo (one of my best friends), who used to play with us last year and is with the Chargers now. We went down to my cousin's spot and then Pashos met up with us from Jacksonville. I must say, we had a fabulous time out there. We got to ride around the track in a pace car and we had pit passes too.
It was pretty interesting to be in the pace car, let me tell you… I was in the backseat yelling at our driver the whole time!
Brett Bodine was driving our pace car 150 miles per hour and I was scared the entire time. I thought we were going to crash into the wall. Initially I didn't think we were going to go that fast, but I'm glad I had my seatbelt on! I really thought it was going to be a nice little tour of the track, and not a time trial! I was screaming the whole time, "Slow down, this is so fast, ahhhhh!" And to make matters worse, Brett, our driver, occasionally was talking to us while driving. At times, he had one hand on the wheel, looking back at us over his shoulder while driving over 150, and he's like, "This is a great time!" Meanwhile, I'm scared out of mind! I loved it, but I didn't like it at the same time.
But that wasn't the end of our day at the track.
We had pit passes at Daytona too, so we stayed around the garage and pit area instead of buying seats in the stands. It was a good thing we did, because one of the pit crews practically adopted us. During one of the delays to fix a pothole on the track, we started small talking with one of the pit crews. It turned out we had a connection with one of them, Pashos' old strength coach worked with Greg Biffle (No. 16).
After talking to Biffle's pit crew for a long time, we got pretty close with them. During the final 40 laps they had us in the front up against the wall, but I'm not sure if we were really supposed to be there. We were too busy cheering Greg on and we were about to lose it because towards the end of the race he was in first place.
There were two laps left and everyone was freaking out in the pit. But before I continue telling this story let me explain, I don't know anything about racing. Anything.
So there's laps left and Biffle just shot-gunned himself into the lead, but it was during a delay. I didn't know that. Biffle was basically about to win, but a caution flag came out which meant it was going to be another green-white-checkered finish. But I didn't know that. All I saw was him flying ahead of everyone else on the track. (But now I know all the cars were slowing down because of the caution). Biffle's entire pit crew was upset because they were in the lead and could have won if the green flag had not come at the end. But I was leaning over the wall clueless of the caution flag yelling out, "Yeah!!!!! Go!!!!!!" I looked over at the rest of the pit crew and everyone was looking at me like I had done something wrong. I quickly realized what I did and just shrugged my shoulders at them, "Sorry guys, I didn't know." After the delay, Biffle made his move a little too early on the final lap. He ended up finishing third. We were a little upset he didn't win, but it was a great time. It's too bad he didn't win. The pit crew told us if he had won we would've been allowed to celebrate with them on victory lane.
It was like the Super Bowl of NASCAR. To put our experience into perspective it would have been like wandering the sidelines during the Super Bowl and then having a coach grab you and say, "Stand by me, we're going to win it!" It was a great time though. I recommend checking it out if you're a sports fan in general. Remember to use sunscreen though. I forgot and now my neck and face are bright red.
I'm back in the Bay Area again for another week to do so more workouts before I go on another trip to Vancouver to check out the Winter Olympics. My knee is great though. I stayed here all of January to make sure everything was going well. I got cleared by the doctors at the end of January and now it's time to build back my strength with the workouts we're going to do in the offseason.
I'm excited about this Olympics trip. I'm going to go with Toledo once again and we'll be there for five days. We're planning on seeing ice hockey, aerial skiing, snowboarding and bobsledding. Sorry Vernon, we won't be seeing curling out there. (He's the honorary captain for Team USA, in case you didn't know.)
Switching gears, (these are random musings) we just hired a new offensive line coach and I haven't met with him yet, but I know him pretty well. To be honest, I was very upset that Coach Foerster left. I understand why he did it; he wanted to be closer to his family. There are no hard feelings with that. I'm upset he's leaving, but I'm also excited for the opportunity to work with Coach Solari. He's been a great offensive line coach for a long time, and I actually got to meet him before I was drafted. Before the draft process, he was coaching in Kansas City. I guess they were interested in picking me because I had a lot of interviews with him at that time. He seemed like a great guy then, and now, everything I hear about him is positive.
If they were to replace Chris with one guy, I'm happy it's him.
I look forward to working with him, especially with how he's a Bobb McKittrick disciple. I think that bodes well for the 49ers offensive line for the foreseeable future.
I want to close this blog by letting everyone know I have a lot of big plans for the third season of my hit TV49 show – "The Joe Show." If you're reading this, please send in any suggestions to my Twitter account.
Thanks for reading my random musings and sorry it took so long to post a new blog. Hopefully I gave you guys a lot to digest in this latest one.