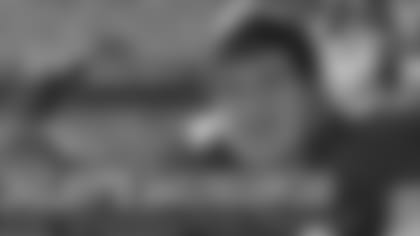 Tackle Joe Staley continues his blog at 49ersfaithful.net with a new name: "Staley's Musings: Random Thoughts from a Big Guy." **
The other day I saw the new Quentin Tarantino movie and it was really, really good. I'm not a huge fan of Tarantino's work, but this movie was entertaining. I was really in to the storyline and the acting was great. But it was really graphic and violent, so probably not the best flick for the young ones. I went out with some teammates on one of our nights off and we were happy with the movie selection.
I've been really trying to take advantage all of the time we've had off at camp, because there's hardly any time off. I?ve been going back to my house, and making sure everything's good there.
But I want the world to know that I have a bone to pick with my gardener. I was gone for a week at camp and I told him to make sure my water's on, because I'm not going to be around for a while.
When I came back last week to check on everything, my lawn was brown with a bunch of spots in it. It looks like nothing's been done to it! I think they just mow it and get out of there. So I'm going to call him up today or tomorrow and speak with him. Maybe have a few choice words for him?
I also had some choice words for our rookies. Actually Dave [Baas] and Adam [Snyder] were and I added some too. We were up in Napa practicing with the Raiders and somehow we managed to get the information of which room each player was staying in at our team hotel.
Dave and Adam were prank calling everybody. They were calling the rooms pretending to be a reporter from some made up newspaper. The best one was their call to Bear Pascoe. Bear asked them first, "Did you clear this with the PR department? Do they know about this?" Dave was like, "Yeah, yeah, I cleared it with them." So he asked some questions and I guess Bear was really in to it. He was like, "Yeah, yeah, I think I'm doing really well." Bear had really serious answers and they both started laughing.