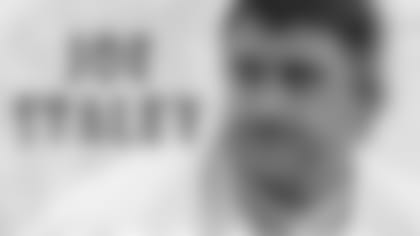 Tackle Joe Staley checks in with the fans for his final Rookie Diary, updating everyone on OTAs, the offensive line and his upcoming plans. ** 
Three weeks of OTAs have gone well. It's been a great chance to get out here and learn the offense and get everything down before training camp. It's also been fun to get out here and see all of the rookies. I've been impressed with a lot of the guys.
I feel that all the rookie offensive linemen are bringing something to the table. Chilo Rachal is very aggressive and he's got an attitude which is good. Cody Wallace is really smart and he's making a lot of good calls out there. Brian De La Puente also looked good out there this last week and has shown a lot of improvement. He doesn't make the same mistake twice. John Booker has been asked to do a lot of different roles and he's accepted them and done well. He's just got a good pop. I think each one of those guys has a good chance of bringing something to this team, whether that be on the practice squad or the active roster.
The transition for me to left tackle has been good. I've done a lot of work and Coach Warhop and Coach Foerster have been working with me a lot in individual periods as I hone down my technique. Then, it's just a matter of me getting out there and going full speed against the defense during team periods and keeping that technique in order.
It's different without pads, but I think it has been good because you do then really focus more on your technique and your footwork. I feel comfortable on the left side and feel like I'm going to have a really good year, and I'm excited for the season to start.
Everything on the line has been pretty seamless. Jonas Jennings is doing real well on the right side, and I think I'm doing well on the left. I think having everybody participate in the OTAs is key because you get that cohesiveness. You really have to trust and depend on all five guys on the offensive line and that's why it's a definite benefit to have a close group on and off the field. I think when you do have those off the field friendships that you tend to trust that guy that much more than you would if you only had a business relationship with them.
Defensive end Justin Smith is awesome and the defense is doing all sorts of things with him which we have to account for on the offensive line. So not only do we have to handle him personally, we also have to account for him from a schematic standpoint because he'll be outside, at 3-tech, or defensive end and so he gives you a lot of different looks to handle. He definitely gives us trouble and you have to be on your game when you are going against him because if you aren't perfect, he'll exploit you. I'm glad he's on our team now.
So now, let's talk about our offensive line dinner we had on Tuesday night. It was unbelievable. It was at my new house and everybody loves it because I do have a great house. It was a great time, a lot of food, too much food. Everybody brought like three pounds of food. I made my mom's cheesy potatoes and they were unreal. They were obviously the hit of the whole dinner. Everybody took huge servings and came back for seconds. I was really impressed with myself because I don't cook and I did a great job if I do say so myself.
The highlight of the night was when we played washers, which is similar to horseshoes. There was a battle between Eric Heitmann and Jeb Terry vs Adam Snyder and David Baas. Eric and Jeb won and it was about a 45 minute match that went back and forth with many clutch shots made. You know, now that I think about it, it's kind of sad that was the highlight because that's not very exciting. Now that I think about it, I don't know if anyone really had a good time. Everybody did kind of leave early.
My parents are coming out on Thursday and they'll be here until Tuesday. In the works possibly is a chance for me to go to a NASCAR event in Sonoma and meeting Jeff Gordon, which would be cool for my parents to get to check out with me. We also might go to Monterrey, and I actually want to go to the Winchester House. I've heard it's kind of weird and I like weird stuff. Mom said she just wants to relax and not do anything, and I'm down for that too. So, we'll see. Obviously, mom will be cooking because she just loves cooking for me and I'm looking forward to great eats.
I'm heading to Michigan after their visit and renting a lake house on Lake Michigan. Some of my friends are heading up so we'll jet ski and hang at the beach and take it easy.
My rookie year was finished last year after the final game, and I'm kind of sick of people telling me I'm still a rookie until after a certain game. We have four rookies on our team and I talked about those earlier in this diary, and I am not one of them. I just wanted to be clear because I'm now passing the rookie diary to Kentwan Balmer. He's a pretty funny guy and he's pretty outspoken. I'm hoping he has some good stories to share with everyone on here. I'll be checking.
I'll be moving over to 49ersfaithful.net later this summer where I'll have a profile, and where I will also be a blogger. Make sure to add me as a friend once I'm on there.
Thanks for joining me on my rookie season and my non-rookie off-season!