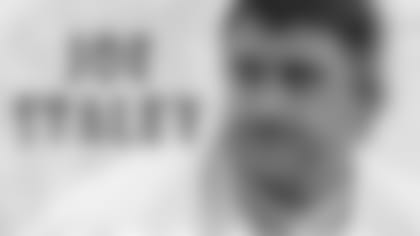 Check out Joe Staley's most recent diary entry where he discusses the start of the 49ers off-season conditioning program, his trip to Hawaii, and the move to left tackle.**
I think I last checked in from Florida while I was at the NASCAR races.
Shortly after that I headed to Hawaii with my family where we stayed at the Fairmont Kea Lani in Maui. It was a beautiful resort and the trip was my Christmas present to my family, which I have to say went over extremely well. My sisters and I had a room and then my parents were in an adjoining room to us so it was just a lot of fun for us all to be together.
There was no expense spared either. We did it all! The girls biked down the Volcano and they loved that. I am not much of an outdoor person. I don't really want to exert too much energy on vacation, so I preferred to go golfing with my dad. He beat me by one stroke this one day but the next time around I crushed him by 13 strokes, and he finally admitted that I'm better at him in everything.
We went this one day on this boat to go snorkeling and they had an option to Snuba dive which is where the air tank is above and you go down with a cord on you about 20 feet. My sisters and I decided we wanted to do that and the whole way out there the captain is talking about how he's had different football players on there and how many of them freak out when they actually get under water. I felt, and said, that it would certainly not happen to me because I've been down before, but sure enough I started freaking out and panting for air once I got down there. My sisters were making so much fun of me and I finally trusted that I was getting oxygen and I was able to stay down. It was pretty awesome except one time I found myself in this school of these huge two feet long fish and I started freaking out again because as I've talked about before, I don't like critters. I just flailed my arms all crazy until they went away.
After that trip I was back in Michigan for about two days packing up and then I came back out to California. I had a friend out the week before we started the off-season program and so we hung out and he helped me take care of a bunch of my errands. He's actually moving out here so it gave him a chance to see the area.  I'm really looking forward to his move out here so I can finally have a wingman to hang out with on the weekends. As of now, I just come home every day, watch tv and play video games - pathetic.
The workouts started and I absolutely love the program. It's very football specific and I'm really excited to see the results on the field. I've met all of the new coaches and we've picked up some good guys this off-season and I'm just really excited about everything on the football front. It's good to see everyone back and to be able to hang out together and build that team camaraderie.
I thought I was ready for the first week of workouts, but they are intense workouts and I was so sore I could barely get out of bed. I slept a lot last week and drank a lot of water.
The good news is that I can already tell a difference in my body. Last year I only had about 3 or 4 weeks of training out here with the team as a rookie, so it's nice to have the full off-season. I've gotten with the nutritionist and I'm on the proper diet and taking the right supplements and I'm taking full advantage of our entire program.
I've been moved to left tackle officially which I'm very excited about. A bunch of us were out working on our own and it was the first time in a left handed stance and I felt so much more comfortable. It just seems more like my natural position. That's where I played my last two years at Central. I'm sure it will take me a while to get the footwork down but I feel like I'll be a lot more powerful on that side. On that side you are doing more punching with your right hand which is my dominant hand, and I just feel like I have more strength and that it's more of a fit. Maybe it's mental, but I'm excited about the switch.
A bunch of us – David Baas, Eric Heitmann, Damane Duckett, Adam Snyder, Alex Smith and the new guy Jeb Terry - went the other night to see Steve Miller Band, and I was kind of disappointed to be honest. He played some of his jams that were popular but not nearly the amount I thought it would be. It was more of a jam session and not much singing, which I guess is what happens when you get as old as he looked. We got tickets at the last minute and Snyder got a limo hook up so somehow so we went to the Fillmore in San Francisco for the show. It was my first time there and I think it's the best venue ever to watch a concert.
Wednesday is our recovery day and I spent most of the day house hunting and I decided on the one I'm going to buy and I'm very excited about that. It's the prototypical bachelor pad. The floor plan is designed either for a single person or a couple. It's definitely not a family house. It's got an awesome backyard – patio, pool, and hot tub, and now I'm trying to finagle and get a good deal on it. My realtor, Sharon Walz, is awesome by the way and I recommend anyone who is looking to buy a house to find her.
I'll be back to work today and looking forward to another great workout!