Tackle Joe Staley ran through the weight room on Tuesday like a little kid shouting "I get to practice, I get to practice tomorrow."
Staley made his camp debut a few days ago at the all-team autograph session, but his first practice time didn't arrive until Wednesday's morning practice.
"It felt good. I wanted to get out there and do everything but they limited me just to the individual drills and the walk-thru stuff today," said Staley. "But it felt good to be on the field, put on my pads, and be out there with the guys so that I can start getting better and ready for the season. Hopefully this afternoon I can do a little more, and then tomorrow I'm full go. It's exciting."
Staley had been stewing ever since his foot began swelling to abnormal proportions last Thursday when the 49ers reported to training camp.
Staying at a hotel during camp without the comforts of your own bed can get old fast, but it beats Staley's first night of camp when he found himself at the hospital for treatment of his foot infection.
"I was there overnight, got three IV's, and antibiotics," said Staley.
Staley returned to the team hotel on Friday, but his sleep remained restless as he set alarms to wake up in the middle of the night so that he could keep on schedule with his prescribed meds. And while his teammates practiced, Staley runfortunately remained in bed where he kept his foot elevated.
"It's frustrating to be in a hotel when everybody else is out here getting better and working," he said. "This is valuable time to prove yourself and build that camaraderie with your teammates and I was missing out on that time."
The swelling eventually went down and Staley received the good word from the 49ers athletic training staff.
"Everybody said I had a little hop in my step yesterday once I knew I could go, and that I was back to my usual self," said Staley. "I was kind of sulking around the first few days and kind of quiet, and not really being as loud and fun as I usually am."
Highlights  (contributed by Taylor Price)
The best individual play of the morning practice went to rookie wide receiver Josh Morgan.
During seven-on-seven drills, Morgan ran a streak route down the left sideline and made an acrobatic catch against his college teammate DJ Parker. Parker had his hands on the ball for the interception, but he let it get away. Morgan stuck with the ball as it floated in the air for a moment and made an impressive reception of the Alex Smith pass.
Parker lost that individual battle, but made up for it on the next play by leaping up in the air and swatting away another deep ball intended for Isaac Bruce.
Safety Keith Lewis created a turnover for the defense with a stiff pop on fullback Zak Keasey, causing a fumble that was scooped up by linebacker Dontarrius Thomas.
Cornerback Shawntae Spencer earned a pass defense during skelley, using his athleticism to stretch out and knock down a pass intended for Isaac Bruce.
Bruce was extremely active however in his second day of work during team drills. He was the recipient of a double-reverse handoff, and even had some nice open field footwork when approached by cornerback Tarell Brown.
The next time offensive coordinator Mike Martz called for a reverse, the defense was not fooled, as Joe Staley stayed home and quickly got to Bruce in the backfield.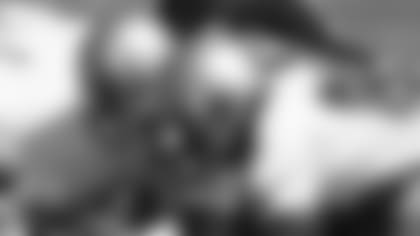 (stats are entirely unofficial)*
The biggest development at quarterback on Wednesday was the inclusion of quarterback J.T. O'Sullivan in skelley and team periods.
Practice began as usual with Shaun Hill and Alex Smith rotating series during team with today being Hill's turn to work with the first team. But when the 49ers broke for skelley, O'Sullivan finally got a chance to throw against the defense for the first time this camp.
Then in the ensuing team session, O'Sullivan took Hill's place with the ones.
"Shaun [Hill]'s arm is…he's been throwing a lot of balls and Mike [Martz] just felt it was best to ease off on him a little bit because of that. It was 100% because of that," explained head coach Mike Nolan. "But it also gave us an opportunity to give O'Sullivan a little bit of work and Alex can maintain the group he was working with."
O'Sullivan got off to a shaky start, fumbling the first snap from center Eric Heitmann. His next few plays included a reverse play, a pair of handoffs to Frank Gore and an incomplete short pass out to his right.
During his next turn up, O'Sullivan made his best throw of the day on a deep corner route to Jason Hill. Hill had coverage beat but the wide open receiver let the ball slip through his hands. Hill rebounded two plays later with a 6-8 yard reception from O'Sullivan for the final play of team.
Hill, the quarterback, started off the morning going 4-of-4 with a pair of passes to tight end Vernon Davis, followed by two throws to DeShaun Foster.
Smith faced some pressured from Parys Haralson for a sack, and only had the opportunity to make one throw in his first series which he completed to Jason Hill. His best throw of the day during team was an approximate 20-25-yard pass to rookie Josh Morgan.
For the first time this camp, tight ends coach Pete Hoener and outside linebackers coach Jason Tarver pitted their players live against one another in a one-on-one run-blocking scenario.
While the tight ends looked to seal the outside backers with a reach block, the backers sought to shed the tight end, set the edge and keep free to get to the back and make the play.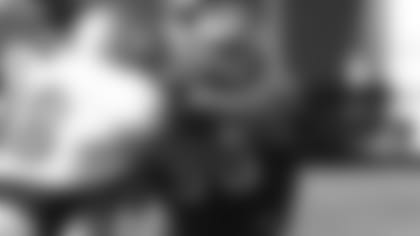 "It's a good opportunity for us to get some one-on-one reads with the tight ends because we do that almost every play," said linebacker Jay Moore. "It's just good hand placement work, and good work for the tight ends too. It's really basically a service drill for each other. We're all just trying to get better."
In fact, Hoener said on this particular drill he could coach the linebackers as easily as he does his own guys.
"It's really a mirrored drill between both of them," said Hoener. "Tarver and I could actually switch positions coaching and coach the same thing. It's leverage, hand placement, low man wins, and footwork on both sides of the ball. We are trying to either cut them off or reach them, and they are trying to keep from being reached."
To keep things realistic and the backers are on their toes, Hoener switched up his instructions to his tight ends before each snap.
"Coach tells us beforehand either reach or cutoff," said Bajema. "It's either one or the other, and then it's just a one-on-one and a battle. It's competitive and it's fun."
Hoener also pointed out that the isolated drill is safe. Although they are going live, there aren't any other players underfoot to cause any pileups.
"It's a good isolated drill where they are doing what they'd do in the game without the risk," said Hoener. "So, they really get to work on their techniques and then we'll watch the film and they can really see the importance of all the little things."
Seen or Overheard

Some of the best quotes overheard arose from today's Daily Drill.
Tight end Vernon Davis and linebacker Parys Haralson continued their trash talking ways during the period. When Haralson shook off Davis' block on one play, Haralson shouted, "you'll never block me."
Upon listening to the pair trade barbs back and forth, special teams coach Al Everest remarked, "It's always the war of words."
After semi-wrestling with Tully Banta-Cain at the end of one of their reps against one another, Walker wanted to make sure there weren't any hard feelings.
"I'm just trying to get better," explained Walker.
Running back Deshaun Foster took offense to the contact from safety Michael Lewis at the end of a play. After jawing with one another, Foster struck Lewis in the face, hitting his face mask. Lewis then tackled him to the ground where the two wrestled before teammates broke it up.
Running back Frank Gore and Patrick Willis spent their break time during the special teams period together on the sidelines. The pair of Pro Bowlers reviewed the team period and traded tips on how to make one another better.
Injury Updates

Rookie Kentwan Balmer missed practice on Wednesday after tweaking his ankle on Tuesday.
"Balmer will be alright," said Nolan. "He'll be day-to-day. We'll see when he comes back. But he's just got a sprained ankle. It's nothing really significant enough to comment on." 
S Lewis Baker (thigh), T Damane Duckett (knee), WR Ashley Lelie (calf), and S Mark Roman (hamstring) missed practice because of their injuries.
By design, CB Walt Harris and WR Arnaz Battle missed the morning practice. The 49ers coaching staff is resting Harris due to his veteran status. Battle is nursing a sore hamstring.
RB Michael Robinson remains out after having his knee scoped, while G David Baas is still on PUP.
Afternoon Practice Update
Battle returned to action in the afternoon, catching three touchdown passes during the red zone period.
Harris also returned to action in the afternoon, and unfortunately fell victim to Battle on one of the touchdowns.
Roman also returned to work after nursing a hamstring the last few practices, while T Jonas Jennings took the afternoon off after working in the morning. Jennings is maintaining the once-a-day routine that is also being used with Battle and Harris.
O'Sullivan continued to take team reps in the afternoon practice.
Throughout training camp, TV49 will be scouring the bleachers during the open practices for highlights and play by plays from the fans. We'll also feature a few in our practice reports in this From the Bleachers feature.
"I just saw three touchdowns by Arnaz Battle in the red zone period. It's looking good for the Niners this year," said Mike Phelps. "I'm also seeing J.T. O'Sullivan out there. He is up and coming, but he doesn't look as good as the other two. The punts today by Andy Lee were awesome."
TV49 caught up with Leo Coddington shortly after the special teams period, getting his thoughts on how Allen Rossum and Arnaz Battle handled their duties on Wednesday, as well as who should return punts this year.
"They did good, because with the wind, it's tough catching these punts. I particularly like seeing Nate Clements. He had a big punt return last year. It's exciting to see him at punt return. It's a little dangerous though too because he's a big money guy, but he brings a lot. Allen Rossum is quick and has a lot of good skills. With the addition of Isaac Bruce and Bryant Johnson, Battle could also get some punt returns and he's really good also. He's got good hands." - Leo Coddington