This past weekend, 49ers left tackle Joe Staley spent his Saturday morning supporting a cause close to his heart – literacy for youth. As part of the All-Stars Helping Kids Read-and-Run in partnership with The Bring Me a Book Foundation, Joe Staley teamed up to participate in fun, reading and learning activities and a 49ers Gatorade Junior Training Camp.
Over 25 children aged 4-7 years old from the Bayview Hunter's Point YMCA were bussed over to Candlestick to take part in the read-along with Staley.
"It's pretty cool getting a chance to meet the players actually on a football field where the niners get to play," said Tino Ellington, sports director at the Bayview Hunter's Point YMCA. "It's a special thing because how often do you get a chance to come to an NFL stadium and see the players, get a book read to you, get a snack, read a book and play football at the same time? It's a great day."
Staley first took part in reading a story to the youth, one of his favorites growing up, The Very Hungry Caterpillar.
Growing up with a children's librarian as a mother, it's not surprising literacy for children has impacted his life and emphasized its importance throughout the day.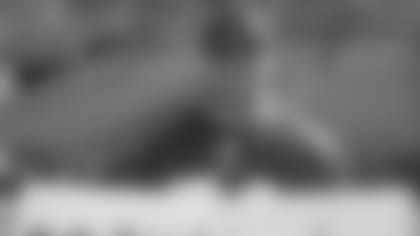 "I think children's literacy is very important because you can never start to early with kids. It's very important to read to them at a young age," said Staley. "My mom was a children's librarian growing up so I had all the access to all the little books and my mom read to me every day and it was really important and helped to give me a head start for the rest of my life."
Once the readings were complete, the children were given the opportunity to take part in an arts and crafts project where they could make their own book, courtesy of the Bring Me a Book Foundation. The Bring Me a Book Foundation also donated a new book to each of the kids in attendance at the end of the event.
Following the arts and crafts, the kids were finally able to run through all the Gatorade Junior training camp equipment awaiting them all day.
With the help of over 20 volunteers from the Stanford University Alumni Association, the kids were worked through a traditional 49ers Junior Gatorade Training Camp that featured stations to test their skills at a variety of positions.
In line with the mission for the day, hopefully the children will walk away with not only new skills for the football field but also with the interest in picking up a book and furthering their intellectual capacity as well.
This is Staley's third children's literacy event he's taken part in the past couple years. In addition to last year's All Stars Helping Kids Read-Along, Staley and other members of the 49ers and team owner, John York, went to Dr. Charles R. Drew Elementary School in Bayview/Hunter's point to read to the kindergarteners.
All Stars Helping Kids was founded in 1989 by 49ers alumni Ronnie Lott with the belief that every child could be an All Star. What began as a passion to better the lives of at-risk kids in the San Francisco Bay Area has grown into a movement aimed at leveling the playing field for children in low-income communities nationwide. To date, All Stars Helping Kids has raised over $20 million over 20 years for disadvantaged youth.