In his latest training camp diary, veteran cornerback Shawntae Spencer reviews the scrimmage, previews the first preseason game, and shares some locker room happenings...
We had our scrimmage on Sunday and man, I had fun. I wanted to come out with a lot of energy, no mental mistakes, and just make sure I got to the ball. I think I did pretty well.
Guys were flying around out there and it was good to hear the pads cracking. It was the first time we could take guys down and tackle. It was such a good feeling. So many times you just let them run past you, tag them off, but in getting ready for Friday's preseason game, I think it was good that we tackled.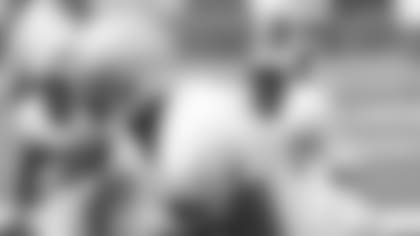 We had Sunday during the day off and I slept in until about 11, got up, and had a little brunch at the hotel. I had some cheese eggs, some turkey bacon, some grilled chicken, some grits and then I went right back upstairs and went back to sleep. My body was so tired and my body really needed it. Those off days really helped me get rested.
When I went in there for brunch, there was not one player in there. I don't know where everyone was. I guess they were sleeping in. It was empty. I got my eat on and went right back upstairs. I slept for another 4 or 5 hours, watched some TV until meeting times. You get those off days, you've got to put your feet up.
We've got our first game coming up this weekend. It's always fun to hit another team and I'm looking forward to Friday against Chicago. You can't take a big shot on one of your teammates. All of these guys out here are all very valuable and we need them all healthy for that first game of the season. So, even though we tackled in the scrimmage, you are not going to give them your best shot but Friday, it's open season. You can hit as hard as you want and it's good to finally go out there and compete against someone else. I'm looking forward to it and we'll make corrections after the game based on what we see.
Chicago has good receivers, a good running back and a good quarterback. Last year they didn't have their quarterback when we played them. This year, he's healthy and their whole offense has a chance to gel. I think it'll be fun. They are a very talented group.
I just want everything to stay normal in this game. The wind sure blew in their favor last year and it was a very crazy game. It's a new year, a new season, a new start for us and I want to leave all of that craziness behind.
Oh, of course I've been taking my bubble baths. I had one of the best ones of the year last night. They've got this new Epson salt, it's green and it's supposed to relieve aches and pains so I sprinkled some of that in there. It was real strong, you could smell it, and then I had some milk bath or something. I was smelling really good. I was alright. I do that every night before bed and it loosens me up and I sleep really good.
As for some funny stories around here… Larry Allen is a bully. This actually goes back to mini camp, but all the showers were full and in comes Big Larry and he walked up to Jason McAddley and said, "Hey, let me get wet." So Jason moved out the way. That's all you can do, you look at the man, and of course you are going to let him have your shower. It's funny and he jokes and has a good time about it. It's good to see Larry out here having such a good time. He's been in the league so long and played so successfully that it's good to see him enjoying himself still. Even if he didn't have seniority, you'd still move out of the way when he wants a shower. Just look at him, the man bench presses 700 pounds, nobody wants any problems with Larry.
BY might kick you out of the cold tub, but BY is a gentle giant. But, if you get BY mad, you don't want to go there. There's not much that gets to him, but once last year a rookie took a cheap shot at him, and wow. No one wanted to grab him, everyone backed up, Even the big guys were like I'm not touching him. I've never seen him like that, but you definitely don't mess with BY. BY and Larry, we let them go on and do whatever they want to do.
We don't haze the rookies, but we hit the pockets. We like to eat so we send them to Popeye's, Jamba Juice, out for pizza. I heard the linebackers went out to some extravagant dinner on Manny Lawson the other day. I know that bill was hefty. We are going to get our DBs. We got two rookies so we'll hit those pockets.
Vickiel Vaughn has some brain game. They were playing it right before we went out to practice so I didn't get a chance to figure out my score. I saw a lot of guys over there frustrated over it though. Mike Rumph was very, very frustrated. Keith Lewis wanted to do it different than everyone else and do the talking version of the game, but it didn't understand what he was saying so he scored terrible. It's funny. We just try to enjoy ourselves as much as we can, crack jokes, and stay loose. Camp is very hard so if you don't laugh, you'll cry.