As long as Mike Singletary is head coach of the San Francisco 49ers, special teams will be equally as important as the offensive or defensive units.
"At the end of the day, special teams can either make you or break you," said 49ers wide receiver Ted Ginn Jr. at the conclusion of Friday's OTA session.
The 49ers are hopeful it won't break them in 2010, that's why they're making sure to give ample time to new special teams coordinator Kurt Schottenheimer during offseason workouts, so he can implement his scheme while getting to know the strengths of his players.
"I think he and (assistant special teams coach) Dave Fipp have really done a good job," Singletary said. "I'm really thankful that Dave is here to assist and to help talk about some of Schottenheimer's philosophy and some of the philosophy that we have from last year, that maybe we don't have to change all of it."
Linebacker Scott Mckillop, one of the team's core special teams players last season, believes the changes are for the better.
"I think that's important, to keep some of the things intact, but change things that were in need of improvement," McKillop explained. "In terms of terminology, we've kept it similar, but on things we need to improve on, they've changed it."
One of the major alterations outside of verbiage or scheme is in the personnel department. Ginn, who the 49ers acquired via trade this offseason, hopes to add spark to the 49ers punt and kick return game, which failed to run back a punt or kick for a score in 2009.
Ginn understands that many in the Bay Area expect him to impact the 49ers special teams units, whether it's by returning punts or kicks for large chunks of yards at a time.
"It's always good to have your new fans supporting you," Ginn said with a smile. "The only thing I can do is come out and work as hard as I can and get better. As we move on, that should happen."
Ginn is in competition with rookie wide receiver Kyle Williams and cornerback LeRoy Vann for return duties, which will likely be divided between the trio for the remainder of the offseason.
The presence of a new coordinator along with new returners has the core special teamers excited about where the group is headed.
"Sometimes a change is necessary," McKillop noted. "Schottenheimer brings a lot to our team and with the addition of some of the returners; I'll be looking forward to an even more productive special teams unit this year."
Add Singletary to those who expect bigger and better things from the special teams groups. The units are so important to the head coach; he said three or four of the team's 53 roster spots will be reserved for players who primarily have a role on special teams.
"We really need some guys on special teams to step up. Special teams this year for us is going to be huge because there will be some close games," Singletary explained. "I would like for there not to be, but there will be and we want to come out on the other side of that thing with a win. In order to do that, special teams will have to come up big."
The first scuffle of the year took place on Thursday, when tight end Delanie Walker and outside linebacker Parys Haralson got into a brief physical exchange during the opening team period. It's likely that'll be the last one, as Singletary made the players run sprints immediately following the incident. Singletary addressed the matter after practice. "I look at our team like a family. Maybe some guys have the philosophy; well that's what football's all about. No, that's not what football is all about to me. I learned football where you go out and play together. You come out here and if you're going to fight out here and in the same breath you're going to say we're family, you're going to talk to each other badly? No, we're in this together. If you can't see it that way, then we've got to find somebody else. I don't want that at all because it's foolishness to me. I'm a firm believer that what you do out here on the field, that's what you're going to do in the game. It's all repetition. That's not happening." Both Walker and Haralson were joking around in the locker room after practice together. Neither took much offense to the incident. Walker said they had put the issue behind them as soon as they started running because of it.
Singletary said he was pleased to see the 49ers new stadium billboard when driving into work Wednesday morning. "I was really happy for the 49ers organization, [President/CEO] Jed [York], [Owner] Dr. [John] York and the entire family. It's been a struggle to try and get anything built in California and to be able to do that, that's very nice, a tremendous accomplishment."
As for the on the field action, Taylor Mays made a great pass breakup down the left sideline on a pass from quarterback David Carr. It was Mays' second pass breakup in as many days.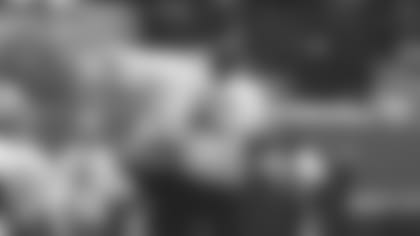 Takeo Spikes had the best pass breakup of the day on an Alex Smith quick slant to Glen Coffee over the middle during 7-on-7 work. Spikes immediately began to celebrate with a one-of-a-kind dance that only he can provide. Dashon Goldson ran over to give the veteran linebacker a jumping chest-bump which drew a chuckle from Singletary.
Spikes has even more reason to celebrate this Saturday, as he and his daughter Jakai, will attend a book signing in San Francisco to celebrate the NFL Player Association's new book, NFL Dads Dedicated to Daughters. Spikes and 49ers Director of Player Development Ty Knott are both featured in the book with their children and will be available to sign the new book. The signing will take place at 450 Tenth St. in San Francisco starting at 1:00 p.m. PT. Said Spikes of the importance of the book, "You hear so many bad things in the news these days. The only things that come out of headlines 80-90 percent of the time are unfortunate. I think in the NFLPA, we have a good group of guys who are doing right and are great role models. It's important to pick those guys out and let everyone see that."
The only interception on Friday, took place during the same period, when safety Reggie Smith picked off an underthrown ball from Smith.
But the quarterback made amends on the very first play from the next team period, by unleashing a beautiful 30-yard pass down the middle of the field into the waiting arms of Jason Hill, who beat Karl Paymah on a skinny post. It was easily, the play of the day.
After welcoming Hall of Fame defensive back Rod Woodson on Thursday, the 49ers welcomed in one of their own in team medical director, Dr. Dan Garza, who also works with the national champion Stanford men's volleyball team. Garza brought out five seniors from the Cardinals championship team to watch practice. "We were pretty excited to be able to watch the team," said senior Evan Romero. "I'm from Miami and have been a Hurricane fan all my life, so meeting Frank Gore was pretty sweet!"