Coaching in Mobile has almost become a home away from home for the 49ers coaching staff as they embarked on the third consecutive year of coaching the annual Senior Bowl.
"It's very fun and it's very familiar," said defensive back coach Johnnie Lynn. "It really gives us a chance to communicate with them, coach them, and see what they are really about so we're very excited about the week. When you get to talk to them and coach them, and see how they react to that coaching, that tells you a lot more than what you can get by just watching them on film."
Saturday's all-star game will pit the best of the best from this year's senior class against each other, but it gets started on Monday with the first practice for each squad taking place.
"I was anxious to see how I fared against the elite athletes in the nation," said Texas safety Marcus Griffin, whose brother Michael played in the game the first time Mike Nolan and his staff coached the annual game. "After having about a month off I was kind of shaky at first trying to get my feet up under me, but I think it was a good first day. It's very competitive out here and it's also fun."
Many of these players such as Griffin will find themselves in an NFL mini camp following the draft, which is why they appreciated getting their feet wet when it comes to NFL style coaching.
"Coach Sullivan was really on us about technique," said Texas wideout Limas Sweed. "He was definitely harping on us about getting in and out of your routes, being smooth and fluent within your routes, and without a doubt, any time you can get lessons from guys at the NFL, the highest level of football, that's definitely a plus."
Under the intense scrutiny of newly named 49ers offensive coordinator Mike Martz, Tennessee quarterback Erik Ainge worked alongside South quarterbacks
Colt Brennan (Hawaii) and Andre Woodson (Kentucky).
"It was a fast paced practice and it was a little different because you don't really know what you are doing," said Ainge. "You are just learning as you go and it's great to be learning from Coach Martz because he's obviously brilliant. He knows more than we can even begin to comprehend and we're fortunate to have such a smart man teaching us. I mean, if you want to be an accountant, you want to be trained by the best accountant out there. So, learning from one of the best coordinators with a great track record is very fortunate."
How players take and recall those coaching tips and techniques is one of the key things that tight ends coach Pete Hoener says he'll track this week.
"You want to see if they have any natural finish, how they attack, and how they learn their techniques and how well they retain that when you get into team drills," said Hoener. "We are not expecting perfection, but we want to see them giving top effort and how they finish each play."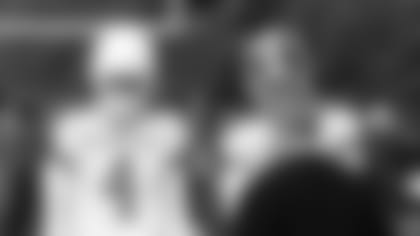 All in all it was a solid first day, but with hundreds of NFL decision makers flocking to Alabama this week, head coach Mike Nolan and his staff strongly reminded the south squad to keep up, and pick up the hustle as the week progresses.
"I think it was about what you expect for a first day just because of their nerves and trying to think about exactly where they are supposed to be," said defensive coordinator Greg Manusky. "For the most part, it was good tempo. We just have to start running to the ball."
One player who kept on running for the end zone even when he was tagged off was Georgia Tech running back Tashard Choice.
"It's so different because so many people are out here - fans, scouts, everyone and it's like the eye in the sky," said Choice. "Everyone is watching you and it's just so important to all of us to show what we have got, and so whenver you get a chance, you want to make a play and show everyone who is watching what you can do and that you are playing at the top of your game."