Isaac Sopoaga teamed up with San Jose State University's defensive line coach, Joe Salave'a, a former NFL player who played from 1998-2006, to bring attention and help garner donation efforts for those in need who have been impacted by the tsunami that hit in their native country of American Samoa.
The 49ers defensive tackle's family back home has thankfully not had any tragedies, but unfortunately Coach Salave'a cannot say the same. His village of Leone was one of the hardest hit. Three aunts and a cousin of his lost their lives as a result.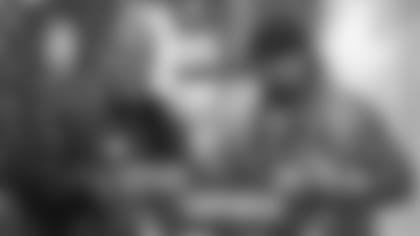 "Guys like me and Isaac, we are just trying to do our part, whatever that may be," said Coach Salave'a. "We just want people to know we are always thinking about them. This place lost a lot of families, and that is the hard thing about it. There are families of seven and 13 all gone. I'm just thankful Isaac's village wasn't damaged very much."
Coach Salave'a partnered with San Jose State University's Cesar Chavez Community Action Center to start a relief fund where people can help the cause. As part of their efforts, during every home football game at San Jose State University, a video of Coach Salave'a will be played asking fans to contribute what they can to the foundation to help survivors in Samoa.
"It is not until you are hit by some disaster that you retreat back to your family, your community, and if you are faith based, that is where you retreat to. You see on the news and some shows how proactive people are, not just Samoan, but people of different colors. To see that is a great thing, and it just goes to show you that there is good in people."
49ers' Sopoaga joined in once he heard of the efforts. During the Spartans latest home game this past Saturday, October 10, he matched the donations received that day, dollar for dollar.
Coach Salave'a visited the 49ers practice facility this week to discuss the efforts with Sopoaga and receive a signed jersey and football from the 49ers to auction off at San Jose State University's home game against the University of Hawaii on November 21.
"People like Isaac play a big role, obviously he is from the island," said Coach Salave'a. "In a time of need, with everything that he has done, it is a gracious thing to do.
"It is a natural disaster and it is hard to help when you are 1,000 miles away, and I'm sure Isaac shared the same thing: you almost feel helpless. But if we can help financially or in any other fashion I think we are on the right track."
Donations will be received throughout the remainder of the SJSU football season.
Those interested in giving, can do so through Coach Salave'a and the Cesar Chavez Community Action Center at San Jose State University. For more information, contact the Cesar Chavez Community Action Center at San Jose State University directly at 408-924-4143. All donations are tax deductable and 100% of the donation goes towards the relief efforts.