When the 49ers brought defensive end Justin Smith in for a visit on the first day of the 2008 free agency period, general manager Scot McCloughan remarked that it would be a long shot to land the highly sought free agent.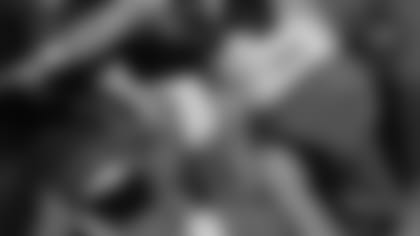 "I really don't have any hobbies. I've actually talked to my buddies about it before because I feel like I need a hobby. I mean, I'm not an avid golfer. Hunting season is during football season so that wipes that out. I fish, but not too often. Basically, I just work out, play football, and go home and lay down." - Justin Smith  
"Just not a west coast guy, he's a Midwest guy and that might be most important to him," said McCloughan.
After all, this is a guy who appears most comfortable in cowboy boots and who spent his early years on his father's Missouri cattle ranch, did side jobs like milking cows and bailing hay, and still uses words like neat and awesome in an accent that sounds more southern than anything.
In this instance, McCloughan found himself thrilled to be proved wrong when after a dinner with the 49ers coaches, Smith cancelled his next scheduled trip to the Vikings and signed on the dotted line with San Francisco.
"I didn't care where I played. It was all about the opportunity to be on a great defense and win games," revealed Smith. "That's what I saw here with all the players and their potential, and also the way they were talking about using me. I just wanted to go somewhere for my last 5 or 6 years in the NFL and be on a great defense. I played in that division for a while, but kind of how Baltimore used to be. You'd hear the offensive coordinators say 'damn, we have Baltimore this week.' I want to be part of a defense that whenever we show up to play, that's what teams are like – 'Oh man, we've got these guys.' I think we've got that opportunity to be like that here and that'd be awesome."
As promised in their sales pitch, the 49ers coaching staff is making the most of Smith's versatile offerings. Back at the team's mini camp in early May, Smith was first spotted lining up as both an end and an outside linebacker.
"I play anywhere from a 3-technique to an outside linebacker and I love it," said Smith. "I hated it when I was just stagnant and in one place all of the time, and the opportunity to be somewhere that they utilized all of my skills is really why I came here. I'm getting moved around a lot and they are getting the best guys on the field. We've got depth on the line and linebackers corps, so I think we can keep people fresh coming off the bench and I don't think there will be a big drop off. You can see that with the Giants, how they can roll people in and out and have no drop off. I think we are potentially set up to be a great defense like that."
Not that Smith will exactly be the one volunteering to come off the field. During his stint with the Bengals, Smith earned the reputation for being an every down player. The fact that he lined up for 97.9 percent of the Bengals defensive plays in 2007, the most of any defensive lineman in the NFL, was one of the attributes that McCloughan and company loved.
"I have no problem playing every snap, but if you do have guys who can come in and be productive and give you that one or two play rest, it just means you are going to probably be a little fresher and have more production when you are out there," said Smith. "I've never really been in a situation where we had that, but I do think this whole defense is stacked and that it might be good to come off and catch your breath for a play or two."
While the 8th year veteran believes it is important to pass along his knowledge to his younger teammates, he's definitely not going to be the oneorganizing team bonding events anytime soon.
"I think this is a great group of guys, but I'm not here to make friends," said Smith. "We're here to win games. So, I think you come in, take care of business, help out the younger players, do your job and be the best you can be. Every locker room around the NFL has the loud mouths and the quiet guys. I'm just the guy who goes about his business."
That being said, Smith expects his teammates to also pull their weight and handle their business as being a truly great defense takes more than just the efforts or talents of one man.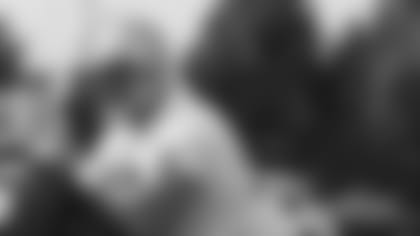 "When I'm done playing ball I'll probably move to Missouri or Texas and get a ranch. That's how I grew up. I think it teaches you survival. I've lived in the suburbs since playing in the NFL and I look around and see kids with nothing to do. On the farm, there was always something to do. We only had about two channels, but it didn't matter because I wouldn't have dreamed of sitting around and watching television." -  Justin Smith  
"One thing I've really learned over the years is it really does take all 11 to play good defense," said Smith. "You can have a great secondary that can shut down the pass all day, but me not getting anywhere close to the quarterback to where he has all day to throw makes that secondary look terrible. Or you can have a great front seven and yet they are still running on you because you spill to the outside and the corner has to tackle and doesn't, and it makes your front look awful. It takes all 11 and I believe we have all of those ingredients here."
Smith earned respect around Santa Clara in very short order, displaying his makeup and proving his mettle during the first week of the team's off-season conditioning program when he attacked the sled workout. After winning the majority of sled pulls, a few of the 49ers offensive and defensive linemen referred to Smith as an "absolute beast."
Strength is something Smith's honed since those days back in Missouri when he used to join a few of his teammates from Jefferson City High School to bail hay for their football coach. Over a three or four day period, Smith helped to toss 2,000 bails of hay, and when the "piece of crap" barn elevator gave out, he'd shoulder the 100 pound bail and chuck it up by himself.
"It wasn't easy," said Smith matter-of-factly. "I got paid 5 cents a bail whether the elevator was working or not, so that sucked, but you didn't really think about it. You just did it, and I do think it taught me how to work. I mean, football is all about work ethic, and doing things you don't really want to do all the time. When you think about two-a-days, nobody really wants to be out there when it's 100 degrees out. But I think to make it this far, and it doesn't matter where you come from, you've got to be mentally tougher than a lot of people are."
Smith has taken a similar no-nonsense, just get it done approach to the game ever since coming in as the fourth overall pick in the 2001 Draft. During his seven-year career with the Bengals, he missed only one game due to contract negotiations as a rookie, and as a mainstay in the Orange and Black lineup, Smith led the defensive line in tackles in six of those seven campaigns.
"I'm proud of the production in my career but I really couldn't tell you hardly any of my good plays," said Smith. "I can tell you about every bad play, but I can't really remember good ones. I just remember the ones that I screwed up. Any blown assignments, blown coverages, those I remember. The great plays or the great games are what you are supposed to do, so those don't stand out to me."
Some might have found themselves overwhelmed by the high expectations of a top five pick or a little unprepared to step into a starting NFL role by the age of 21, but Smith relied on the high motor and tenacity that characterized his three-year record-setting career at Missouri.
"I never stopped to think about what any of it meant," said Smith of his rookie year where he set a Bengals rookie record with 8.5 sacks. "I just went full speed ahead and played the same way I'd always played the game. You just take it one day, one year at a time and think about how cool it is when it's all said and done. That's how I've always approached everything."
Smith might prefer to stop and smell the roses when his NFL days are over, but through the years he has learned that slowing down can sometimes reap rewards. In his early days, Smith exploded off the ball full speed ahead with every intention to just blow up and blow by his blockers. Now, he's gotten a little craftier in his approach off the ball.
"The bottom line of football is still being physical, but instead of just going willy nilly like I used to do, I pay more attention to what they are trying to do to me," said Smith. "By recognizing formations and understanding their tendencies, you can know what blocks you might get and work the angles better."
Against the run, it's nearly impossible to find fault in Smith's play, but he does have his doubters when it comes to his pass rush ability. He had only two sacks last season, but he posted at least five sacks in six of his seven seasons in Cincinnati, good for the team lead in three of those campaigns.
With a relentless motor and a strong supporting cast in San Francisco, one that Smith never benefited from in Cincinnati, the 49ers coaching staff sees no reason why he can't take a major jump in sack production this season.
Raising his sack total or topping 100 tackles for the third consecutive season might be heavy on the minds of the 49ers Faithful, but Smith really plans to measure his stock by only one stat.
"I'll take the win," answered Smith when asked what ranks as his ultimate high. "All of it doesn't really mean anything if you lose. I've been on teams where guys were happy if they had a great game and lost, but if we won and they had a terrible game, they were pissed. Any team that I've been on with people like that wasn't a good team. In high school, we won a state championship because we just cared about winning. You didn't care about sacks or tackles – it was all about winning. You take care of your job and not worry about the other stuff and just win, all of the accolades will follow."
So far, all good things have followed his decision to finish out his career with the 49ers. Whether it's been the return to old school power lifting or his versatile role on defense, or even the California weather, signing with the 49ers has fit Smith like a glove.
"It's just been a very welcomed change," said Smith. "I haven't gotten around much to see the sights, but I love the weather. I love knowing I won't be practicing in snow and ten degree weather in a few months. Everything has just been like getting fresh blood. I feel re-energized and I'm excited about the year. That's a big deal."
And with Smith wearing so many hats in the 49ers defense, he'll likely be a big deal in making it an exciting year for everyone.