There was some extra swagger in his step this week – extra confidence if you will – as he prepared to step on the field for the first time since a shoulder injury sidelined him Week 7.
Whether it was in meetings, the film room or out on the practice field, Alex Smith was determined. He knew how much was on the line in Sunday's game against the Seattle Seahawks, and the 49ers quarterback was focused on one thing.
"You could tell how much he wanted to win," running back Anthony Dixon said. "All week he was saying things, and I was like, 'Oh yeah, Alex is ready.'"
He certainly was, and it showed as Smith led the 49ers to a 40-21 win over the Seahawks. Smith completed 17-of-27 pass attempts for 255 yards, the most he has ever thrown for in a winning effort, and three touchdowns. He didn't throw any interceptions.
Although he sat out the last five games, Smith didn't have any jitters when he stepped on the field. He trusted his preparation, the game plan, his offensive teammates, and perhaps most importantly, he trusted himself.
He simply went out there and played his game. He didn't try to do too much. And in the end, that's all he really needed to do.
"For the first time, at least since I've been in there, we really let the game come to us," Smith said. "Everyone just did their job and let the plays come to us.
After missing on his first two pass attempts, Smith seemed to flip a switch and was nearly lights-out the rest of the way. He finished the opening drive with a 42-yard touchdown pass to tight end Vernon Davis and never looked back.
Smith later completed a 15-yard touchdown pass to wide receiver Josh Morgan, and his final touchdown of the day came on a 62 yarder to running back Brian Westbrook.
"That was fun today," Morgan said. "Alex played great as we tried to help him out by making plays when we got the chance."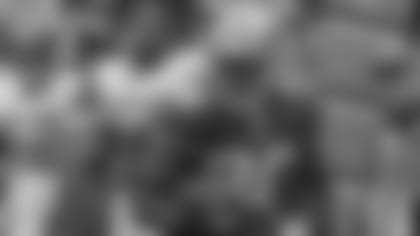 After last week's sub-par performance in Green Bay, the 49ers secondary was under a lot of scrutiny all week.
But after the defensive backs recorded three of the team's four interceptions on Sunday, all of that disappeared.
"We just stepped up," said safety Reggie Smith, who recorded his first-career interception in the second quarter. "After last week we knew we needed to step up as a secondary, so that's what we did. We made some plays.
"It was fun. We were out there enjoying ourselves, laughing a little bit. But we still were very serious and we played a good game."
Cornerback Nate Clements and safety Dashon Goldson recorded the secondary's other two interceptions. Goldson's came on the opening drive of the second half, and he went on to return his 39 yards for a touchdown; Clements' came in the end zone on the following drive.
The linebackers got in on the interceptions too as Takeo Spikes hauled in his third interception of the season in the third quarter.
In all, the 49ers defense totaled five turnovers and forced a turnover on downs. Linebacker Travis LaBoy recorded the fifth turnover as he forced and recovered a fumble by Seattle quarterback Matt Hasselbeck in the second quarter.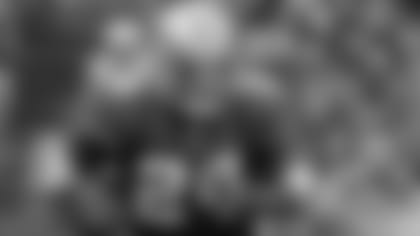 As great as Smith was Sunday, he had some helps from his ground game too.
Running backs Brian Westbrook and Dixon combined to rush for 83 yards on 23 carries, and helped open things up for Smith in the passing game.
"It's about rhythm," Dixon said. "Once you get the rhythm, once you get the flow of the defense, once you get your feet underneath you, you can make big things happen. Coach allowed us to do that, and I thank him for that."
And that's how it has been for the 49ers since Frank Gore went on injured reserve two weeks ago. Westbrook and Dixon have split the carries, and there has been little drop off in production.
"Nothing changed for us when Frank went down," fullback Moran Norris said. "We have the same mindset, we still want to run the football and we still have to hold our blocks up front."
Dixon led the way with 60 rushing yards, the most of his professional career, and his biggest burst came in the first quarter when he started to run right then cut back and darted 34 yards to put the 49ers in the red zone.
Valuable ExperienceWith the game all but locked up in the fourth quarter, the 49ers turned to some of their younger players on defense and let them gain valuable game-time experience.
Linebackers Keaton Kristick and NaVorro Bowman, nose tackle Ricky Jean-Francois, cornerback Phillip Adams and safety Taylor Mays all played for a majority of the fourth quarter, and the starters liked what they saw.
"That's a good thing, when you get the young bucks in and give them a chance to get some game-time experience," Clements said. "We were excited to see them make some plays."