You might think it's a homecoming of sorts for Alex Smith this Thursday night.
Alex "All Business" Smith, as one teammate called him, is looking at a primetime matchup against his hometown San Diego Chargers as a business trip – nothing personal.
The only thing personal is his passion for his hometown. Forgive him for being proud of the city that raised him, but the 49ers quarterback can often be spotted wearing a fitted San Diego Padres cap.
Yes, Smith knows he's the quarterback of the San Francisco 49ers, but he's loyal.
He's also dedicated to the franchise that selected him No. 1 overall in the 2005 NFL Draft. Smith's been injured, benched, criticized and publicized throughout six NFL seasons. And after enduring the ups and downs, this year he dealt with another shoulder injury, held a clipboard as the team's No. 2 quarterback for a brief period, and did it the same way – all business.
Nothing means more to the 6-foot-4, 217 pounder than going about things the right way.
"I'm going to do anything I can to be prepared," Smith said minutes after throwing extra passes to Michael Crabtree following Tuesday's practice. "I'm going to cross all the Ts and dot all the Is, so I know on gameday I can turn it loose."
Smith's intent demeanor was there for the world to see last week in the 49ers biggest win of the season over the division-leading Seattle Seahawks. He tossed three first-half touchdowns, which allowed the team to cruise to a 40-21 win, and posted a 130.9 quarterback rating, tops among all Week 14 starters.
Smith credited the win to what he loves most about the game – putting in work.
"I take it seriously, especially the week of preparation. I like to have fun and stuff, but no question, when it's time to work I want to work."
The next assignment won't be as easy as last week's. Not with the opposition, the circumstances involved or the venue.
It'll be Smith's first professional appearance in a regular season game at Qualcomm Stadium. He's played there in preseason games, as well as in college and high school, but never as a pro.
"I was actually surprised I haven't played a regular season game there – it shocked me," said Smith, who once threw two touchdowns against the Chargers in a loss at Candlestick in his second season.
The return to Qualcomm should be memorable for Smith, no matter what he says. While there have been additional ticket requests this week, he's tuned most of them out. Smith's true focus is simple: win on the grounds where he's had some of his best moments of his football career.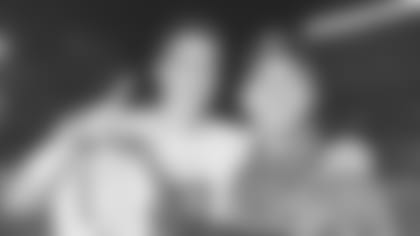 In 2001, he quarterbacked Helix High School to a CIF State Championship on what was then known as Jack Murphy Stadium. Smith posed for a photo with his father Doug after a big performance. The moment was just as vivid to Smith now as it was that day.
"Look at my face…," he said smiling while taking a glance at the photo. "Just a ton of excitement. In high school, football was everything."
In typical Smith fashion, he recalled several details of the game, the season, and what the moment meant to him to share it with his father, who taught him how to play the game.
"I knew it was my last game, I was going off to college to play at Utah, but you never know what's in store for you, you know?  It was my last game and we achieved everything we worked for."
Smith played in San Diego twice more in college. One performance was spectacular, the other… not so much.
Smith saw his only playing time as freshman in a loss to San Diego State. The game stood out more as a frustrating experience to Smith after he threw an interception and never saw the field again that season.
However, the loss was avenged his final year of college with a performance that earned him National College Player of the Week honors. Five touchdown passes in one game will certainly do that.
Fast forward to Thursday's challenge, the latest chapter in his visits to San Diego, and Smith is not making it more than what it already is.
The 49ers need to keep pace in the NFC West. Same goes for the Chargers in the AFC West.
Knowing what is at stake is all Smith can think about. That, and occasionally silencing his phone if he's getting hit up with extra ticket requests.
Smith's focus is clear and simple, just keep working. "Guys know what I'm about," he said.
When Smith was sidelined with a separated non-throwing shoulder in the third quarter of a Week 7 loss at Carolina, he kept his same starter's mentality with him throughout his time as Troy Smith's backup.
His teammates recognized it. And more importantly, respected it.
"He's the same, he's always been the same," tight end Delanie Walker said. "He got the opportunity to play again and you want to go out there and give your best and that's what we did. We're going to play hard for him… We want to win games and go to the playoff, I know Alex does too."
Coming off his best performance to date last Sunday, in which he was one of three quarterbacks nominated for FedEx's Ground Player of the week (along with Tom Brady and Peyton Manning), Smith was only concerned with one stat only, the 'W' in the win column.
"The biggest stat is the win, no question. And really how did I play? The numbers are nice when you look at the stats, but really I look at how did I play."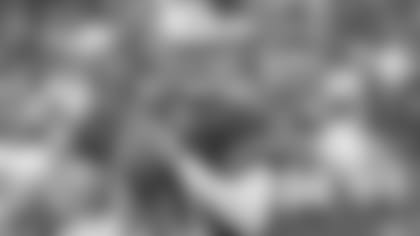 Smith performed at a high level in the first half, and didn't need to do much more in the second. He fired a 42-yard touchdown pass to Pro Bowl tight end Vernon Davis on the 49ers opening drive and never looked back.
Having Davis at his disposal makes things so much easier considering the two have played together on and off for the better part of their careers.
"With me and him, we just have a good vision of the same things," Smith said. "I feel like I have a good understanding of what he can do and what he's going to do. We've been able to take advantage of it, we've had a lot of connections."
Nineteen touchdown connections to be exact.
Smith's under contract for the remainder of the season and said previously that it's not lost on him. But for now, for this week, it's all about beating his once beloved football team.
"I love it here. It's funny, I do get a lot of flack because I do rep my San Diego stuff everywhere, especially my hats. But I love it here. The Bay Area is unbelievable; I doubt I'll ever move from here."
Notes and QuotesDefensive coordinator Greg Manusky coached linebackers in San Diego from 2002-06 and is quite familiar with some of the team's personnel, including All-Pro tight end Antonio Gates. According to Manusky, the 49ers will have a separate gameplan if the dangerous pass-catching tight end is inactive like he was last week.
After Brett Favre's 297-game start streak ended Monday night, Manusky was asked for his opinion on Justin Smith's 152-game consecutive streak of his own. "He's a blue collared guy. He's a guy that comes to work every day, try to protect him during the week because he is an older guy. For the most part, he's seen the blocks, he's seen how the offensive linemen try to set him up and stuff. He's a veteran guy. It's just good, knock on wood, hopefully he'll get another 160 or whatever he's got."
Offensive coordinator Mike Johnson also spoke on Tuesday and said he's hopeful to see guard Mike Iupati in the 49ers starting lineup. The No. 17 overall pick suffered a shoulder stinger last week, but has been impressive in his rookie campaign. Said Johnson, "He's a good, young player and we are excited to have him… He's a tough, physical guy that we like having on our team and I think he's doing a good job for us."
Fellow rookie Anthony Dixon has also grown in recent weeks. With Frank Gore out for the season, the rambunctious rookie has been utilized in all aspects of the offense, pass-blocking included.
On Smith's first touchdown to Davis, the 6-foo-1, 233- pound running back picked up a blitzing linebacker with ease, stuffing him in the hole instantly.
"It's getting better and better, week-by-week," Dixon said. "The more plays I get, the more real game reps, I get better.
"It goes the same way, you know we got a touchdown, so I felt like a part of that touchdown. Although it said 'Vernon Davis touchdown,' – I was a part of that too."