49ers new COO Andy Dolich fittingly summed up the 49ers Family Day event at Candlestick on Park when he said, "there were miles of smiles on the faces of 49ers fans."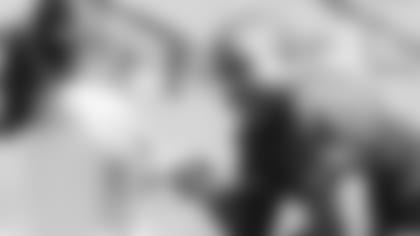 Over 5,000 fans showed for the event, with some also putting several miles on their odometer to get there, like the one family that drove from Washington and stopped the TV49 crew to let them know how much they enjoy following their team online.
"It's all sea chicken country where we live," said the father as he waited in line with his son for 49ers autographs. "This is just incredible."
The free event featured a Q&A session with head coach Mike Nolan, Football 101 with 49ers alumni linebacker Keena Turner, locker room tours, performances by the Gold Rush and Niners Noise, autograph sessions and several kid-friendly activities ranging from coloring with the Gold Rush to obstacle courses to the 40-yard dash.
"I'm having a good time and happy to be out here seeing the fans who support us," said cornerback Tarell Brown. "I try to give the kids some technique pointers on some of these drills and really just help them have a good time. I really enjoy anytime I get to get out and see the kids and be around the people who support us so much."
Young kids weren't the only ones running the 40 with 49ers tackle Joe Staley taking a challenge from an adult fan in Mark Sandoval.
"I tried to race him but I was a little out of shape and he was doing a little jogging," said Sandoval who came with his wife and two daughters. "Family Day is something everyone should come to every year. It's a great thing. Everybody at work, my family, everybody is going to hear about how I got to race against Staley."
Several players attended the event, including newcomers like defensive end Justin Smith rookie center Cody Wallace, and rookie cornerback Reggie Smith.
"It was a great turnout," said Smith. "Anytime you think of San Francisco and the 49ers you think of great tradition and a great football teams so it's great to be part of that. It's been the first chance for me to get out and meet the fans and for them to see my face and hopefully I'm around here for a long while."
The players all logged time at the autograph booths and then rotated between the different stations for the chance to interact with the young fans out on the football field.
Cornerback Nate Clements often got hemmed up on his way to his assignments as the veteran free agent stopped to sign autographs even when security tried to keep him moving.
"It's hard to sign for everybody and you definitely can't get to everybody but I try my best and sign on the run," said Clements from the Punt, Pass and Kick station. "I try to be the people's champ, and I'm just out here having a good time. It was great weather out here today and it's fun to meet the fans and getting to interact with them and giving back a little bit."