The 49ers excitement over finishing out the season with a 27-24 win over the Redskins that went down to the wire picked up a notch when 49ers newly announced team president Jed York and general manager Scot McCloughan informed the locker room that they had decided to keep Mike Singletary as the team's head coach.
"A lot of guys are excited. We know he's the right guy. There was a lot of excitement in the locker room," explained linebacker Joe Staley of the enormous uproar that followed the announcement. "We enjoy playing for Coach Singletary. He brings the best out of us as we bring out the best in him. It's a great chemistry. We know what to expect and we believe in him."
The determined play of the team in recent weeks served as an indicator that Singletary had the support of his players, but the immediate move by the 49ers decision makers also demonstrated their unequivocal backing of Singletary.
"Mike Singletary came in, was asked to do a very difficult task, stepped up, and I think people have seen in the past with the winning percentages with an interim head coach, there's not a lot of success that has taken place. He did an excellent job of keeping the players together right from the get-go," said McCloughan. "He showed that there was a change, but he was able to adjust to the change, step right in and not really skip a beat. The players around him stepped up, the coaches around him stepped up as well, and we're happy to see the situation the way it is. Again, we wish we were still playing. We ended strong but it's not close to where we need to get to. With Coach Singletary we feel that's not going to be an issue."
As an "interim head coach," Singletary helped get the 49ers back on track from a poor 2-5 start to a 7-9 finish, including victories in four out of the last five final contests.
"I don't think we could have written up a script any better than how it happened," said Jed York. "I think when we started this nine weeks ago with Coach Singletary and you asked a question about what we were lacking, and I think I said intensity at that point, and I think you saw that. You've seen that throughout the season. You saw it today where we were up, we were down and we came back and we fought through adversity, and that is what Coach Singletary has really done for us. I said to the players earlier today, 'This is the last time our season ends in December.'"
Moments after signing a four-year contract, Singletary addressed the media, expressing similar sentiments as York.
"I told our players the other day, 'Why did I give you Christmas day off? Because you won't have it for a while. Enjoy it. Enjoy it.'"
Singletary said the first step for next year is getting everyone on the same page.
"The first paragraph on that page is: what do we do to have this team be in the playoffs? Once we're in the playoffs, anything is possible," stated Singletary.
Between now and the start of the off-season program, Singletary will have some important decisions to make, starting with his coaching staff.
Asked specifically about offensive coordinator Mike Martz, Singletary admitted that he wasn't 100 percent certain whether or not Martz would be part of the team's future.
"Right now, Scot and I are going to sit down and look at our offense as a whole, and make the best decisions for our team going forward. And what that is, you'll know soon."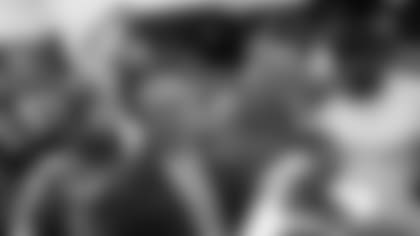 Although he'll discuss his staff with McCloughan, Singletary does have autonomy when it comes to selecting his assistants.
Another question to be resolved will be at quarterback. Although quarterback Shaun Hill has made a strong case to remain at the helm of the offense after finishing out the year with a 5-3 record as the starter, Singletary wasn't quite ready to endorse him.
"Don't know that yet," answered Singletary.
Hill meanwhile had no hesitation about Singletary being the right guy.
"It is great," said Hill. "Everybody is excited about that. We feel like we are really close. We are very happy about it."
Wide receiver Bryant Johnson, who signed a one-year deal with the 49ers, also seems to want to be part of things going forward.
"We're definitely excited right now," said Johnson. "Under his leadership, as you could see with what we were able to do in the second half of the season, we just look forward to him gathering us and leading us going forward."
Of course, Singletary joked that the players might not stay that way.
"I think all of the guys who were happy today are going to regret it very soon," said Singletary, implying that the hard work has only just begun. "I love those guys, I really do. I know that they know that, and it's just a matter of us coming together and working. They know what the prerequisites are and it's just work. We've got a lot of work to do. "