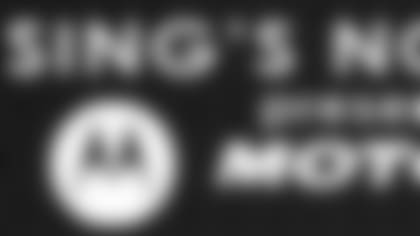 RE: Your Offensive Coordinator said today that you're thinking about having Dominique Zeigler active for this game? Did you talk about that?**
"We'll see…we'll see how he works out in the offense…we'll see."
RE: Can he play special teams or does he play special teams?
"I'm sure Al Everest will find somewhere for him. He has to contribute somewhere, and he will…We'll figure it out."
RE: Is part of that trying to figure out who you'll drop down from the [53 man] roster to make room for him on the active roster?
"Like I said, we just have to kind of see if that's what we're going to do. We don't know yet and if so we have to figure out what we want to do roster-wise but we'll figure it out."
RE: Who will be your right tackle? Do you have who will be your starter?
"Right now, [Adam] Snyder."
RE: Is Jonas [Jennings] just not:
"[Jonas Jennings] is coming along. He practiced yesterday a little bit sore, which we knew he would be, but if we have to have him, he'll be ready to go."
RE: Would he be the swing guy if he doesn't start?
"Yes, yes."
RE: Mike, you allowed 34 sacks in the first half of the season. How was that addressed during the time off here?
"I'm sorry, would you start again?"
RE: You guys allowed 34 quarterback sacks the first half of this season. How was that addressed in the time off here and what makes you believe that will change in the second half of the season?
"I think a number of things. Hopefully we can run the ball a little better, more effectively we can work in play action and hopefully our offensive line will gain more continuity going forward with the rotation. They'll kind of know who's going to be there week-in week-out, day-in day-out and so there's that trust factor that helps it well. It's not a new guy next to you each game or each practice, so that certainly helps. I've got to feel that it's going to be a big plus for us."
RE: Eric Heitmann said that there [were] some scheme modifications too. Can you talk about that a little bit?
"In terms of?"
RE: Pass protection specifics:
"I'm sorry. Ask me another way. Say that again?"
RE: One of your players said there's been a coupe of scheme modifications to help improve their pass protections:
"Yeah, did coach [Mike] Martz talked about that at all?"
RE: Not specifically:
"I would think that for us it's just a matter of the quarterback really paying attention to detail and maybe there's some things that he can do to help offset the timing and the edge of the offense but going into the game we just kind of have to figure out what they're thinking in their front and make those decisions at that time but I think we'll be okay in terms of figuring that out."
RE: Since you've been here the team has drafted some wide receivers. Monday night it looks as if two of those guys are going to play a lot. Jason [Hill] with Arnaz [Battle] out and of course Josh Morgan. Are you excited? What do you expect to see from those young wide receivers?
"I'm excited, first of all to see them get the opportunity. Next of all, to take advantage of it. I know they're talented guys, they make it happen out here and of course in the game situations, particularly a Monday night, we'll see if they're ready for that step and after the game I'm sure we'll all know."
RE: You obviously played in a few Monday Night's yourself. What is it like as a player to walk out there to play a Monday night game?
"It's unlike anything else. It starts on Sunday when you see all the other teams playing and you know that you're the main show the next night. You begin to focus. You begin to get a little impatient. And you don't want to wait. The anticipation of that game – it's a high. You're ready to go and by the time that game starts, if the team can really handle that weight and can focus instead of nervous tension. So for us we're just going to be managing through that time and by game time hopefully we're ready to go."
RE: Is there a fear?
"Absolutely not."
RE: Is there a trap that sometimes guys that aren't too familiar with that thinking get too fired up to play that game?
"Oh, yeah. Oh, yeah. It certainly could happen that way, and we just have to be calm before the storm."
RE: How prepared do you feel your defense is for this primetime?
"The defensive staff put a solid plan together. It's just a matter of executing it. They've got an excellent offense. Kurt Warner's throwing that ball everywhere and the receivers are catching it all over the place but we just have to be ready to go and handle that offense. They're really hot right now so hopefully we can do the things that we need to do to be successful."
RE: Inside the locker room today you have a new formula: 49ers formula for success hanging up. Is that part of the tone-setting you're doing around here?
"In all honesty, it's what we need to do. It's not a new flavor of the month. It's not, 'I think this sounds good.' No, this is what we have to do in the second half of the season to be successful and give ourselves a chance to compete at the highest level."
RE: Are those five things that you haven't succeeded at doing in the first half, or the team hasn't in general?
"Obviously we didn't do a lot of things right the first half. And so you just try and sit back and reflect and capture those things that you know you have to do going into the next half of the season, particularly in November. And give yourself a chance to get back in it."
RE: Are those five things you jotted down in your journal?
"Yes they are. Yes they are."
RE: Did it take long for you to get that up there?
"Anthony Lozano – he responds very quickly, so I'm very thankful to have him. But we…they're up on the wall and they're in the building. They'll be all over the building. But it doesn't mean anything until it gets into the hearts of the players, and that's what we're driving home."
RE: That's kind of a nice touch, though – gives you specific goals to really shift more than general ones?
"You've got to know what you're shooting for. You've got to know what it is that you want, what you need to do and then from there you work from there. But you got to know what it is."
RE: How important will a robust pass-rush be in this game against this opponent?
"With a quarterback like Warner back there?"
RE: Yeah:
"It'll be huge. Like I said, he's doing a great job of getting rid of the ball and placing the ball exactly where it needs to be. Receivers – they're in rhythm right now. For a pass rush it'd be really nice. So we're excited. We're excited about the opportunity to play a really good football team and a football team that's hot right now. So we just have to go and execute."