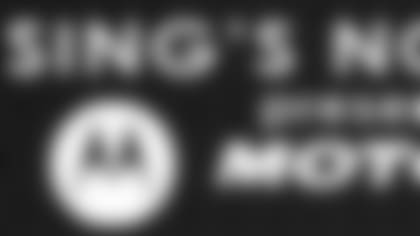 RE: Spirited practice today?**
"Not bad. Glad to see everybody come back in good spirits and ready to go."
RE: How much did Jonas Jennings practice today?
"He just did individuals. We want to take it slow, work him back into it. He did OK."
RE: Today was a first-team vs. first-team day?
"Yes."
RE: Is that typical for an extra day?
"Pretty much. The guys are just getting back, and we have to think about yesterday. Got together with the coordinators and figured out just exactly what do you want to do today. We're not going to get another day like today the rest of the season. How do we get the most out of today? We came out and had an extended walk-through and just decided Ones against Ones and tried to go from there. It worked out well."
RE: Did you like the result?
"Yes. It worked out well. I think the most important part would be cleaning up some of the things from the first eight weeks in our walk-through, making sure all the questions that needed to be answered from the players just moving forward."
RE: When you have a practice like this, does it create more competition?
"It's kind of a training camp atmosphere when you come out here on a day like today and it's an easier day mentally. You just execute your offense. You just execute your defense. You're not really trying to do anything special. It's more conditioning. It's more camaraderie, kind of welcome back, get your mind right and get ready to do."
RE: How did Shaun Hill look today?
"I thought he did well. Good to see him getting back and get into rhythm. I thought he did well."
RE: He had back-to-back picks:
"You guys don't miss a beat. I understand that's not a receiver that he throws to all the time as well. The defense knows pretty much where he's going to throw the ball. We've got to do some of those things in the game and it will really be – that will make a difference."
RE: How do you implement your game plan on a longer bye week?
"You start your game plan, everything is pretty much in place, it's just a matter of sitting down and listening to their situation in terms of who is healthy, and who's going to go, and who you think is going to play more, what personnel they may try to play. It's just kind of a cat and mouse thing as you work toward Thursday and by that time everything will be installed and pretty much set. This is what we're going to do, this is how we're going to do it, and go from there."
RE: You had Chilo Rachal at right guard. What did you see out of him?
"Chilo – he's working hard. He wants to play. I know he wants to play but he's just working his tail off to try and get a shot."
RE: You've mentioned his name a couple of times about being physical. Is he somebody that you've taken under your wing a little bit and try to mentor?
"I think more so than anything else, he's a good football player. He's a good kid. He wants to play and he wants to do all the right things, and when you see that as a coach you really want to come beside a guy and try to point out things that he needs to do more of, less of and continue to make those contributions. He'll have a chance at some point. At some point in time."
RE: Is that what you did – took him aside?
"What I did was I kept him from cramping up [laughing]. Bending over – you don't want to do that when you're tired. You'll start locking up. But I just wanted to tell him, 'You want to play, you want to play – that's all great. We've just got to keep working. When it really counts in the fourth quarter, that's when you've got to push through.' He'll get that down."
RE: When you face a team for the second time, what changes just mentally? You've been through these guys once and now you've got another shot:
"There are a number of things [that] change. For instance, some guys get hurt. Some guys are not playing as well. Some guys are playing better on your team. You may not be the same team anymore. But they're playing with a lot of confidence. They're doing some good things and we've got a heck of a challenge on our hands and we're excited about that – having a chance to go there and compete. And may the best man win."
RE: What will be the biggest challenge – the game upstairs or the game on the field?
"Both. I always think the most important game is the game in the mind. That's the most important thing – knowing that we've got a great chance to win this game if we do x, y and z. And it's sticking to those things and staying focused on those things, and not looking at the records and not looking at… To me it's the second half of the season. We've got eight games. We've got eight opportunities to make a tremendous difference, and that's really what we're looking at as a team."