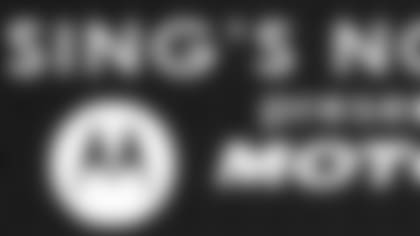 RE: You're in Dallas on the 45th anniversary of the JFK assassination. Any thoughts on that?**
"That's really interesting. I remember what kind of day that was for the country, even as a kid. No, that's very interesting."
RE: A year and a half ago when you interviewed for the Cowboys job, how did you leave that interview as far as the impression you had of the Cowboys organization as a whole?
"I was very impressed. Every interview I've had I've been very impressed, very thankful, very humbled by the fact that they took the time or thought enough to interview me. So, it was a great experience."
RE: I'm sure you've learned from each of those interviews. What did you go away from that interview learning, or learning about yourself or what you had to sort of work on to get that opportunity again?
"After that interview, it was just a matter of when I talked to Jerry Jones he just said, 'Mike, it's just a matter of the fit. I don't know you as well as I know a couple of the other guys, just being very honest. I wish I knew you more, but I know some of those other guys. I work with them. I feel more comfortable with them.' So he really…that's what it was."
RE: Have you gone about trying to meet more of the owners around the league so that they get to know you a little bit?
"No. The most important thing for me in the game since I've been in it, I never wanted to do any marketing, never wanted to network. Just let me do my job and hopefully the word gets out. Hopefully somebody is interested down the road. I just trust in our prayers that those things work themselves out."
RE: Do you not like that aspect of it – sort of the glad-handing, marketing as you call it?
"Well, I'm not very good at it, number one. I don't know. I feel very comfortable just being myself. I'm not good at the other stuff."
RE: Do you have time to go to Waco or to go back to Baylor on this trip, or is that out of the question?
"Out of the question."
RE: Are you going to have people come in?
"My daughter. My son is practicing, but my daughter will have a chance [and] I'll have a chance to see her."
RE: Which daughter is that?
"That's the oldest one: Kristin. So I'll see her. That'll be great."
RE: Do you have extended family there?
"I've got a lot of extended family, but I've already told them, 'We will get together after the season. The rest of you, some of you I'll see you at Thanksgiving, but this is a business trip.'"
RE: Will you be getting most of those injured guys back or available for Sunday's game?
"We'll get some. We'll get [Barry] Sims back. That's nice. He'll be up."
RE: He'll be a swing guy [on] both sides, either side?
"Yes."
RE: And then [Arnaz] Battle, [Josh] Morgan and [Dashon] Goldson are out?
"They're still out, yes."
RE: How's Patrick [Willis] after missing a couple of days this week?
"He looks fine. Pat is Pat. He's going to get his work in. He's going to do the things he needs to do. Probably couldn't have gotten him to rest as much as he has in the past couple of days, so I just think he needed to relax a bit and rest a bit, and heal up with that. It's good for him."
RE: Delanie [Walker]: how's he looking?
"Delanie's fine. I've spoken with Delanie a couple of times. It's very short: 'How you doing? How you feeling?' He's doing fine, ready to go."
RE: Any decision on Chilo [Rachal]?
"We're just going to hold it as long as we can and see how it goes on Sunday. He's been doing well this week."
RE: Game time decision?
"Yeah, I would say we're pretty sure in our minds. We're leaning towards him right now, but it'll be a game time decision."
RE: I know you mentioned that part of the reason why Shaun's [Hill] been not sacked is continuity on the line. So why change it?
"Well, I trust in our offensive people. I trust in the coaching staff, and we sat down and we talked about it, and it's…Chilo is the guy that if he can give you all he has without taking a step backwards, the upside is pretty good. If he can't, then we'll find out. If it's too big for him, we'll find out. We thought it would be a good time to find out."
RE: You have so many players that are from Texas, from the Dallas area. Does that ever worry you when you're visiting a place where people are from that they could get distracted with family, with friends?
"No, it's just…These guys, they know what we're all about. They know what we're going to Texas for. They know that. And I've shared what I'm going to do. I'm going to see my daughter but all of my family, and I've got tons of family there being the last of 10 kids, they come from everywhere. But I've already told them, 'You know what? We'll see each other at family reunions or whatever. I've got to take care of business. It's my responsibility. It's my job. So respect what I'm doing and we'll get together later.'"