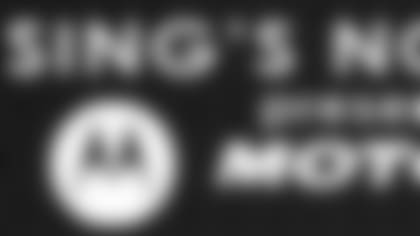 RE: Any injury updates?**
"It's about the same. Only thing was that [Joe Staley] was a little out of it today, he'll be okay. He's got some kind of bug or something, but he'll be fine."
RE: So that's [Patrick] Willis…he had the hip [problem] yesterday?
"He's fine. He's got a little nick here, a little nick there. You talk to any linebacker in this league this time of year, I'm sure Takeo [Spikes] got the same thing if I ask him. I'm not going to ask him, but he'll be okay."
RE: Could you talk about the challenge your offensive line will see in this game from the Dallas front which have been pretty active in rushing?
"They know what they have to do. They've got a quarterback to protect and they've got a running back to open lanes for and they just have to do the very best job they can and I think they'll be fine."
RE: Have you made a decision on Chilo [Rachal], we'll he start?
"We're going to…not quite yet, we're looking at it still."
RE: Since you've been here, the teams record, I guess as whole, hasn't been great especially on the road, especially on those early starts. Is there anything that you can focus in on why it seems that the team gets off to slow starts on those 10 a.m. games?
"I have no idea. I don't believe in all the, 10 a.m., 9 a.m. You're playing, you're playing. I mean that's football. Hopefully in the next few weeks, it will get better."
RE: You'll have a few opportunities, won't you?
"Yeah, we'll see."
RE: What makes a good road team?
"I don't know. I'll let you know in a few weeks."
RE: Check back with you?
"Yeah, I'll let you know in a few weeks."
RE: You were in Baltimore in 2004, right when [Terrell Owens] was initially traded to the Ravens and that fell apart. What are your recollections of how that went down?
"In all honesty, there were too many conversations at that time about [Terrell Owens] coming there and what he said and Ozzie Newsome…I really don't know. There were just too many things to just kind of nail it and say this is what happened because I don't know."
RE: Was there an excitement that [Terrell Owens] was coming [and] that you were going to have this dynamic receiver on the team?
"You had both sides, that is what [Terrell Owens] brings, you don't know. Some guys felt that 'hey, this is great' other guys felt 'can we handle this'. I just think that it was one of those things, but it worked out for him."
RE: This is one of those games both for the team and for yourself. If you were to win, it would be a significant victory that would captivate attention around the league. Do you think about the implications of the game and what you're trying to accomplish with the team and how important it could be to go on the road and beat a quality opponent?
"I'll just say this, I don't really think about it a whole lot. I'm just really thinking about having the opportunity to play a good football team and we have that opportunity in the next few weeks starting with Dallas. I think every game is significant in what we're trying to achieve. It's not like you go and beat Dallas and say, 'hey, yeah we're here' and then get the crap beat out of us next week. We're just trying to build off of what we've done so far and that's all we're going to focus on. The rest of the stuff I'm not going to think about very much."
RE: On the formula for the 49ers success, one of the tendencies is to create great field position. In that regard, what has Allen Rossum meant, especially over the last couple of weeks?
"He's been outstanding. The guys believe in him, the guys block for him, but he's been absolutely outstanding. He's been working his tail-off. He was a little banged-up, nicked- up here and there, but he's really come on and he's been healthy and it's exciting to see him continue to get better."
RE: Can he have a continuing role with this team beyond this season?
"That's something that I can't answer at this time, but he's certainly has been a factor up to this point."
RE: How has Isaac Sopoaga played for you this year?
"He's played well. He wants to play better. We want him to play better, but he's played pretty well."
RE: Is consistency something that's been an issue for him?
"I think for him it's just a matter of continuing to know exactly where he's supposed to be on every situation and he's done a better job, but he trying to make sure that he has good leverage on every play. Sometimes he has the tendency to get high, but he's playing better this year than I think he ever has, so that's good to see."