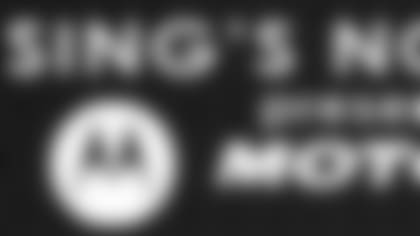 RE: When you look at the Cowboys on film, what sort of jumps out at you?**
"Wall-to-wall talent. They've got talent across the board everywhere you look. Very talented football team, that's what jumps out at you right away. They look the part, they're playing decent football. They've got [Tony] Romo back so that's going to add more energy. So I'm excited. Great challenge for us."
RE: Could you tell that his pinkie was bothering him in that game against the Redskins?
"No, not really. I couldn't tell."
RE: This will be a game where undrafted quarterbacks are opposing each other in this game. What does that say about the talent evaluation and the scouting process overall at that position?
"The quarterback position, it comes down to…it's such a combination of having a quarterback in the right system, first of all. What are you asking him to do? Then you have to look at, who is he throwing to? Does he have the receivers? A lot of times a guy may be a good quarterback, but he doesn't have the receivers to throw to. Then, you have a situation where a guy may be a decent quarterback, but he doesn't have a line. So it's a combination of getting the right guy for the right system with an offensive line that he gains confidence in. Give him a little time, but it's just …quarterback is a very interesting position in this league. If a guy has time, you can develop him. If he doesn't, in the wrong situation, you can destroy him, so it's a very interesting position."
RE: Just sort of curious with you, you have the rest of the season to coach this team and I would imagine at the end of the season you are going to be asked for sort of your plan, where this team goes in 2009. What are your feelings on the quarterback situation, the future of the quarterback situation with the 49ers?
"Don't really know. I think right now all I know is what I have and I don't take it any farther than that. We just have the two guys. J.T. [O'Sullivan] and Shaun [Hill], and it's just a matter of knowing what I saw last year and being able to try and make a decision going forward which gives us the best chance to win. Beyond that, there are so many other things to look at that are immediate, and I guess as you get closer to the future then you can look at it a bit, but right now I'm just focused on Dallas."
RE: Do you have any regular contact with Alex Smith?
"[I] do not. I see him. I say hello, I keep up with him through how his rehab's going and things like that but no ongoing off the field relationship, no."
RE: So you haven't talked to him anything about the future?
"Have not."
RE: You talked about in evaluating the quarterback situation [that] the most important thing is to see how they compete on game days and how they handle that situation. What's the difference between practice Shaun Hill and game day Shaun Hill?
"I think when you look at practice Shaun Hill, it's just a matter of him trying to make every throw perfect. Practice Shaun Hill also has Mike Martz on his tail constantly all the time. Everywhere he looks, everywhere he moves. Mike Martz is demanding, very demanding of him, which is a great thing. I think sometimes Shaun Hill is just really, really excited for game day, so that he can play with a little distance. So I think he's happy on game day."
RE: I heard you say on the radio the other day that you talk to Shaun a lot both on the field and in your office, and I'm just curious is that something you feel you need to establish since he's been elevated to the job mid-season, that you kind of know where his head is and get him confident in terms of your guys' relationship?
"I think Shaun is a very confident guy. I think one of the biggest reasons I talk with him is just to make sure, because I know what Mike Martz expects, I know what he wants and Mike can beat him up, which he needs every drop of it. But after that, somebody has to come along and say, 'Hey you know what, it's going to be okay, how are you doing, you ready to go?' Things like that, and so it works out pretty well."
RE: So good cop, bad cop?
"I was thinking that, but I don't want to say that."
RE: Do you ever think of yourself as a good cop?
"Oh, I'm a very good cop. I'm a very good cop, but you know what it's just knowing when a player's had enough. It's just knowing that that's what this game is all about. You have to have coaches on staff. Somebody is doing it for me, I'm doing it for somebody else. That's what brings a good coaching staff together. Whether you are a position coach, a head coach or a coordinator or whatever, you've got to have a sense and a feel for those players. When somebody else, another coach, beats them up then I think somebody else has to come along and say 'Hey, you know what, it's going to be okay.' I remember coaches doing that for me, and it was a lifesaver when I thought I was the worst guy in the world as a player. So, it really makes a difference when you can do that."
RE: We've heard from Kurt Warner that actually Martz beat him up when he was coaching him and he was really tough on him. Would you say that he's been especially tough on Shaun right now because he's sort of indoctrinating him in a way he supposed to maybe how he was with J.T. [O'Sullivan] for a while since they had a familiarity?
"Well yes, I just think that you don't have a whole lot of time and you have a course that you got to get in right now, and so you're going to be on a guy to make sure that, 'Hey, don't take any breathers, don't look around, don't blink because you've got to get this stuff, and it's important to our offense, it's important as our success as a team. So yes I would say that he may be a little tougher on Shaun right now."
RE: You said Shaun's a very confident guy. Did you think his confidence was where it needed to be when you put him in that game mid-game?
"Absolutely."
RE: He didn't lose confidence by not being a factor in the quarterback race early on?
"No, not at all. I think he knew at that time he just wasn't ready. There's so much to this offense: just knowing exactly where the receivers are, the timing, knowing whether the line's going to be…where the protection is. So I just think it's a matter of him knowing that, 'You know what? I may not be ready right now. But, I'm going to keep working.' And [quarterbacks] coach [Ted] Tollner just did a great job with him off the field. Not getting the reps and knowing that when that time was there, he was ready to go."
RE: In that one play in the last game where Shaun looked like he improvised a pass to DeShaun Foster and they got really good yards. Is that a good example of him being a gamer where as maybe not the best practice player where you said he's trying to make every throw perfect? Is that a good example of that?
"I think as time goes on he will be a better practice player. I don't think he's just not a good practice player right now. I really think it has a lot to do with trying to be perfect in practice. It's sort of like, to me, I look at it as you're trying to play golf. I hate when I'm playing golf, which isn't very much, maybe twice a year and it shows. But when you're playing golf and you're trying to play and you've got this guy standing there saying, 'Put your head down. Straighten your arm out. Don't bend this. Don't turn your hips, and all that kind of…' You're like, 'Man, I'll be glad when this is over.' I think that's kind of where Shaun is, and so that game day situation you have a little time to relax and think, 'Okay, this is what I have to go through' on your own and make it right."
RE: And that's good for him, correct?
"I think it's outstanding. Yes."
RE: The improvisation thing, how often do you get to see guy's capacity to do that in a football practice since you're not playing real defense, per se?
"I just think it's one of those things that it's a combination of looking at practice, a combination of looking at film, a combination of knowing that there are certain times in a game situation where you may be getting a rush from a particular place. You know that somebody is going to pick this guy up, you've got to move to your right, you've got more time. And you've just got to look for somebody. And that's where that communication, and DeShaun took off up field and you got a chance to improvise and make a play."
RE: We know the disadvantages of being undrafted. Are there advantages in terms of your development, assuming you get the chance to play, in not having high expectations?
"I think it all depends on how a guy looks at it. You get one guy that's undrafted and he uses it as a positive force going forward, saying, 'You know what? I'm going to make you regret that.' You get another guy that's undrafted and he says, 'See, I didn't think I was very good.' I just think it can work both ways. It all depends on the surrounding of that guy and his mental mindset."
RE: Early in the season, the offensive line was taking a lot of heat. [With] J.T. [O'Sullivan] there were a lot of sacks. Those sacks have dropped dramatically with Shaun in there, and I'm just wondering how you would evaluate that situation now? Was the offensive line being unfairly criticized? Have they dramatically improved the last couple of games?
"I think a few things: when you look at our offensive line, I really do believe it's the continuity. It's being able to have guys, five guys that are there, that you can say, 'Okay, you've got a chance to work together.' You've got, every now and then, you may have Chilo [Rachal] who comes in and gets some reps. So you have a chance to build some continuity. You have a chance to figure out, 'You know what? I know how this guy plays and I have a comfort level with him. I'm feeling the quarterback.' It's just that time together really, really makes a difference, and I think the technique when you have a new coordinator and you have new protection and things like that, it makes it difficult to just come in right away and get the dynamics down. So I just think it's a combination of time and experience."
RE: What about the guys playing in front them, the quarterback. How much of factor is that? Because that's changed, too.
"I don't think that has as much to do with it. I think it has everything to do with the line and the continuity and the experience in playing together and the trust level that they have in one another."
RE: Do you think right now you have the right players in the right positions on the line?
"Right now, it's a situation in which Chilo is doing a good job and this week Chilo may get more reps depending on how this morning's meetings go and everything else. He may have a chance to start this week. We're looking at it and we'll see how it goes."
RE: How did you celebrate your first victory?
"I went outside the stadium. We got ready to leave, saw my family and just talked about it a bit. Got home and looked at the Dallas game and was getting ready for the Dallas game."
RE: Will it be at right guard if Chilo does start?
"Right guard, yeah."