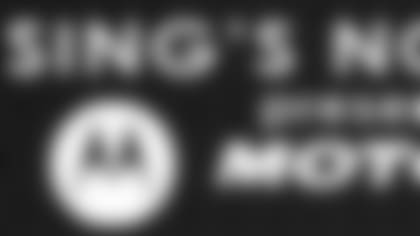 RE: What's Barry Sims status for Sunday's game? **
"Well, he's up. Whether he plays or not we'll see, but he's up. I'm sure he'll play some, but he is up and he is healthy. So that's a good thing."
RE: He'll play some not just on special teams but maybe on offense as well?
"It's possible. Adam Snyder is the starter."
RE: Do you expect to have Arnaz Battle and Josh Morgan back?
"So far, so good. They do have probable, questionable – however that is. But, so far, so good."
RE: Would Arnaz Battle step right back in to the slot?
"I think right now, the way the receivers are set, I'm sure he'll play. I'm not sure how much. Whether you start or not in this system, a guy could not start and play the whole game after the first series. Who knows? We'll see how it goes. I think it depends a lot on how Arnaz feels going forward. We may not want to have him out there too much right now. Continue the healing process and just be thankful that we got him and not try and get him hurt right now."
RE: What's the status of Nate Clements?
"Questionable. We're just going to take it forward and see how it works, but everything from the medical staff, questionable."
RE: Does he indeed have a thumb fracture?
"From everything I understand – you know what, I'm going to let you talk to the doctor about that because it may be a slight fracture, but I'm not sure on that. But don't quote me on that, it might be a little, slight."
RE: We're just looking for something definitive
"Alright. I would say a very small hairline fracture, something like that, in the thumb."
RE: Is there a thought that Ahmad Brooks might be up on the active roster for this game?
"I would love to get him up, but the way it's looking, it doesn't look like it's working out. He'll be up some time before the season is over, at some point in time."
RE: It looked like Donald Strickland had his best game in sometime on Sunday
"He did a nice job."
RE: If Nate Clements can't go, would he be the logical person to plug in there?
"Possibly. He has the maturity and the toughness and he's proven he could do it, so in my mind that would be the logical answer."
RE: There have been some rumors going around about Mike Martz and San Diego State. Have you talked with Mike Martz about his candidacy at other places and how do you feel about that?
"I feel that right now, and I mean this in all honesty, right now I'm focusing on the Jets and hopefully anything like that does not take place until a later time. But right now, I'm sure there's a lot of speculation about Mike Martz because he's a great coach and I'm sure a lot of people would love to have him. But for me, we're just focusing on the Jets, and we're going to go from there."
Re: It's been about two years since Mark Roman gotten an interception. Is that an issue with you, or does he do enough other good things to make that a non-issue?
"I'll put it this way, I think what Mark does is a tremendous asset because he gets everybody lined up he gives you an idea, he gives all of those guys an idea of what's coming, what's happening and he plays really smart and he plays tough. As far as the interceptions are concerned it's interesting that you say that. It's kind of funny, it just jumped out like 'two years...two years?' But hopefully he's due, hopefully this game it happens but I would never judge a guy solely on how many interceptions he has. I was one guy I didn't have a whole lot of interceptions in my career you can say 'why didn't you have more interceptions?' Well when the ball came I got a little tight and we played a whole lot of man-to-man coverage as well so that was a lot of it but I couldn't judge him solely on that but Mark is a solid player and I'm glad you told me that. I'll tell him 'Mark, it's time to get one', hopefully this weekend."
RE: Do you think that your defensive players will be in position to either sack [Brett] Favre or pick off one of those passes or may be more excited about that prospect given the fact that this maybe the last time that he plays against the 49ers?
"I don't think their thinking that way. Right now we all respect Brett Favre and I'm a fan of Brett Favre, but I think right now we're just thinking about doing our jobs and going out there and trying to make the best effort we can to get there, so we'll see."
RE: Fred Dean is going to be honored at halftime. What are you recollections of him and is it nice to have him in that select group now with the Yellow jackets?
"Well the thing that I know about Fred Dean and I didn't see him play a whole lot, I don't really know a whole lot about him, but everything that I've heard about him from some of my former teammates that knew him well just talked about how fast he was, how quick he was off of the edge and he was one of those guys that really brought more of the idea of just a pass rush specialist. That's what he was and from what I understand that's what he did very well, that's what he's known for. He was one of the first kind to do that."
RE: Could he, in his prime, play and play well in today's game?
"Any pass rusher, any pass rusher. You put him up there and let him rush, he's going to play well. The game is not that much different. I would say that tackles are much bigger now. They may try to run at him a little more now but I tell you what, from what I've seen in highlights or whatever, when you get an edge guy he's always going to be valuable, always."