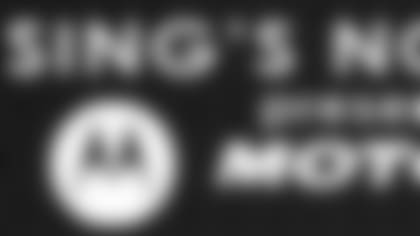 RE: Is it going to take a similar game to what you played against Buffalo to win this game against the Jets? **
"I really don't know. I know that the effort and the intensity certainly has to be there: that level. They're a darn good football team. You look at them: they're pretty well seasoned. They've got good leadership on and off the field. So it's going to be a tremendous challenge, a tremendous opportunity."
RE: In the time that you've been in this role, have you been happy or satisfied with the effort and the way the team has played in the spirit?
"I was talking to the team this morning and the staff about how wonderful it is and how humbled I am to be in a situation where I can lead, I can do those things, as long as I have a great staff. No coach can lead anyone anywhere if you don't have the support people around you. The staff has been outstanding. The ownership, Scot McCloughan, has been outstanding. As far as the players are concerned, I talked about motivation. I'm supposed to be a motivational speaker and all those other things, but you can't motivate anyone to do anything that they're not excited about doing. And these guys want to win. They want to go to the next level. Sometimes there's just a matter of having someone come along and is excited about the same thing. And you just come together and try to make something happen. I'm very grateful on both ends: the effort that these guys show in the way they practice, the work ethic that the coaches have, the communication. All of those things go into what we're trying to do."
RE: When you talk about getting a team ready to play, can you sustain that over an entire game? 
"If you're not prepared, about the time you get on the field it's gone. But I think our players are really well prepared, so the motivation is already there. It's just a matter of striking a match somewhere. But these guys are ready to play week-in and week-out. If we just execute the game plan, we'll be fine."
RE: So it's more the getting prepared from an X's and O's standpoint than an energy level at kickoff?
"I think they go hand in hand. I think, first of all, you have to be prepared. You have to know what the goal is. You have to know what the plan is and the step-by-step process in terms of what to look for, when to look for it, where on the field, certain situations. And then, it's the enthusiasm and the intensity that comes with it that you know what to do, you've prepared for what to do. Now, it's a matter of bringing those things together – all of the other intangibles that gets a player excited about being a part of that team. That gets a player excited about the opportunity that lies in front of him."
RE: Is the team buying into what you're saying?
"They're responding to what we're asking them to do. I feel very good about that. The level that we need to go I think day by day we make steps and strides to get to that point."
RE: Do you expect to have Arnaz Battle back this week?
"It's a possibility. He's going to be questionable and we'll see how it goes. He's going to work out today and we'll see how it feels tomorrow morning when he gets up."
RE: With the play of Jason Hill, is it just a rubber stamp that Arnaz gets his old position in the slot back?
"There's some intangibles that goes into it. Arnaz has been out a while. Arnaz is one of our guys: a heck of a player. And it's just a matter of if he can come out and have a good practice today and get up tomorrow morning and feel great. Obviously that makes the possibility that much stronger."
RE: What about the job that Hill has done?
"You're talking about Jason? It seems like week-in and week-out he's striving to be more consistent, and what we're asking him to do and getting it done. It's slowing down for him. His eyes are not as big, and I think he's adjusting to it very well."
RE: With Nate's [Clements] thumb injury, does that prevent him from taking in punts?
"That's a whole other deal. We've just got to take it one step at a time. We're going to take it one step at a time. Right now, when you have something happen to your thumb it's just a matter of seeing how you're going to feel, how the ball's going to feel, how it feels jamming – all of those little things. We just have to take it a step at a time, a day at a time and see how it goes."
RE: Heading into the [Buffalo] Bills, you seemed to say that you didn't want Nate [Clements] back there handling punts – that he was too valuable in his other role. What was the final thought process in allowing him to do that?
"After talking to Al Everest, he had a great point. It is: 'Mike, we want to try and win the game. Who else would we put back there. Nate's done it before. He's the only guy we have that's done it before. We just have to feel good about trying it.' I said, 'Okay, okay. We're good. We're good.' So it was a logical move to give us the best chance of winning the game. So that's what it came down to."
RE: Who would be the guy after him in the process?
"Yeah. As of right now, we just have to continue to go forward this week and hope that Arnaz can come back. That's something that he's done in previous times and done a very good job. Other than that, Michael Robinson, maybe. It could be Isaac Bruce. So we have some options. We'll just kind of see how it goes."
RE: Do you know with Nate [Clements] if that's tendon or ligament damage, or a broken thumb?
"There maybe a small, if I'm not mistaken, a little small fracture in there. So we just have to see how it goes. The pain tolerance and all of the other things: how much damage if he does anything. How much will it affect him later? So we have to think about all of those things."
RE: When did it happen in the game?
"Not really sure. Knowing Nate, he came off a couple of times and said, 'Hey, I jammed my thumb.' But continued to play. So we're not really sure when it happened."
RE: Did you see some progress from Chilo [Rachal] last game?
"Absolutely. He had one block in the game that was just devastating. I had to run it back over and over because I was really excited about it. I had to get up and go tell him about it. It was a really devastating block: it's what you want. But even when I went back there on the plane, all the offensive linemen said, 'Coach, did you see that?' I said, 'Yes, I saw it.' So they were excited about it as well. But Chilo continues to make strides from his first game and it's slowing down for him, and I think he's doing a good job. He knows that we've still got a ways to go, but he's working hard at it."
RE: Was that the block on the defensive end when he was pulling?
"Yes."
RE: What kind of job did he do on the defensive tackle: [Marcus] Stroud?
"He did okay. It was a good player he was playing against. I thought he did an adequate job. He and, when I think about his help over there, Adam Snyder I think they just kind of took turns working together and playing off each other and I thought they did a decent job overall."
RE: Will Chilo be assigned any to block KrisJenkins in this upcoming game?
"It'll depend. Getting into the rhythm of the game, once again it depends on… Jenkins is a load. So we're going to need all the help we can get. So I'm sure at some point in time, he'll have to help as well. But depending on which side Jenkins goes to off the ball I'm sure there will be times that he'll be assigned there."
RE: Was he over the nose at all at center?
"Mostly, he's a two-gap guy, yes."
RE: Are you enjoying yourself so far? And is there any part of the coaching that you don't like in any way?
"I am having the time of my life. This is what I was born to do. There is absolutely no doubt in my mind. All of it, even this, is okay. Nothing is: 'Oh my goodness, you're kidding me.' It's just a part of it. But yes, I'm enjoying it simply because of the staff and because of the players. When you've got players like that and a staff like that, it makes it fun."
RE: Even more than playing you were born to do this?
"The biggest thing is there are pros and cons to both. When you're playing you had the bumps and bruises. Of course, when you're playing you could go out there and do something about it. As a coach, you stand on the sideline and hopefully your work is done and all you can do is re-write it, re-draw it, and re-state it and hopefully they go out there and get it done the right way. But they both have their pros and cons, and great sides to both, but I really love coaching."
RE: Respectfully, we've noticed you wear a cross. Does God play a big role in your life?
"If it were not for God, I would not be here. God is the role in my life. That is the number one thing in my life. I start my day with him and I end my day with him in prayer. So, yes, indeed. The governing factor."
RE: Where did your cross come from?
"It's a little place in Green Lake. They make crosses there, wooden crosses, and we vacation there every year."
RE: Where is that?
"In Green Lake, Wisconsin. We go there every year. It's a little Baptist grounds and we get together with about 50 or 60 family members and just have a blast."
RE: Did you have to talk to the NFL to make sure that that was okay to wear as part of your game day apparel?
"No. If they'd say something about it, I would just move on. It's not that big of an issue. It's more in me than on me. It's not going to be an issue."
RE: Since we're on this topic, are you the only coach in the NFL that has an overt sign of his religious beliefs?
"I have no idea."
RE: At least on game day
"I don't know. I really don't know. In all honesty, I don't know what other coaches wear. I've never really looked at it to be honest. Never taken notice of it. For me, from the first day I started coaching, I decided to wear the cross as a reminder of who I am and not lose my mind on the field and not become somebody else. I want to be consistent with who I am so I'm very thankful for the cross."