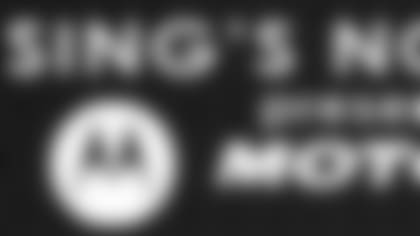 RE: How did the players practice today with the day off yesterday?**
"Not bad. It started off a little stale and then we got going. So, it was very nice. We picked it up. The guys finished strong, so that was good."
RE: How is Frank Gore looking?
"He's looking good. I mean, he did a nice job today, and when he carried the ball, he ran well [and] he cut well. So, it was nice to see."
RE: Would you expect him to start?
"I don't know. We'll look at it tomorrow and just continue to monitor it and manage the process. We'll see before the game."
RE: What's your thought about right tackle?
"[Barry] Sims may start. We'll have to watch that too, but in all probability I think Sims may get the start there. Snyder just seems to be a little slow in coming back, but we'll watch it."
RE: Does the fact that Frank Gore needs 22 yards for 1,000, will that play into your decision at all in trying to get him, at least get him on the field?
"It will not. It will not. I think the bottom line is he needs to talk to me and let me know how he feels because I want him to be fair to himself. I don't want him to re-injure anything trying to get 1,000 yards. When he's healthy, he'll get more than his share of yards. I just want him to be smart about it, but he looked good today. Obviously, I'd be very happy. The offensive line, I think, is more excited than he is about him getting that. Hopefully he can do it, but if he can't, I really want him to be smart – look at the longevity of the decision."
RE: With the last game of the season is an injury now less important given this is the last game of the year?
"No, I think it's not just the ankle that I think about. It's overcompensating for that and you hurt something else. That's the thing that I think about. Most of the time when a guy has an injury going into a game it's overcompensating and then he comes out of the game and there's something else that's hurting. We don't need that so I really want him to be smart, and I'm sure he will and we'll go forward with that."
RE: Is this the week that Ahmad Brooks gets on the field?
"Probably not, the back is still sore. It just wasn't meant to be. It seems like for the last four weeks every time I had a shot at it something came up, so it's just one of those things that tells me [he] probably needs the offseason to really get ready."
RE: Can you comment on the report about making a change at offensive coordinator?
"Because of all of the controversy about it and all of the distractions that it's had on our team already, I just came in this morning and I got our team together first thing this morning and just told them 'You know what guys? All the speculation, all of the talk, whatever, we want to focus on Washington and all of the other things we'll talk about and think about later.' But I really don't want to comment on that right now. I just really want to focus on Washington and everything else will take care of itself. It will happen soon enough."
RE: Have you discussed this with Mike Martz?
"Very little, we talked a little bit about it but no big deal."
RE: Having said that coach is it human nature not to think about your situation?
"You know what? Here we go. I'm going to stay on Washington. I'm really going to stay on Washington. We've had too much of a distraction from it already this week really trying to keep the guys focused on…you had Christmas, you had Christmas Eve, you had shopping, you had all of the other things. I want to get these guys back and have them totally focused on Washington, and we need to go forward with that."